---
1.

Prologue
Ame-tora is the Japanese contraction for "American tradition style" or "American Trad". In contrast, ame-kaji is short for "American casual". The odd abbreviations the Japanese come up with are always a wonder to me.

Ame-tora refers to Ivy League fashions that draw from igirisu style traditions (igirisu is a transliteration of the Portuguese word for England, inglez; however, it refers to the U.K. as a whole. Incidentally, the kanji for igirisu is 英吉利, which is shortened to 英国, and the kanji for amerika is 亜米利加, which is shortened to 米国.) Ivy in this context refers to the style of dress said to have originated in the Ivy League—a collegiate sports league comprised of 8 private universities on the East coast (namely Harvard, Yale, Brown, Columbia, Penn, Princeton, Dartmouth, and Cornell).

Iconic style staples include navy blazers with gold buttons, button-down oxford shirts, regimental neckties, chinos, and loafers.

The Ivy League look took off in Japan in the 1960s, when Ishizu Kensuke opened up a Van Jacket store in Tokyo's glitzy Ginza district.

Brooks Brothers, which celebrated its bicentennial in 2018, is a particularly famous ame-tora brand. Also very popular is Polo Ralph Lauren, which was created by a former Brooks Brothers salesman named Ralph Lauren.

In Tokyo the Brooks Brothers and Polo Ralph Lauren flagships can be found in the trendy Omotesando/Aoyama area, as well as street-level stores for other ame-tora standard-bearers like Paul Stuart and Tommy Hilfiger.

Also of note is the century-plus old J. Press, which is currently owned by major Japanese apparel company Onward Kashiyama. Onward used to operate many branches of J. Press in department stores across the country. However, department stores have struggled to entice young consumers, and COVID-19 seems to have been the final nail in the coffin: Onward has closed about 1,400 of its stores over the past year.
---
2.

Brooks Brothers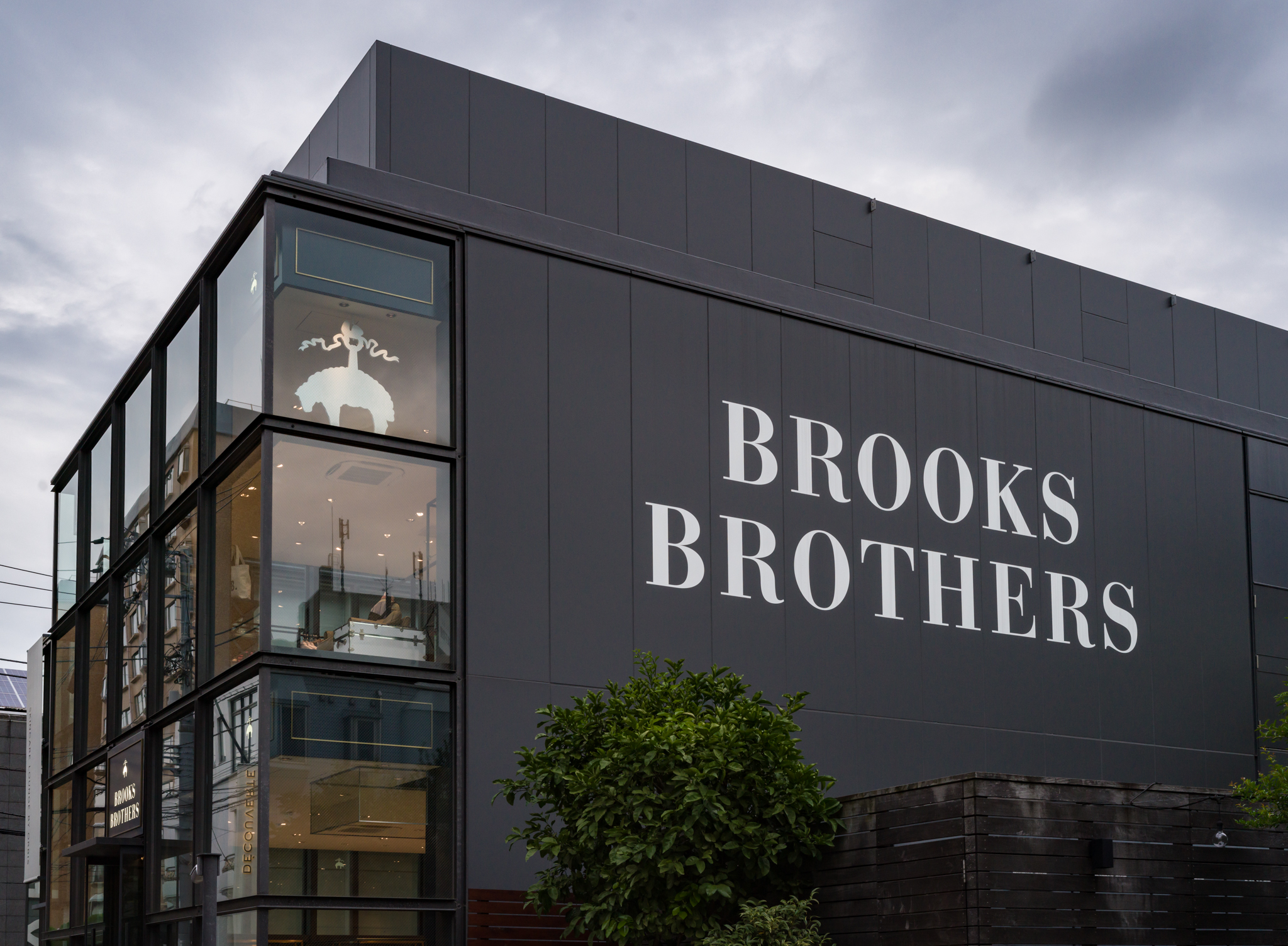 Brooks Brothers, known for its iconic Golden Fleece mascot—a sheep suspended in a ribbon—celebrated its 200th birthday in 2018. The brand is synonymous with classic American fashion.

The brand's history of outfitting U.S. presidents—perhaps most famously, Abraham Lincoln and John F. Kennedy, who regularly wore Brooks Brothers suits—has become the stuff of fashion lore. It fact, it is said that 40 out of 44 presidents donned Brooks Brothers attire of some kind.
It is also known for introducing the button-down shirt—which has since become a menswear staple—and for bringing the U.K.'s regimental stripe ties to America (U.K. rep tie stripes are angled left to right, while Brooks Brothers reversed the direction and made theirs right to left).

Brooks Brothers also popularized—and legitimized—the classic No. 1 Sack Suit, which is characterized by a three-button blazer featuring natural shoulders and rolled lapels.

These are just some of the ways the brand established the foundations of classic American fashion.

To a Californian like me, who grew up spending most days of the year in a t-shirt and shorts or jeans, American Trad—in other words, Brooks Brothers and its ilk—is emblematic of the East Coast, not quite a world away, but a distant sartorial school that also represented attire to aspire to.

For students at West Coast schools like Stanford University—located near where I grew up in Silicon Valley—and my own alma mater UCLA, East Coast schools such as Harvard, Brown, Columbia, Princeton and the like have a pretentious, self-congratulatory air—but of course, that sentiment often masks envy.

The feeling, perhaps, is mutual. For example, the director and noted New Yorker Woody Allen clearly doesn't have a particularly high opinion of Hollywood films. To this day, when I encounter East Coast expats in Tokyo, I'm often told my Californian accent gives me away. "You speak with a Californian accent," they'll say, as if the Golden State was a country unto itself. (Just between you and me, part of me is relieved that even after 10+ years in Japan, my Californian accent has stuck with me.)

In any case, when I came to Japan on a study abroad program to Sophia University, I managed to muster the courage to walk into the Brooks Brothers flagship along Aoyama-dori for the first time. No joke, my heart was aflutter. (*The Brooks Brothers Aoyama Flagship closed its doors on August 30th, 2020, and reopened in nearby Minamiaoyama on September 4th.)

There is a dignified air to the place that makes it deceptively inaccessible, but upon entering, the friendly staff welcomed me with smiles—and thankfully, my Japanese revealed nothing of my West Coast origins.

To my delight, the store had plenty to offer, even for someone of my size (I'm average by American standards). You can find the brand's full lineup of products, including their women's and children's collections.

I buy Red Fleece for casual occasions, and Golden Fleece for business occasions.

It goes without saying that their button-down shirts and polos are popular wardrobe staples, but I also recommend the pajamas, boxers, and t-shirt three-packs.
<SHOP INFO>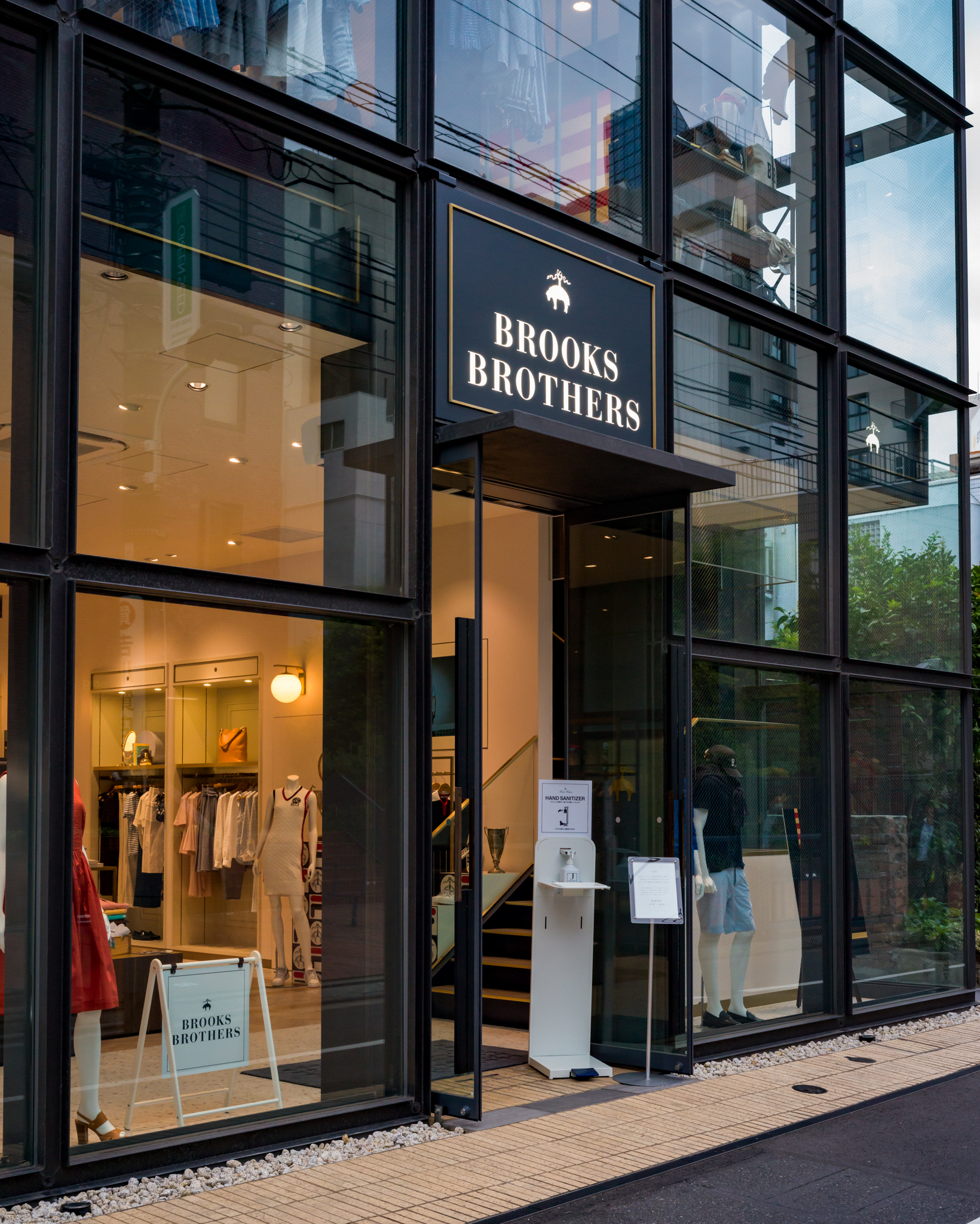 Brooks Brothers Omotesando
Address:
H-Cube Minamiaoyama, 5-7-1 Minamiaoyama, Minato-ku, Tokyo 107-0062
---
3.

Ralph Lauren
Polo Ralph Lauren, which celebrated its 50th anniversary in 2017, is a brand that epitomizes the American Dream. It is not only a maker of fashion, but also a purveyor of an outlook on life and lifestyle as a whole.

And it is an active lifestyle inspired by love of sports. Golf, tennis, a countryside retreat with horses—all of these activities embody the American ideal of success. That the story of Ralph Lauren himself is quintessentially American perhaps accounts for the brand's widespread appeal for the American public.

After dropping out of college and serving in the army, Ralph Lauren arrived on the fashion scene as a salesman for Brooks Brothers. He would strike out on his own with his own brand of neckties.

The brand found success after Ralph Lauren designed costumes for the film adaptation of F. Scott Fitzgerald's The Great Gatsby. Then Woody Allen and Diane Keaton wore several Ralph Lauren items in Annie Hall.
In The Great Gatsby, Robert Redford's portrayal of Jay Gatsby perfectly captured the essence of the character that had been brought to life in the imagination of so many readers.

Meanwhile in Annie Hall, Woody Allen and Diane Keaton captured the essence of New Yorkers.

Many film critics have recognized that the verisimilitude of these portrayals can be attributed in part to wardrobe pieces provided by Ralph Lauren.

F. Scott Fitzgerald is, incidentally, one of my favorite authors, and I've also been a fan of Woody Allen's films. Through these two films I was strongly drawn to Ralph Lauren's America.

Ralph Lauren has introduced a range of product lines and labels to date—and continues to do so. In addition to its main line Polo Ralph Lauren, it produces Purple Label and Double RL on the men's side, and Ralph Lauren Collection and Lauren on the women's side. It also sells children's clothing, sleepwear, watches, and more. It even runs a number of dining establishments overseas.

I was also impressed by the Chaps, Polo Sports, and Polo Country product lines/labels as well, although these have all either been discontinued or are no longer part of the brand's main lineup.

By the time I'm 40, I hope to become the kind of guy who can pull off a Purple Label made-to-order suit. Incidentally, the current global ambassador (and the face of the advertising campaign) for the Purple Label is Akira from the Japan dance-vocal group Exile.

In 2006, Ralph Lauren successfully became the first designer to become the official outfitter for Wimbledon (one of Tennis' four biggest tournaments—a grand slam—and the one with the longest history and prestige. It is the only grand slam held on grass). In recent years, however, disagreements between Lauren and his handpicked successor as CEO about creative direction led to financial troubles that culminated in the brand's flagship along Fifth Avenue in New York City being shut down in 2017. It seems the life of the brand is as American as it gets—full of ups and downs.
<SHOP INFO>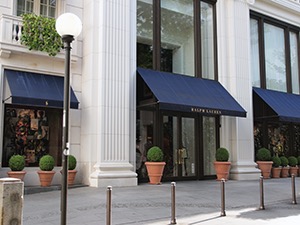 Ralph Lauren Omotesando Flagship
Address:
4-25-15 Jingu-mae, Shibuya-ku, Tokyo 150-0001
Open:
11:00-20:00 (Sun to Thu) / 11:00-21:00 (Fri & Sat)
---
4.

Paul Stuart
*Paul Stuart's flagship store along Omotesando is now closed. The brand relocated to the nearby Kitaaoyama area in November 2020.

Many landmark buildings stand along Omotesando main street, and among them the weathered stonewall facade of Paul Stuart's Aoyama flagship stands out for all the right reasons.

The stately stonewall gives the entrance a dimly lit feel even during the day, which naturally gives one pause before entering. Enter, however, and you will find yourself in a space with plenty of breathing room. In addition to men's wear, there is also women's wear on the first floor, and an area for custom tailoring on the second floor.

The stonewall is apparently what remains of a long stonewall that was originally built along "Omotesando"—the main approach to the shrine—at the same time that Meiji Jingu was being constructed.

The Paul Stuart brand, which comes out of New York, is licensed to Sanyo Shokai for its Japan operations. Sanyo Shokai is a major Japanese apparel manufacturer that has long been associated with Burberry, but its licensing contract ended in 2015, and currently it sells brands like Mackintosh London.

Compared to brands like Brooks Brothers and Ralph Lauren, Paul Stuart may not have name recognition on the same scale, but it has a core of long-time adherents. Its products have all been made with care, and possess a distinct charm that quickly turns the intrigued into the long-time loyalist.

In the personalized made-to-measure corner of the Omotesando store I've seen what I'd venture to guess were the doctor-type and lawyer-type—well-to-do folks with an air of elegance—seemingly unfettered by time, placing orders for custom-tailored suits.

I'm curious about their jackets and slacks, so I hope to try them out someday soon.
<SHOP INFO>
Paul Stuart Aoyama Flagship
Address:
The Argyle Aoyama 1F, Kitaaoyama 2-chome, Minato-ku, Tokyo, 107-0061
---
5.

Tommy Hilfiger
Of all the ame-tora fashion brands, Tommy Hilfiger is perhaps the youngest—both in terms of history and style.

The brand's Omotesando store is located in Tokyu Plaza Omotesando Harajuku, which sits at Jingumae crossing (where Omotesando main street meets Meiji-dori). From what I can tell, it caters to people in their early twenties—both Japanese and from overseas.

Tommy Hilfiger is part of the ame-tora tradition, but its aesthetic also incorporates ame-kaji (American casual) elements. Their sport collection is especially worth checking out.

And this is completely subjective, but it seems to me that the athletic type Tommy Hilfiger has in mind for its sport collection has a lot in common with what many American boys imagine to be the ideal woman.

To be more specific, it feels to me like the Tommy Hilfiger woman is a relatively well-off socialite who was perhaps a cheerleader up until high school and joined the golf club in college.

Having heard that Tommy Hilfiger had started doing tailored suits, I swung by to check it out, but the aesthetic was much too sleek for my body type—apparently it wasn't meant to be.
<SHOP INFO>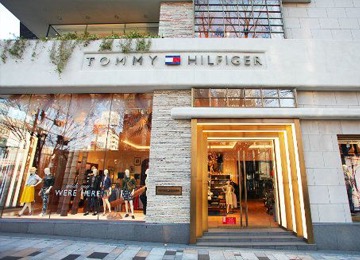 Tommy Hilfiger Omotesando Store
Address:
Tokyu Plaza Omotesando-Harajuku, 4-30-3 Jingumae, Shibuya-ku, Tokyo 150-0001
---
6.

J. Press
J. Press is an iconic ame-tora brand that was founded in 1902 in New Haven, Connecticut.

Here in Japan the brand has been licensed to Onward Kashiyama—which previously also had the rights to Ralph Lauren—and has been mostly sold in department stores. Today, Onward carries on the J. Press legacy in a new concept store called J. Press & Son's Aoyama.

I've always considered J. Press is the most faithful to the ame-tora tradition.

And that goes not just for brand image, but also clientele—people who wear J. Press are serious about their ame-tora. They're the kind of people you can count on to not do anything unexpected—but you can rely on them to get things done.

And this, again, is completely subjective, but I can't help but feel that the J. Press products you can get your hands on here in Japan are better made than the J. Press products you can find in America.

When I think of the J. Press brand image, I picture an old man of reputable lineage buying a J. Press blazer for his grandson's grade school enrollment ceremony; I picture that kid growing up and coming back to J. Press time and time again for his suits. But today, the brand's future is unclear.
<SHOP INFO>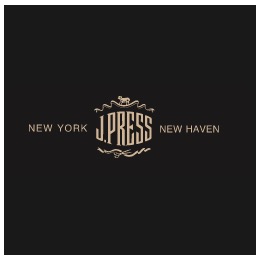 J.PRESS & SON'S AOYAMA
Address:
Office Aoyama 1F, 3-10-2 Kitaaoyama, Minato-ku, Tokyo
---
7.

Epilogue
BigBrother is truly a child of the ame-tora tradition.

His father, in his youth, was a member of the youth tribe known as Miyuki-zoku, and was—in modern parlance—a dokusha model for Men-Kura (the men's fashion magazine Men's Club).

So, unsurprisingly, BigBrother had his button-down shirts purchased at Van Jacket in Isetan Shinjuku's "new wing" (which later became Isetan Men's) and his suits tailored at Yamagata-ya in Ginza.

In middle school and high school, he got his button-downs overseas from Ralph Lauren, which had yet to arrive in japan.

For his coming-of-age ceremony when he turned 20, he wore a tweed suit from Brooks Brothers.

In his twenties, he went on a Ralph Lauren bonanza, buying clothes at their stores in Ike-Sei (Seibu Department Store in Ikebukuro), Shibu-Sei (Seibu Department Store in Shibuya), Ralph Lauren Harajuku (located at the time in Harajuku Quest Building, which today sits next to Nike's flagship and is home to Puma, Ralph Lauren Ginza (located at the time along the same Ginza 2-chome street as a certain delicious gyoza restaurant), Ala Moana Center in Honolulu, and Vancouver, Canada (the products he bought in Canada have labels sporting both English and French—they read "L/G"). He says all in all he purchased enough to buy a luxury automobile.

In his thirties, his go-tos were Ralph Lauren Purple Label suits and shirts, as well as shirts, trousers, and jackets from the defunct Black Label.

Even today, when we play tennis or golf, he sports a Polo polo and proudly points at the logo on his chest—and laughs to himself.

And without fail, he brings up the same piece of trivia: on Lionel Ritchie's eponymous debut solo album, he wears a Ralph Lauren summer sweater on the album cover—only the logo in front, intriguingly, has been removed.
---
FASHION & SHOPPING #002
Ame-tora: Tokyo's Love Affair With the Ivy League Look - Brooks Brothers/Ralph Lauren/Paul Stuart
---
※2021/10/13: サイトのtitleタグが変更されました。