---
1.

Prologue
For the past few months I've been taking photographs for DIG TOKYO's social media accounts, and it's quickly become a full-fledged obsession. Thankfully, we have a couple of professional photographers who write for the site, and they've been really generous with advice. Any free time that I can find, I head out to the streets to play around and experiment with lenses and my camera. Here is the totally inconspicuous getup I wear for my photo adventures.
---
2.

Pullover windbreaker by Patagonia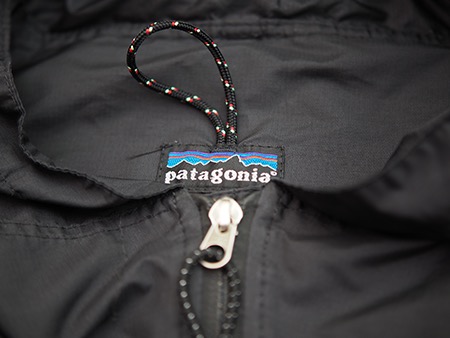 This lightweight Anorak pullover from American outdoor brand Patagonia is a hand-me-down from BigBrother. It's more than 10 years old, but he could have told me it was new, and I would have believed him.

The thin fabric does a great job of cutting wind chill, with a hood as well as waist and cuffs with drawstrings to keep out the cold when necessary. It's lightweight and compact, and can easily be packed away in a bag.

BigBrother tells me it's skiwear, but for the time being this is the jacket I wear on walks. Next winter, hopefully, I'll be wearing it on the slopes.
<SHOP INFO>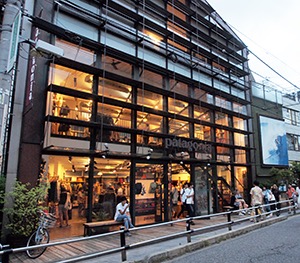 Patagonia Shibuya
Address:
1F/2F 6-16-8 Jingumae, Shibuya-ku, Tokyo
Closed:
Year-end and New Year's holidays
---
3.

Hoodie by Canterbury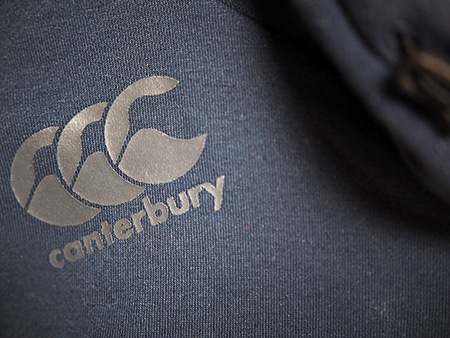 This hooded sweatshirt is by New Zealand rugby brand Canterbury of New Zealand (or just Canterbury for short). It's one of the warmest sweatshirts I've ever worn; just a little bit of movement and I'm feeling warm to my core.

Canterbury makes sportswear for rugby players of all levels, as well as casualwear. Just by nature of the sport, you can find most of the offerings in the kind of bigger sizes that are usually hard to come across in Japan. For that reason alone I swing by their Aoyama store by Chichibunomiya Rugby Stadium whenever I can.

Back in the 2015 Rugby World Cup, the Japanese national team blew minds when they defeated the South African team, and the sport has been in the national spotlight ever since (and Japan making the final 8 at the 2019 Rugby World Cup cemented its popularity). Nevertheless, the Canterbury brand remains a kind of wonderful secret here. Anybody who's watched a rugby game has probably seen the brand's "CCC" logo, whose design apparently based on New Zealand's national bird, the kiwi.

Canterbury's Aoyama store sells both men's and women's rugby wear, as well as sportswear for training and casualwear. The kid's wear is very cute.
<SHOP INFO>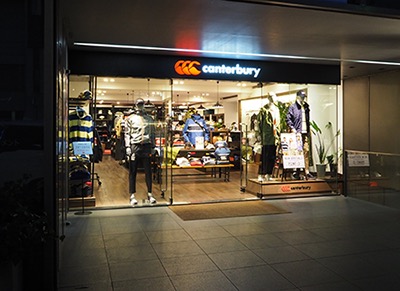 Canterbury Aoyama
Address:
NA Building, 2-7-28 Kita-Aoyama, Minato-ku, Tokyo 107-0061
Open:
Mon-Fri 10:30-20:00, Sun and holidays 10:30-19:00
Closed:
Every second Tuesday, 12/31, 1/1
---
4.

Long sleeved shirt by Under Armour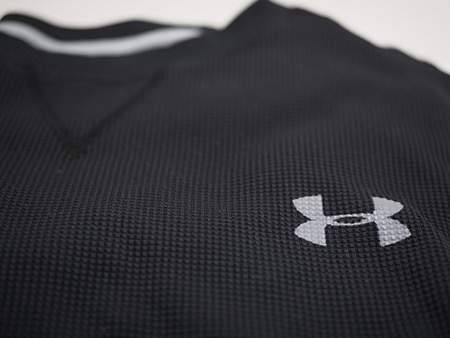 This long sleeved shirt is something I bought at the biannual Under Armour "secret sale", which is held at the TOC Building in Gotanda, Tokyo. (Apparently the "O" in TOC stands for oroshiuri, that is, wholesale.) It's light but does a great job keeping you warm, and absorbs sweat to keep you dry.

At the secret sale you'll find Under Armour sportswear for a range of sports for almost half price. Also available for a discount is protein powder and supplements from DNS (the same company handles Japan distribution for both brands). To enter, shoppers must present their email invitation, and shoppers can sign up when they purchase anything at an Under Armour store to get on the mailing list. The sale is held over three days, but a word to the wise—devotees flock to the event from across the Kanto region and beyond. Show up on the first day to get best results.

Side note, my protein powder of choice is Whey Protein SP from DNS.
<SHOP INFO>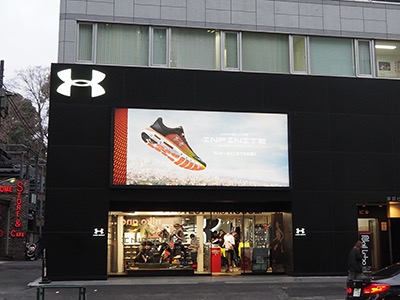 Under Armour Club House Harajuku
Address:
6-28-9 Jingumae, Shibuya-ku, Tokyo 150-0001
---
5.

Compression leggings by Under Armour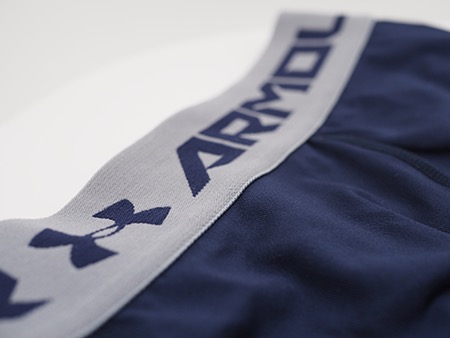 On my most recent secret sale adventure I also bought these compression leggings.

Under Armour has basically been synonymous with compression wear since the company was founded. Compression garments are tight-fitting and designed to support muscles, increase blood circulation, and reduce muscle fatigue.

This pair is from their Heatgear line of garments for summer, which are designed to keep you dry and cool. They also offer Coldgear garments made with thicker fabric, but as I usually opt to wear sweatpants over my compression leggings, Heatgear is more than warm enough for me. If you're the type of person who wears shorts over their compression leggings in winter, I recommend Coldgear.
---
6.

Gray socks by Oakley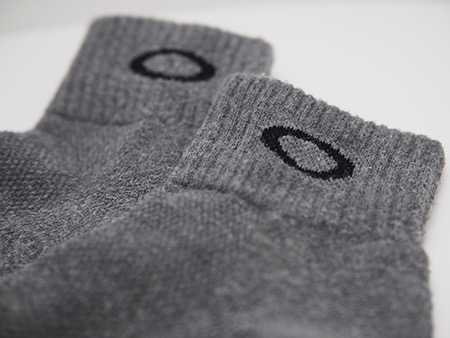 These are sports socks by Oakley, an American brand known for their sports glasses and sunglasses. These are ankle-length—not as short as the ankle-bearing ones that seem to have become everybody's sock of choice, and not as long as the ones used in a sport like soccer. They are very comfortable and are my go-to for both walks and when I play tennis.

Oakley also sells sportswear for a variety of sports, and its golf wear and skiwear is especially well regarded. At the Oakley store along Cat Street in Harajuku, you can get sports glasses and sunglasses custom made. Next time I need to replace my sports glasses, I plan on making a beeline to this store.
<SHOP INFO>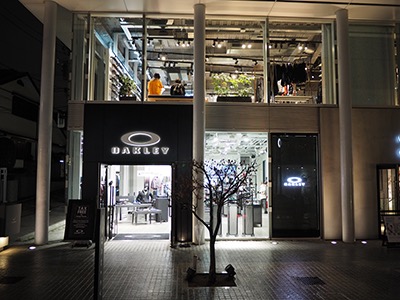 Oakley Store Harajuku
Address:
5-17-4 Jingumae, Shibuya-ku, Tokyo 150-0001
---
7.

Running shoes by Asics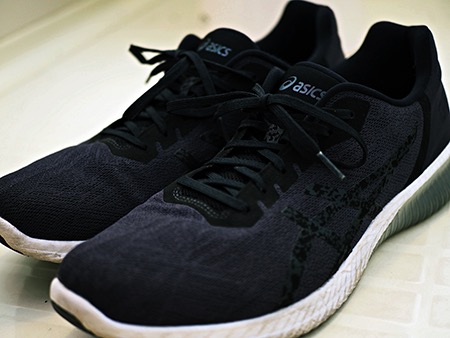 Previously on this site I've talked about my love for Asics tennis shoes, and it turns out Asics running shoes are equally amazing. My shoe of choice is the GEL-Kenun.

The name Kenun means "cirrus" in Japanese, and as you would expect, the shoes were designed to offer a light-on-your-feet experience, like you were walking—or running—on clouds. That's thanks to the shock-absorbent special silicon gel that takes up a large chunk of the sole, as well as a streamlined, mesh upper. The cushioning and close fit mean that your feet feel fresh even after a long walk.

If you're a serious runner, you should opt for the GEL-KAYANO or other Asics running shoe. If you're looking for something more athleisure that's perfect for both a light jog and walking about town, give this model a shot.
<SHOP INFO>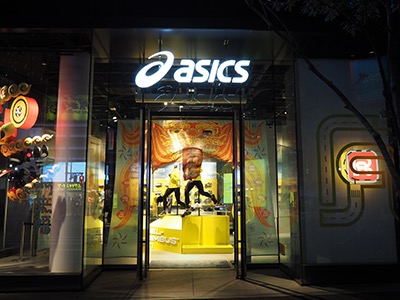 Asics Harajuku Flagship
Address:
1F Jingumae Tower Building, 1-5-8 Jingumae, Shibuya-ku, Tokyo
Open:
Weekdays 11:00~21:00, Sat, Sun and holidays, 10:00~20:00
---
8.

Hat by New Era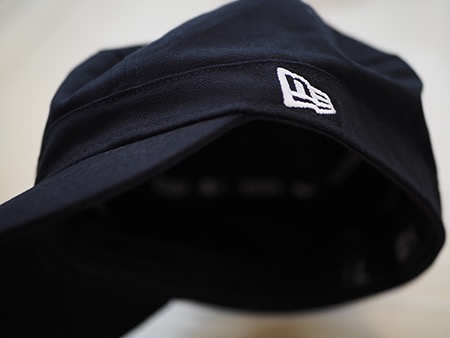 This item is from long-standing American hat brand New Era. The design is a casual take on the patrol cap, a type of field cap worn by soldiers in the military.

New Era is best known for being the only official supplier of MLB (Major League Baseball) hats. It also sells hats for all the NFL (National Football League), NBA (National Basketball Association), and NHL (National Hockey League) teams. Its hats have become a staple of modern streetwear.

At the store you'll find snapback caps (those hats with the plastic belt that "snaps" into place), as well as caps with adjustable belts, and fixed size caps in a range of sizes.
<SHOP INFO>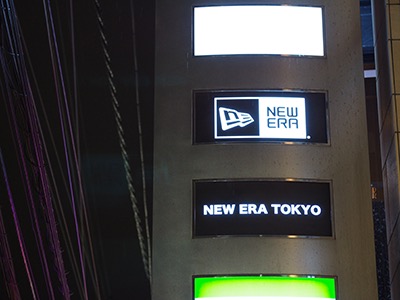 New Era Tokyo
Address:
Wave Building 2F, 3-20-9 Jingumae, Shibuya-ku, Tokyo 150-0001
---
9.

Sunglasses by Ray-Ban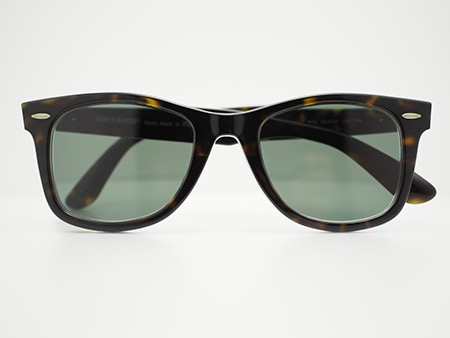 These are classic Wayfarers from iconic American sunglasses brand Ray-Ban. I have poor eyesight, so these have corrective lenses.

Originally released in 1956, Wayfarers were quite popular in their day, but had waned in popularity by the 70s. Then in the 80s, they became all the rage again when pairs were featured in a plethora of movies and TV shows—most famously sported by Tom Cruise in Risky Business. In the 90s, sales decreased once more, but then in the 2000s, they came back yet again thanks to some celebrity influencers. To sum up, Wayfarers have had a quintessentially American history of ups and downs.
Whenever I'm going for a stroll around Omotesando or Shibuya, I come across people wearing sunglasses indoors. Then there are those who wear sunglasses even after the sun has disappeared beyond the horizon. To them, sunglasses are more about fashion than function. Where I'm from—in California—the powerful rays of the sun and constant travel by car make sunglasses an item you can't leave the house without.

Side note, with cheap sunglasses you run the risk of damaging your eyes. It's a good idea to dish out the extra cash to buy glasses from a proper manufacturer.
<SHOP INFO>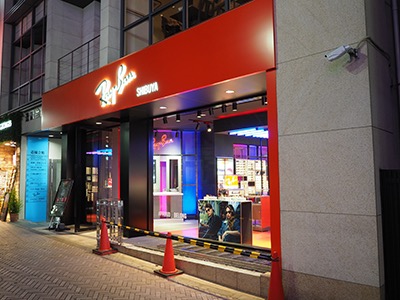 Ray-Ban Store Shibuya
Address:
Zoen Kaikan 1F, 1-20-11 Jinnan, Shibuya-ku, Tokyo 150-0041
---
10.

Backpack by Arc'teryx
I use the Spear 25 Daypack from high-end Canadian outdoor brand Arc'teryx. It's great for walks and hikes as well as casual work meetings, and I would recommend it without hesitation—except that it is no longer in production.

The shoulder straps and back panel are outfitted with breathable, comfortable mesh cushioning, and it sits snugly on the back like a turtle shell. (It's probably the closest I'll ever come to feeling like a teenage mutant ninja turtle, and my teenage self would have also loved it.) The main compartment has a unique "RollTop" closure.

My only gripe with the backpack is that because the bottom isn't flat, it can't stand on its own—it needs to be propped up against something.
<SHOP INFO>
Arc'teryx Harajuku
Address:
Zoen Kaikan 1F, 1-20-11 Jinnan, Shibuya-ku, Tokyo 150-0041
---
11.

Wristwatch by Timex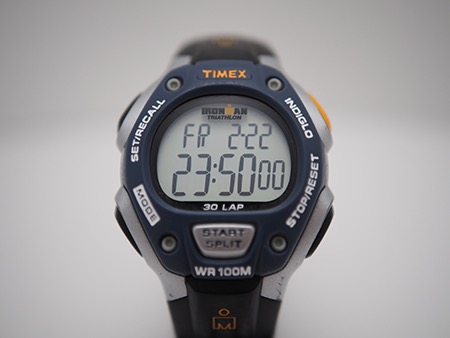 I use an Ironman wristwatch by American watchmaker Timex.

In 1984, Timex developed a digital watch in collaboration with officials of the Ironman Triathalon (where competitors go through three continuous endurance races: swimming, cycling, and running). That design became the basis for the Ironman, which was released two years later in 1986. The watch was a hit with not only triathlon competitors but also people in the U.S. military and law enforcement. It continues to be Timex's best-selling sports watch brand.

Incidentally, former U.S. President Bill Clinton was also known for his love of the Ironman watch. When he continued to sport his Ironman proudly after being elected president, some criticized the fashion choice as unpresidential. (My, how standards change.) He stopped wearing the watch in public in 1994. Whether or not Ironman is appropriate for a president to wear, Clinton's fondness is a reflection of the watch's reliability.
---
12.

Epilogue
Most of the items I've listed here today are black in color. The reason for this is that a photographer who wears colorful clothing runs the risk of those colors they are wearing being reflected onto their subject(s). So the standard photographer's uniform is black. And although I am still a beginner when it comes to photography, one of the most important lessons I've learned in Japan is the importance of starting with form. In other words, dress for the job you want. That will put you in the right mindset, and in turn, if you keep at it, results will eventually come.

If there is one key takeaway from this outfit, it's that you should be wearing a number of different brands. Sometimes you'll see someone who has—quite obviously—purchased an entire head-to-toe outfit from a single brand. It's important to remember, however, that while the catalog models and in-store mannequins can put forth great outfit ideas, they are not paragons of fashionable style by any stretch. If you show up at our office wearing sportswear from the same brand from head to toe, Scarlet will invariably poke fun, saying, "What, did you get a sponsorship deal?" Unless you're a professional athlete, there's something provincial about wearing a single brand.

Often I'll see someone confidently wearing the "it" brand of our times from head to toe—including a hat and bag. And I must say, there is something rustic and prosaic about the style.
---
FASHION & SHOPPING #004
Inside KAZOO's Wardrobe (2) Casual Photo Walk Outfit - Patagonia/Canterbury/Under Armour/Oakley
---
※2021/10/13: サイトのtitleタグが変更されました。