---
1.

Prologue
I believe the basic rule of being fashionable is to dress appropriately—to keep it neat and simple. It's not a contest to see who can be the most outlandish and showy. The art of dressing well has been refined over a long time, and your guiding principle should be to adhere to its code.

For any self-respecting dandy, it's only after you have thoroughly internalized the established forms—I would say around your fifties—that it makes sense to break the mold. The Japanese call this hazushi—missing the mark on purpose.

So what is "appropriate"? First and foremost, I mean appropriate to your body; in other words, something that fits well. It doesn't matter that the suit you're wearing is from a certain coveted high-end brand if it's ill-fitting. That would defeat the purpose of the entire charade.

Second, it means to possess a style that suits who you are and who you hope to be. Instead of spending your time pursing that year's trends, focus your effort on building a fashion style that is becoming—something that speaks to your lifestyle and your approach to life.

We've all had the experience of looking at photos of ourselves five or ten years ago, and being completely baffled by our choices. What was I thinking with that outfit? And what's up with my hair?

My goal is to fill my wardrobe with the kind of clothes, shoes, bags, and watches that I will keep coming back to ten years from now.
---
2.

An Invitation to Appear as a Regular on a TV Show
So now that I've gotten my fashion manifesto out of the way, onto the topic at hand. This past March, I found myself in an unexpected situation.

I'd received an offer to appear on a new show called SNS Eigojutsu (English language skills for the social media age) airing on NHK E-Tele beginning in April 2018. At that point I'd been doing English guidance work behind the scenes for NHK World for some time, but this was a first—an offer from a producer to step in front of the camera.

Initially, the idea was that I'd appear about once a month as one of a rotating cast of native English speakers, and I eagerly accepted. But as March rolled around, circumstances conspired to essentially make me a weekly regular on the show.

Not being a 9-to-5 salaryman, I didn't have at my disposal the kind of well thought-out collection of suits and other business attire that would be fit for a regular TV gig, and it suddenly became clear that I needed to get a wardrobe together immediately.

What's more, there were a couple of restrictions. The show was to be shot on a blue screen stage—the technical term is "chroma key compositing"—and that meant that I couldn't wear any suits or shirts that were blue or of a bluish hue. Plus, to keep the feel casual and approachable, my hosts were saying no tie preferred.

Up until that point, my basic idea of suiting up was midnight blue suit and blue shirt with white collar and cuffs (the Japanese call it a "cleric" shirt). Switching up ties to match the occasion was my way of bringing a little variety to the mix. So I needed to rethink my entire strategy.

If it was just a once a month gig, I could have paired a gray suit with various different colored shirts, and maybe thrown in a tie on occasion to mix it up and leave an impression. But that wasn't going to work if I was would be appearing on the show weekly.

Since I only had three weeks until we were scheduled to shoot the pilot on March 29, I decided that for the first two studio recordings I would have to go with what I had in my closet: a Ralph Lauren tweed jacket, and a Brooks Brothers jacket that I'd bought off the rack.

The wardrobe drama didn't end there, though. In the middle of March, I was given the opportunity to interview renowned director Luc Besson as my first assignment for the new show. I showed up raring to go in a gray suit, blue shirt with white collar, and purple tie, but when we heard Mr. Besson would be showing up in a t-shirt and jacket (the t-shirt had a graphic promoting his latest film), I had to quickly shed the tie before entering the interview room.
---
3.

GlobalStyle Shinjuku South Exit Store
The light gray striped single-breasted suit that I wore for my interview with director Luc Besson was something I had made about a year ago at GlobalStyle Shinjuku South Exit Store. I ordered it along with a midnight blue suit during one of their promotional campaigns, where you can get two suits made starting around 50,000 yen.

GlobalStyle is a made-to-measure tailor for those in the know, with locations in Ginza and Marunouchi, as well as Shinjuku, Ikebukuro, and others across the country.

Expecting to appear about once a month on NHK E-Tele, I ordered two more suits here in early March to wear in May and June. The first was a black suit based on their Modern Classic Model, and the second was a gray double-breasted suit, likewise based on their Modern Classic Model.

The two suits I've gotten made here so far have been great to me, comfortable with just enough give to be able to move my larger arms around without feeling like I'm wearing a straitjacket.

My stylist was clearly experienced, and took my measurements efficiently but carefully, despite the fact that my body type was likely more difficult to accommodate than the Japanese customers he usually encounters. He was also kind enough to accommodate my very specific requests for the shirts I ordered.
<SHOP INFO>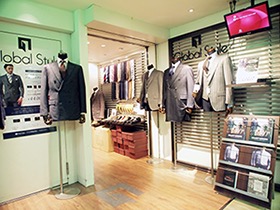 GlobalStyle Shinjuku South Exit Store
Address:
3-29-5 Jingumae, Shibuya-ku, Tokyo 150-0001
Open:
Weekdays 11:00-21:00 / Sat., Sun. and holidays 11:00-20:00
Closed:
3rd Sunday of May and July
---
4.

Universal Language Shinjuku Store
I visited Universal Language Shinjuku intending to order some shirts for what I then expected to be a monthly gig appearing on SNS Eigojutsu. They happened to have a special promotional campaign offering three made-to-measure shirts for 22,500 yen, so I ordered three button downs.

When I have shirts made for the first time at a certain tailor, I always choose from their most basic range of fabrics—it allows me to compare the final product with other tailors. On this particular trip to Universal Language, they only had a limited selection of fabrics left in their lowest price range—they were at the tail end of their promotional campaign—so it wasn't easy to choose three.

In any case, both the measuring and the shirts were up to par, and I wore the thin gray striped button down I had made on the episode that aired on April 5. My thanks for taking my measurements very carefully and making sure my concerns were addressed.
<SHOP INFO>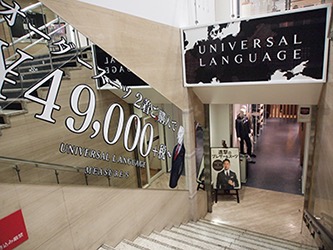 Universal Language Shinjuku Store
Address:
Marui Shinjuku Higashi-guchi Bldg. B2, 3-18-1 Shinjuku, Shinjuku-ku, Tokyo 160-0022
---
5.

Universal Language Shibuya Store
* Universal Language Shibuya Store will close permanently on August 1, 2021.

When I found out that my monthly gig would become a weekly gig, I needed to get two more suits ASAP. I called up a number of different tailors, and when Universal Language was especially accommodating, I decided to order two additional suits, this time from their Shibuya store.

Universal Language specializes in Italian suit styles, so I ordered both a single-breasted suit and a double-breasted suit in a style they call "Napoli". A stylist will find your size from an abundant range of base models; that model is then adjusted to your measurements. Both suits that I ordered cut a sharp, good-looking silhouette.

Here, too, there just happened to be a promotional campaign going on—spend more than 100,000 yen and get one made-to-measure shirt for free. So I took advantage and ordered one that would have otherwise been 16,000 yen. Compared to the low-priced, basic fabrics I'd chosen for my shirts from the Shinjuku store, this higher-end one looks and feels markedly different.

If shopping for clothes has taught me anything, it's that price does make a difference.

My thanks to the Universal Language Shibuya Store, which was kind enough to accommodate my short timeline.
<SHOP INFO>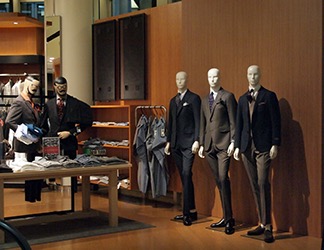 Universal Language Shibuya Store
Address:
cocoti 5F, 1-23-16 Shibuya, Shibuya-ku, Tokyo 150-0002
---
6.

FABRIC TOKYO Shibuya
I was still in need of more button-down shirts, so I decided to try ordering some at FABRIC TOKYO, located in-between Shibuya and Harajuku on what's colloquially known as Fire-dori (Fire Street). This place that had been on my radar for a while as I pass by often when I go for walks in Shibuya.

From their website, it was clear that this made-to-measure tailor has a simple, straightforward ordering system and reasonable prices.

There are, of course, tailors out there that offer a low-priced basic model that quickly becomes expensive as you add the little options that make all the difference. In that regard, FABRIC TOKYO is a safe, reliable bet if you're looking to go on your first made-to-measure adventure.

The Fire-dori location in Shibuya is quite compact, so reservations are highly encouraged. The stylist took my measurements and guided me through the entire ordering process on a tablet. This location has since relocated to the third floor of Shibuya MODI.

I ended up ordering four shirts in non-iron fabrics at the lowest price point they offered, and the shirts ended up great—clean colors, clean lines and finish. For salarymen who wear dress shirts to work everyday, this is a fine option.
<SHOP INFO>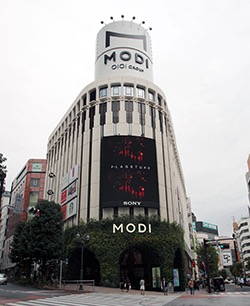 FABRIC TOKYO Shibuya MODI
Address:
Shibuya MODI 3F, 1-21-3 Jinnan, Shibuya-ku, Tokyo 150-0041
---
7.

DIFFERENCE Aoyama Store
DIFFERENCE Aoyama is another made-to-measure tailor that had been on my radar, as it's located across the street from personal favorite Brooks Brothers. Wanting just a couple more shirts to round out my wardrobe for the show, I decided to give it a try.

Shirts are available in a variety of fabrics and patterns from around 8,000 yen, with a convenient two-week delivery. My stylist took my measurements and fitted me in record time, and made me feel welcome and taken care of.

From what I can tell their suits cut a slim silhouette and are not for me, but for a businessperson in his or her twenties, this tailor is recommended in terms of style, substance, and price.
<SHOP INFO>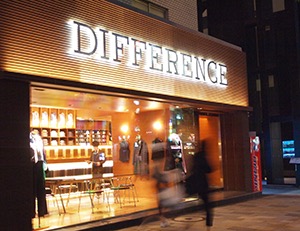 DIFFERENCE Aoyama Store
Address:
Jewel Aoyama 1F, 3-10-41 Minami-Aoyama, Minato-ku, Tokyo 107-0062
Open:
11:00-21:00 (Weekdays) 11:00-20:00 (Sat, Sun, and Holidays)
---
8.

Azabu Tailor Omotesando Store
Azabu Tailor is a popular made-to-measure option if you're looking to get a suit for less than 100,000 yen or a shirt for around 10,000 yen. And like the other tailors on this list, they periodically offer their shirts for a discounted price.

Back in February, before I received the offer to be on a new show on NHK E-Tele, I took advantage of one of those promotional campaigns and ordered four shirts for private use in spring and summer.

This two-story store is located just a hop, skip, and a jump from high-end supermarket KINOKUNIYA International. AZABU THE CUSTOM SHIRT on the first floor is where you'll find off-the-rack items, and &C Omotesando on the second floor is where you can order your made-to-measure items.

The staff is well-versed and experienced, thorough and attentive—they pick up on the kind of details that make all the difference. I couldn't have been happier with my order.

I'm physically larger than your average Japanese, so their off-the-rack items are not for me, but AZABU THE CUSTOM SHIRT is worth checking out—you can find dress shirts of surprisingly high quality for as low as 5,000 yen.

For the businessman who needs a dress shirt for every day of the week, these items are consumable goods, and the kind of bang for your buck that Azabu Tailor provides makes their shirts a more than worthy investment.

When it comes time to get my television wardrobe together for the July, August, and September episodes of SNS Eigojutsu, I plan on ordering jackets and slacks at Azabu Tailor.
<SHOP INFO>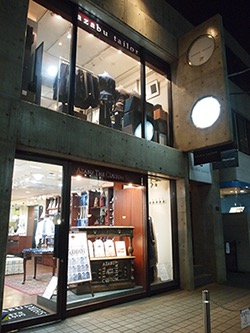 Azabu Tailor &C Omotesando Store
Address:
M.T.Bld. 1&2F, Kita-Aoyama, Minato-ku, Tokyo 107-0061
Open:
12:00-20:00 (Weekdays) / 11:00-20:00 (Sat, Sun, and holidays)
---
9.

Epilogue
What do extremely tight-fitting suits, wearing leather shoes with no socks, and sport undercuts say about you? BigBrother asserts that it says you're receptive to trends and whatever else is going on immediately in front of you. These traits might have meant smooth sailing as far as high school, but they don't equate to academic success, and so you inevitably find yourself attending a second-tier college, and subsequently working at a second-tier company.

And what does it say about the kind of work you do? It says that you'll go through the motions in a quick and businesslike manner, but you cannot do good work in the most meaningful sense.

So what is the sign of a man who does good work? He has unwavering style when it comes to the suits he wears, but each time you meet him he seems to be wearing a different shirt and tie.
---
FASHION & SHOPPING #005
Inside KAZOO's Wardrobe (3) Ordering Suits and Shirts From Some of Tokyo's Most Popular Tailors
---
※2021/10/13: サイトのtitleタグが変更されました。