---
1.

Prologue
It's a relief to have made it through our second taping.

This time, I was a bit more relaxed, and had the presence of mind to chat with Gori-san, Kato-san, and Furuta-san (from BuzzFeed Japan).

The crew as well—you could feel it in the air that everybody was a little bit more relaxed compared to our first taping.

What's more, I'm confident that I've addressed the critiques my officemates offered when we watched the pilot air together on March 29th.

It was especially heartening when a member of the technical crew complimented my choice of wardrobe.

For a newbie like me who has zero TV experience, showing up with a proper wardrobe was pretty much the least I could do, so it made me very happy to receive some positive feedback in that regard.

For as long as TV will have me, I plan on putting the utmost care and attention into my appearance.
---
2.

Light Gray Super Soft Jacket by Brooks Brothers
This jacket is made of cotton jersey fabric with stretch, and is very comfortable to move around in. It has no shoulder pads and is overall a soft, comfy fit.

It features a very clean, slim cut with a high lapel gorge and narrow lapels.

I first encountered this jacket at the Aoyama flagship, and immediately took a liking to it. I had it put on reserve; just to be absolutely sure, I wanted to try on other jackets from different brands. That search took me to the supersize floor at Shinjuku Isetan Men's, where I tried on a number of other options, but when all was said and done I went with this one.
---
3.

Gray Striped Button-Down Shirt by Universal Language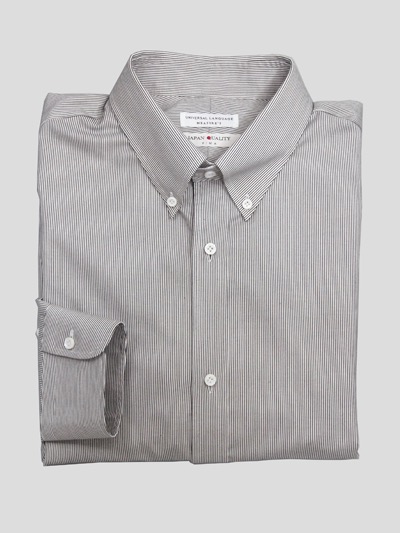 I had this shirt made at the Universal Language Shinjuku Store's "Measure's" corner (their pattern order station).

The shirt is regular fit with rear side pleats, short button-down collar, mitered cuff, visible placket (aka American placket), no pockets, and shell buttons.

I tend to move around a lot, so I asked them to make the shirt tail longer than normal—so the shirt doesn't accidentally come untucked.
---
4.

Green Corduroy Trousers by Polo Ralph Lauren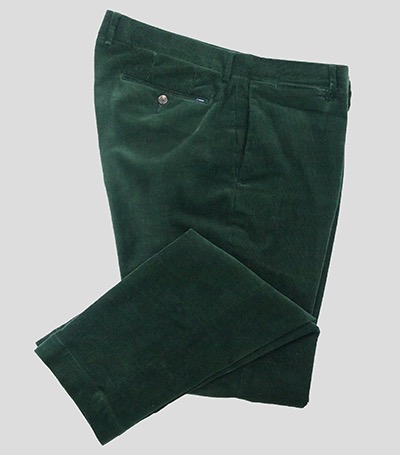 I purchased this pair of corduroys from Ralph Lauren's Omotesando flagship on the same day that I first encountered the tweed jacket I wore in our pilot. (It took me another few days to make up my mind about the jacket.)

Being made of stretch fabric, it is surprisingly comfortable despite the slim fit, and the slim fit itself felt like a fresh take on the corduroy trousers. At a later date I bought another pair in light gray.

These trousers have a button-over tab, so I usually wear it without a belt; this being for TV, I went with a belt.
---
5.

Original Brown Woven Belt by Isetan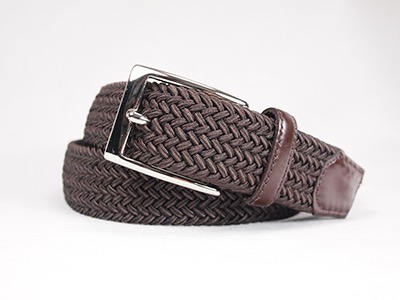 I bought this fabric woven stretch belt at the first floor belt section of Isetan Men's in Shinjuku. At around 8,000 yen, it was about half the cost of a leather belt.

Why the fabric belt? With a leather belt, you run the risk of color migration—the dye bleeding—when you pair it with white or khaki trousers.
---
6.

Boots by Red Wing
I bought my first-ever pair of legit work boots last fall: the Red Wing Classic Work / 6" Round-Toe. (For some reason the Japanese transliterate the word toe as トゥ, pronounced "to", a convention I refuse to take part in.) The pair I bought are in a very autumnal reddish-brown.

BigBrother, who wears a 6" Moc-Toe, had warned me that it would take half a year or more to break in my new work boots, but I persevered over winter, wearing them every other day—giving them time to dry out after each outing—and gradually increasing walking distance. After a painful winter, the boots are now broken in, and I can withstand more than a moderate walk in their company. It was all worth it.
---
7.

Socks by Red Wing
Along with my boots I purchased these olive "Deep Toe-Capped Wool Boot Socks".

I figured I needed something to better protect my feet as I tried to break in the hard leather. These socks feature a pile weave along the sole and around the toes (a pile weave is something you see in towels, where you can see loops of fabric coming out of the surface of the ground weave), which help protect your toes as you walk in the boots.

Mostly made using wool, the material absorbs moisture—sweat—very effectively, meaning you can spend your day in your work boots without ever feeling clammy.
---
8.

Leather Conditioner by Red Wing
Shoe maintenance feels like a chore in the beginning, but you grow into it—it becomes more enjoyable as you get used to it.

While there is a standard way of cleaning and polishing dress shoes, the ritual that goes into taking care of work boots like my Red Wings is slightly different.

I like to condition my work boots about once or twice a month. After wiping any dirt and dust off the surface with a moist cloth and letting the boots dry, I apply this leather conditioner—a blend of beeswax, pine pitch, and mink oil—liberally, and after about six hours (or overnight) I wipe away any excess oil.

Speaking of mink oil, Kiwi is a well-known brand, but for my Red Wing boots I like to use Red Wing Leather Conditioner.

Regular cleaning and conditioning has really brought out the richness in my brown boots.
---
9.

Brown Glasses by Zoff
In need of glasses without any outwardly visible metallic parts, I went to Zoff in Shibuya, and found these brown Wellington-style frames for a cool 5,000 yen (along with another pair of black Wellington-style frames at the same price point).

Wellington-style refers to frames that are shaped like (sometimes slightly rounded) trapezoids, wider at the top than they are at the bottom. The thing is, I've never heard this term used in the States before. If I had to describe it, I'd say these brown frames have the basic Wayfarer shape, only the bottoms are more rounded.
---
10.

Epilogue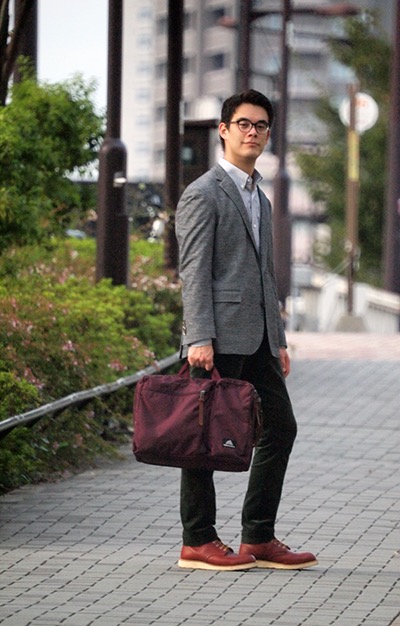 Here are the notes Scarlet gave me after we watched the pilot air:



1) My shirt was peeking out too much from the sleeves of my jacket—the shirt sleeves need to be shorter.

2)Position my body straight toward the camera when speaking.

3)Work on my Japanese articulation. She recommended that I use Saito Takashi's Koe ni Dashite Yomitai Nihongo to practice (it's a book featuring passages from famous works of Japanese literature that Saito posits are best appreciated when read aloud).
---
FASHION & SHOPPING #007
Inside KAZOO's Wardrobe (5) NHK E-Tele "SNS Eigojutsu" #NeverAgain (aired 2018/04/05)
---
※2021/10/13: サイトのtitleタグが変更されました。