---
1.

Prologue: Behind the Scenes
After a three week absence, Gori-san was back on the show today with style. Apparently he'd watched last week's #StarWarsDay episode at home and was green with envy. Part of it was the fun topic, but I suspect part of it was that I got to interview Spider-man himself from Avengers: Infinity War, Tom Holland. Gori-san has directed a few movies and is very knowledgeable about cinema, and I suspect the film geek in him would have loved to come.

Social media is a forum for social activism like #MeToo and #NeverAgain, but on the flipside it is a mosh pit of cute animal photos and groan-worthy memes. It's also a place for hashtag games. So many potential topics to choose from, but every time Gori-san is on the show, we happen to find that we've picked a serious hashtag to feature.

But on this day, we did have a little incident that put a smile on our faces: when we all came into the studio in wardrobe for rehearsal, Gori-san, Furuta-san, and I found that we were each wearing a gray jacket and khaki-colored slacks. We were the three amigos.

As I've brought up in this column previously, we shoot on a blue screen, which means that there are color restrictions on wardrobe. And because of those restrictions, the men naturally end up coming in with a similar idea of what to wear.

In the end, Gori-san was kind enough to change into something else for the actual taping. Problem solved.
---
2.

The Challenge of Implicit Bias
On this episode, we featured the #ImplicitBias hashtag and talked about an incident that occurred at one of a certain world-famous coffee chain's Philadelphia branches. Two African American men had been sitting down for a while when one of them asked the manager to use the bathroom. The manager refused, and when the two men continued to hang around for several minutes inside the coffee shop, the manager called the cops and the two men ended up being arrested.

The take is that the incident is an example of the implicit bias of the manager. Implicit bias refers to biases against certain races or groups of people that form subconsciously based on the kind of social and cultural environment you are placed in. In other words, there was a subconscious bias she possessed, based on stereotypes, which drove her to discriminate. Those biases made her feel that the two men were suspicious, and ultimately they drove her to call the cops. The fact that they are subconscious makes them especially difficult to address, as we harbor them without being aware of their presence.

Side note, as an American now living in Japan, one thing that crossed my mind is the sorry state of public bathrooms in the U.S. Compared to Japan, public toilets in the U.S. are pretty much always disgusting, and as a result bathrooms in cafes and fast food joints become de facto public toilets. Basically, there is a constant flow of people coming in and going out without placing an order, and the staff on hand are forced to be vigilant.

Those stresses perhaps served to exacerbate the manager's implicit bias.
---
3.

My Wardrobe This Week
Boat Shoes by Timberland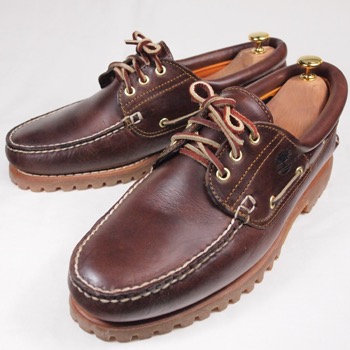 The highlight of my wardrobe this week was these boat shoes I bought last summer. Boat shoes, which are sometimes called deck shoes, are shoes designed for walking on the deck of a boat or yacht.

Timberland is a brand known for their iconic yellow boots—staples of street fashion—but I would highly recommend these boat shoes (22,680 yen, tax included).

Boat shoes are made with special soles designed to prevent slippage, as slipping on the deck of a boat could be fatal. Because these are Timberland's, they have the same lug sole you can find on their work boots. In any case they have good grip.

The leather shoelaces were a bit difficult to tie at first, but over time they have become soft. The are thread around the shoe itself, so I dread the day I have to re-lace them, but apparently they sell something called a shoelace needle precisely for that occasion.

Boat shoes are usually worn without socks, but I wore these on the TV show's virtual set (which is indoors, and decidedly not a boat). Plus, I was still trying to break in the leather, so I went with yellow socks.
Gray pinstripe button-down shirt by Fabric Tokyo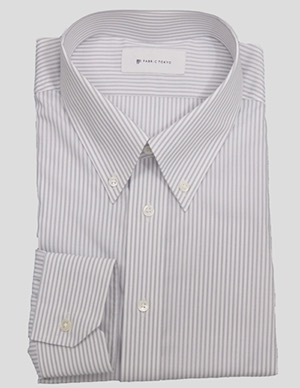 Last week at rehearsals, my shirt from Universal Language got the thumbs down due to the fact that it was creating a moiré pattern, because the black stripes were too much of a contrast. My button-down shirt this week has gray stripes, but perhaps because the contrast is less striking, I was able to wear it with no problem.

When the shirt was first delivered to me, I found the collar too crisp for comfort, so I threw it in the wash once before wearing it for the show. The non-iron treatment means it largely stays wrinkle free, which is very convenient.
Beige chinos by Brooks Brothers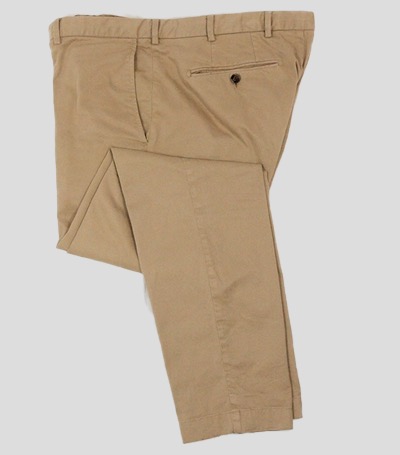 Up until today, I'd mostly worn matching jacket and slacks—suits, basically—so this week I decided to go with something slightly more casual: these chinos, from Brooks Brothers' casual line, Red Fleece.

Chinos can vary wildly in price, depending on the brand or manufacturer, from under 5,000 yen up to as high as 30,000 yen. In terms of that perfect balance of price, build, and look, these 10,000 yen chinos are more than worth the money.

They are slim fit but are made using stretch cotton, so they never feel too tight—but they allow you to cut a stylish figure.

They are also garment dyed, which means they are colored after it was put together. It gives the pants a great hue, and I took to these so strongly that I bought a total of four pairs, both for the show and for private.
Brown braided fabric belt by Isetan Men's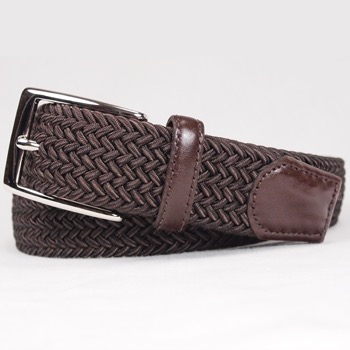 Wearing a brown leather belt (especially one that's new) with white or beige slacks can run the risk of color transfer. When I wear light colored pants, I like to use this braided belt I purchased on the first floor of Isetan Men's.

The price is 9,720 yen (with tax), and the build is sturdy while offering plenty of stretch. It's a breeze to buckle and is a regular part of my day-to-day wardrobe.

Other than brown, Isetan Men's sells a variety of colors, including black and ones that weave two colors together.
Yellow socks by Tabio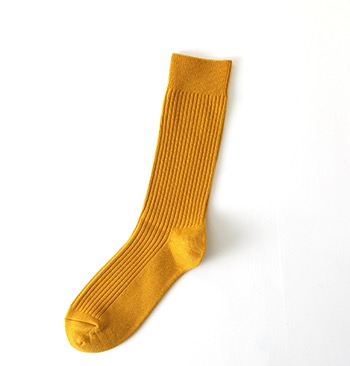 Continuing the precedent I've set for myself these past couple of weeks, I decided to wear colorful socks again.

These yellow ones are "Men's Power Fit 2×2 Ribbed Socks" from Tabio (1,080 yen, tax included). As far as I can remember, this was the first time in my life I've worn yellow socks.

They are quite comfortable, and the fabric is just right—not too thick, and breathable—so even a nervous sweater like myself can get through a TV show taping without feeling like I'm sloshing about in a puddle.

Pairing these socks with the aforementioned boat shoes also meant I got to show these socks off.
Gray jacket by Brooks Brothers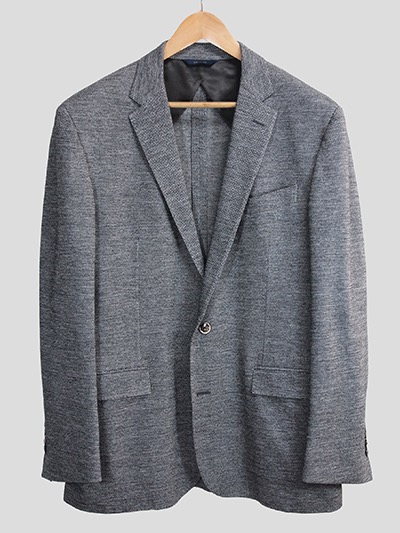 This jacket is made of cotton jersey fabric with stretch, and is very comfortable to move around in. It has no shoulder pads and is overall a soft, comfy fit.

It features a very clean, slim cut with a high lapel gorge and narrow lapels.

I first encountered this jacket at the Aoyama flagship, and immediately took a liking to it. I had it put on reserve; just to be absolutely sure, I wanted to try on other jackets from different brands. That search took me to the supersize floor at Shinjuku Isetan Men's, where I tried on a number of other options, but when all was said and done I went with this one.
Brown glasses by Hakusan Megane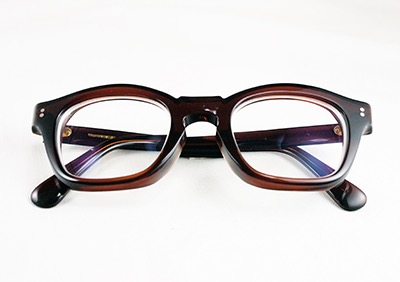 This frame from Hakusan Megane has visible metal parts, so I had assumed that it wouldn't work against our blue screen set, but after checking in with our technical crew and getting approval, I thought I'd give them a try.

This is a plastic model called "GLAM PROTO". Wanting to try something a little different from the glasses I usually wear, I went with a considerably thicker frame.

On screen they look a little closer to black than the beautiful light brown they actually are.
---
4.

Epilogue
At the end of the show, our resident English teacher Torikai-sensei taught us the idiom "wake up and smell the coffee". This is a very common phrase in the States, used to shake someone out of their obliviousness and open their eyes to the reality of a situation.

For those who don't drink caffeine, I suggest the phrase "wake up and smell the decaf".

Side note, the morning of the taping, I got onto the elevator at NHK when the lady next to me—I'm assuming an NHK employee—turned to me and said, "I watch your show." This was the very first time someone had "recognized" me from the show, and in my surprise I just managed to say "Thank you. I'm on my way to the taping."

I felt in some very tiny way that I had made it, that I had achieved some modicum of fame, and so for sometime afterwards I was somewhat zoned out. I downed a cup of coffee just to make sure I was present and alert for the taping, but looking back it might have just enhanced my high.
---
LANGUAGE & EDUCATION #001
Implicit Bias & the Eye-Opening Qualities of Coffee - SNS Eigojutsu #ImplicitBias (aired 2018/5/17)
---
※2021/10/13: サイトのtitleタグが変更されました。