---
1.

Prologue: Behind the Scenes
This week we looked back at all the topics we've covered so far on the show and caught up with the latest developments relating to the various hashtags we've featured. We taped this episode on the same day as the May 31st #RoyalWedding episode—our first back-to-back taping. It was a long day, but we got through it without any major problems. This is absolutely thanks to the tireless work and genuine concern of the staff and crew. Allow me to take this opportunity to express my gratitude for your willingness to work with an amateur like myself. Thank you.

As this was a special occasion—our first recap episode—we were graced by the presence of both Hide-san and Gori-san, who normally appear on alternate weeks. What's more, I got to sit in the "partner seat" (stage right from our MC Kato-san), while Hide-san and Gori-san sat in the commentator seats. True to their commentator roles, the two of them were introduced using their real names—Nakagawa Hideki, and Teruya Toshiyuki, respectively. There was something fresh about the two of them putting on straight faces and bringing hashtags to the table that they wanted to discuss.

I, on the other hand, was tasked with being the straight man to their faux-serious antics, as well as administering a quiz to test how much they had retained from the previous weeks. All of it was new to me, so I was very nervous—but I feel like I've come a long way since our pilot.

The quiz brought to light certain issues that we'll have to address on the show in the future. On our show we cover a lot of vocabulary and phrases at a rapid pace—par for the course in the social media age, I suppose—so often we often gloss over the details and the specifics. Moving forward, I think we will try to do more review of the expressions we've covered in the past. As Kato-san, Hide-san, and Gori-san become more familiar with English, it may be prudent to adjust the balance of the content of the show: English input, and English output.
---
2.

Our Topic for the Week
For our recap show we revisited the hashtags we'd previously covered, and looked at any new developments that had happened in the interim.

The #MeToo and #TimesUp movements have continued to grow in size and momentum, shaking the foundations of the entertainment industry, politics, and other fields. We're entering an era when it's become an imperative that men reflect on their past actions and truly evolve.

In our #NeverAgain episode, we talked about school shootings and how the hashtag was an utterly commonsense plea that the country needs to come together to make sure these types of incidents never happen again. Students in America must live with a sad reality: that going to school means accepting the possibility that you may be walking into a school shooting. This sentiment is best reflected in the #IfIDieInASchoolShooting hashtag that we talked about.

These social problems that define our era will not simply go away, and solving each one is proving to be a truly daunting task. Ostensibly, as a member of the media, I hope to do everything in my power—however small—to move the world in a better direction.
---
3.

My Wardrobe This Week
Gray jacket by Brooks Brothers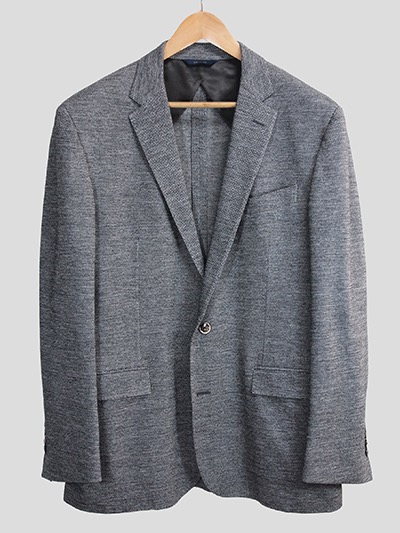 Up until now I've mostly worn suits—matching jacket and trousers. With summer almost upon us, I went for something more casual with a sports jacket and chinos.

With a suit, you only have to worry about choosing a shirt and necktie, but with a sports jacket you have to consider the balance of your jacket and trousers as well.

Hollywood celeb-types seem to like rougher styles when it comes to trousers, but the basic choice is a clean, fine-fitting pair of chinos. Color-wise, I recommend you go with basic colors like beige, brown, or gray. During summer, the more sartorially experienced may want to try a pair of white chinos or jeans.

This summer I hope to master the art of matching suit jackets and tailored sports jackets with a variety of casual trousers.
Red chinos by Brooks Brothers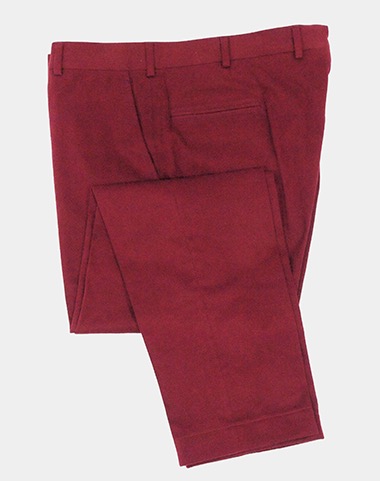 I found these red chinos on sale at Brooks Brothers' online store, and I bought them intending to use them for fall.

As today was a special occasion, I decided to go with something other than my usual black or gray trousers.

Before I started appearing on this TV show, most chinos I'd ever purchased fell between the 5,000 to 8,000 yen range. But it turns out the 10,000 to 20,000 yen range gives you completely different texture, comfort, and build.

This particular pair has geometric floral pattern lining around the waist area, resulting in a moment of serenity when you put them on. As I was sitting in the "partner seat" for this day, I found myself even more nervous than usual. So the floral pattern on the inside of these pants saved me, in a sense.
Tabio orange socks
After wearing pink, red, and yellow socks, I decided to evoke the beginning of summer with these orange socks.

They are the "Men's Power Fit 2×2 Ribbed Socks" from Tabio, 1,080 yen, tax included.

The socks are actually extra-sturdy around the tips of the toes and the heels, which was great because I was still trying to break in my Red Wing chukkas.

I also discovered that brown-colored shoes and orange-colored socks go really well together. So I suspect you'll be seeing more of these orange socks in the future.
Pink button-down shirt by Fabric Tokyo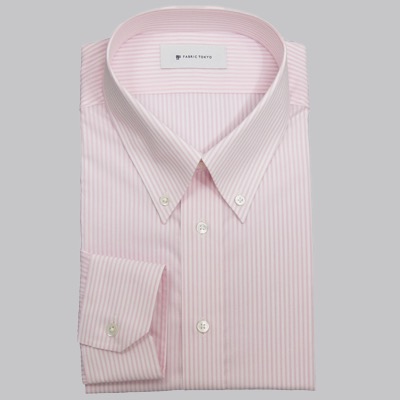 This button-down shirt has pink pinstripes (a pattern of very thin stripes). The cuffs are mitered, and all of the buttons are made of silver-lipped pearl oyster.

Like the shirt I wore last week, I ordered this one at Fabric Tokyo in Shibuya. It is wrinkle-resistant, so all you have to do is straighten it out as you hang it up to dry. I recommend these shirts for anybody who has to wear dress shirts on a daily basis.
Chukka boots by Red Wing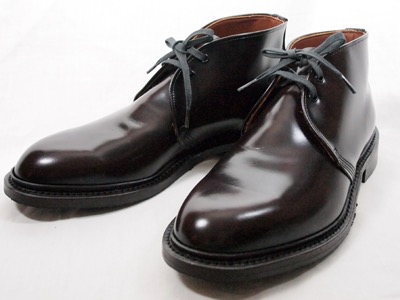 Chukka boots are ankle-high boots with two or three pairs of eyelets. Desert boots are a popular variation—a classic men's casual boot characterized by suede upper and crepe sole.

But when it comes to chukka boots that can be worn with a suit, you would usually expect to pay around 100,000 yen. (Alden makes a great pair.) I purchased this pair of Chaverly Chukkas from the Red Wing store along Kotto-dori in Aoyama. At 46,000 yen plus tax, these shoes are half the price of their luxury counterparts, but can more than hold their own.

The distinctive glo-cord medallion sole was originally made for Red Wing by an American sole maker in the 1920s. It is made from a mixture of rubber and raw cord, and has fantastic grip. The brand recently brought back the design for the first time in 80 years.

The shoes came with a pair of flat shoelaces that felt a little casual, so I replaced them with black waxed dress shoelaces.
Brown belt by Brooks Brothers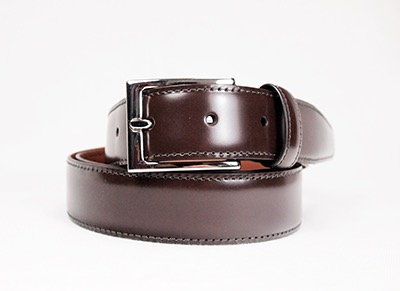 There's a belt section on the first floor of Isetan Men's, but with my waist size, selection becomes limited. This brown belt is something I bought at the tall-and-plus-size section on the seventh floor.

In the past, I was of the mindset that as long as the prong went through one of the holes on the belt, it fit. But according to BigBrother, the best fit for a belt is when the prong falls right around the fourth hole.
Brown glasses by Zoff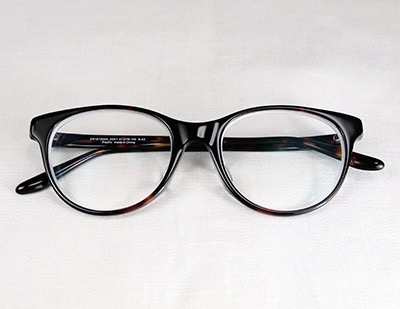 ---
4.

Epilogue: The English Language Has a lot of "Big" Words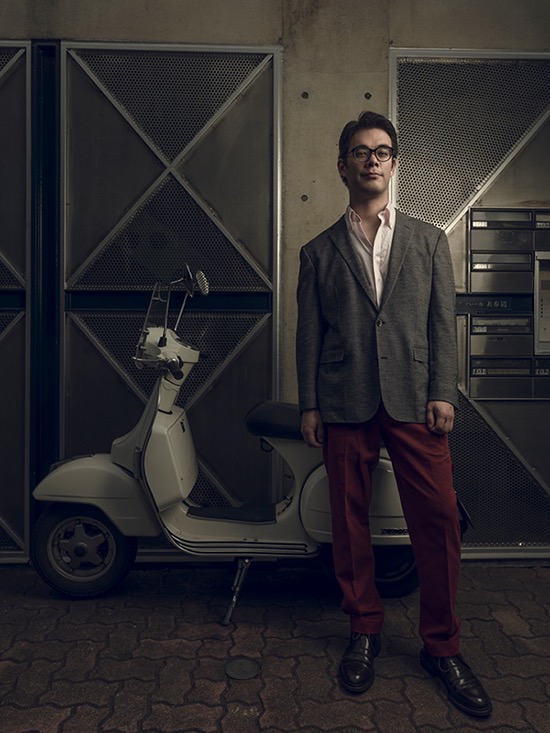 In the last segment of the show, where Kato-san (our MC) comes up with a sentence to post on social media, Torikai-sensei (our resident English teacher) suggested the phrase "#PowerOfSocialMedia is tremendous!"

Tremendous, which means "very big", is a word that former President Donald Trump loves to use. Listen to any of his speeches from his time in office or on the campaign trail, and you'd be hard-pressed to find an instance where he didn't use the word.

For Americans, bigger is better, and that goes for everything—homes, cars, hamburgers, and even dreams. There are many words in the English language that describe impressive size. There's huge, giant, jumbo, king-size, massive, immense, gigantic, monumental, mammoth, colossal, titanic, monstrous, gargantuan...and the list goes on and on.

If you're in the mood for a laugh, listen back to some of President Trump's public remarks. You will find he frequently uses these adjectives to describe how big something supposedly is. Incidentally, "to talk big" means to bluster and act overconfidently.
---
LANGUAGE & EDUCATION #004
The #MeToo and #TimesUp Movements and the Power of Social Media - SNS Eigojutsu (aired 2018/06/07)
---
※2021/10/13: サイトのtitleタグが変更されました。