---
1.

Prologue: Behind the Scenes
Our theme this week was the 2018 FIFA #WorldCup. This was our second time talking about a sports-related topic after featuring #ShoTime on April 26th. On our show we present tweets about a specific topic that are interesting either in terms of content or English usage. The challenge with sports-related topics is that an ongoing season or tournament means that a topic might be the talk of the town one day, but completely forgotten the next. It's difficult to read how a sports story will develop in terms of social media. As a result we're left with no choice but to frame the episode around old tweets, or look back on an event after the fact. With the World Cup that meant we'd have to go all the way back to 2014 when the last tournament was held, so we decided to just look back on the event after the 2018 tournament came to an end.

Our MC's partner this week was Hide-san, whose soccer credentials are legit. His high school soccer team was runner-up in the All-Japan High School Soccer Tournament, and was champion of the Inter-High School Sports Festival for soccer. He was even good enough to be scouted by the Yokohama Flügels of the J-League straight out of university. He's well versed in the game, and even appears on TV as a soccer commentator. So on this day, during rehearsal and in-between script meetings and the actual taping, he talked passionately about soccer and the World Cup.

As for me, as I mentioned on the show, I was more engrossed with Wimbledon—one of tennis's four major grand slam tournaments, held in London. At a script meeting a few weeks ago, I proposed #Wimbledon as a theme we could feature on the show, but was rejected on the grounds that it was more U.K.-centric than U.S.-centric, and the Japanese in general weren't paying much attention to the tournament.
In the end, Nishikori Kei lost to Novak Djokovic in the quarterfinals, but the fact that he won a set—especially considering he'd just recently returned to the tour after an injury—all in all it was a positive tournament for him. Nevertheless it is concerning that his head-to-head against Djokovic is 2 wins and 15 losses, and since beating him in the 2014 U.S. Open he has lost 14 straight times. If Nishikori is ever to win a grand slam or an ATP World Tour Masters 1000 tournament, he will have to overcome the wall that is Novak Djokovic.

That being said, I did make sure to watch all of Japan's national soccer team's (nicknamed Samurai Blue) games—even if I couldn't watch live and ended up taping it. When I assured Hide-san to this effect, he gave me a look of relief.
●

Soccer films I recommend
---
2.

Soccer is a Social Media Sport
Sports each have their own unique media attributes.

For example, baseball is very suited for the radio. Part of it is that it came into the American mainstream consciousness at a time when radio was the only medium for getting live games. At the same time, you could also say baseball became the American pastime precisely because of the radio. Games are dramatic narratives that unfold at a leisurely pace; sometimes nothing happens for long stretches of time, while sometimes a single hit completely changes the flow of the game. Critically, those moments where nothing much happens turned out to be perfect for airing sponsor messages. These days the youth of America seem to be drifting away from baseball, but according to a report from Neilsen, it still remains the most listened-to sport on the radio.

Meanwhile, football (referred to as "American football" in the U.K. and elsewhere outside of the States—the differences between American and British English are for another time) is very much suited for television. The Super Bowl (called the "bowl" because of the bowl shaped stadium it is played in), held on the first Sunday of February, continues to be the most watched TV program of the year, with commercial airtime being the most expensive in the world (a 30-second slot is on average around 4 million dollars). What's more, the technological wizardry on display gets better every year, from snazzy computer graphics that appear to be displayed directly on the field to show how many yards until a touchdown, to 360-degree replay footage. Football broadcasts are television at its most entertaining.

Soccer is suited for the social media age. The biggest reason is that it is such a democratic sport: yes, it has its megastars in athletes like Christiano Ronaldo and Lionel Messi, but in the end soccer matches are decided not by how brightly a team's star player shines but how that team is able to work together. Case in point, the Japanese national soccer team upsetting Colombia in their opening Group H match. Moreover, compared to (American) football and baseball, soccer is an international sport (notwithstanding the fact that the MLB calls its championship series the "World Series"), and that borderless quality makes it a good match for social media. Soccer clubs around the world actively use social media to disseminate news and updates, and more importantly, engage with fans worldwide.

As for tennis, I would say the sport is not an ideal fit for mass media—not in the least. Professional matches unfold at a rapid pace, with the key being how a player builds a point or breaks down their opponents defenses—mesmerizing to watch, but a nightmare to commentate on live. No matter how seasoned a commentator, it is simply close to impossible to convey all the nuances of what it happening on the court through a medium such as the radio. And as for TV, tennis is tricky in that one of the players may retire 30 minutes into the match; on the other hand, at grand slams men's best-of-five-set singles matches regularly go on for three, even four or more hours. For a TV station (and its sponsors) that wants to exercise control over its broadcast schedule, the starting time and length of a tennis match is a variable that is difficult to account for.

At the same time, tennis is not particularly apt for social media. Although it is unmistakably a global sport, compared to team sports like baseball, football, and soccer, tennis is largely a solo sport (there are team competitions like the Davis Cup for the men, and the Fed Cup for the women). The amount of time and energy individual players and their management team put into social media is simply not on the level of a sport like soccer.

Furthermore, tennis is unique in that spectators are urged to remain silent between points, and booing is frowned upon, and even considered shameful. It is a gentleman's sport where a lot is asked of the spectators, and for a sports fan that likes to provide loud, vocal support for their player and boo the opponent, I imagine tennis is a frustrating sport. Watching a tennis game live is for people with plenty of time and money on their hands, largely free from worldly cares—as well as for people who simply have a passionate love for the game. I, of course, firmly fall into the latter group.
●

My sports film picks
---
3.

My Wardrobe This Week
Green jacket by Azabu Tailor
This week I wore a green summer jacket I had made at Azabu Tailor.

Speaking of green jackets, perhaps the most iconic is the one that is given to the winner of the Masters Tournament—one of golf's four major tournaments held at Augusta National Golf Club in the U.S.

I wasn't necessarily thinking of the Masters Tournament when I ordered this one, but I did picture a summer resort, or exclusive country club. (Although I would like to take up golf at some point, in addition to tennis.)

My favorite suit that I've had made so far is the birdseye suit I had made at Universal Language, so I decided to order this jacket in the same style—three buttons with the top button behind a rolled lapel. Compared to a two-button suit, the V-zone is slightly more compact and thus comes off as more natural even without a necktie.

For the waist pockets, I had this one made with what's called a "change pocket". Change pockets are an additional, smaller pocket that is placed above the right pocket. Originally, equestrians in Great Britain wanted a place to store coins for easy retrieval when passing through toll booths. Later, after industrialization made commuting by train the new norm, these pockets were used as "ticket pockets". In modern society it does not serve any particular practical use, but for someone like myself who is relatively tall, change pockets bring a little variety to the negative space around the torso area.
Orange chinos by Brooks Brothers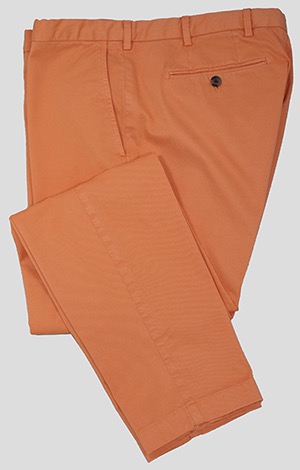 Wanting to wear colorful chinos this summer, I purchase four pairs at Brooks Brothers this past June, in beige, white, orange, and teal.

These are from the brand's casual Red Fleece line, and are quite affordable. I usually think of casual chinos as being on the baggy side, but these are slim and stylish.

Although there are belt loops around the waist, these pants also have a button-over tab in the front, meaning that they can be worn without a belt and you won't look like you're trying too hard to look casual. Up until now I've worn a belt for my wardrobe on the show, but these chinos are a perfect fit, and so I've decided to go beltless.

Incidentally, a member of the staff who always screen-tests my wardrobe for the show complimented my look today, saying that "the colors look delicious". Her words were reassuring, as I was still trying to get used to wearing clothes so colorful.
Slip-ons by Timberland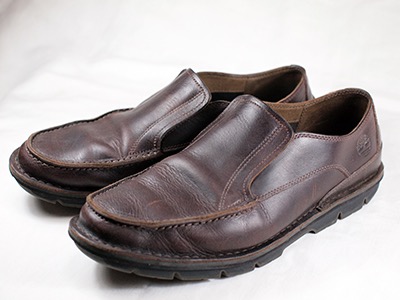 I purchased these Timberland leather slip-ons about two years ago.

Slip-ons are so-named because you can slip them on with ease by sliding your feet into them.

No shoestrings or buckles means putting them on and taking them off is a breeze, but there is a downside—you have to be careful about size. Quality leather products tend to stretch out slightly as you break them in, meaning that if the shoes were a perfect fit when you bought them, they may start to feel a looser as time goes on.

I learned this lesson myself the hard way with these shoes. Thankfully I was able to rectify the situation with an additional innersole, but the next time I buy loafers without laces or buckles, I will go for something with a tighter fit.
Gray striped shirt by Fabric Tokyo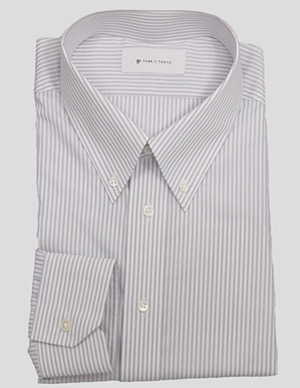 Orange socks by Tabio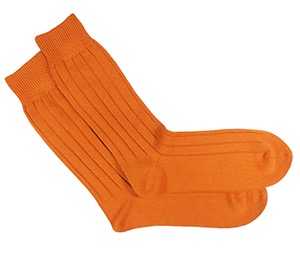 Black glasses by Zoff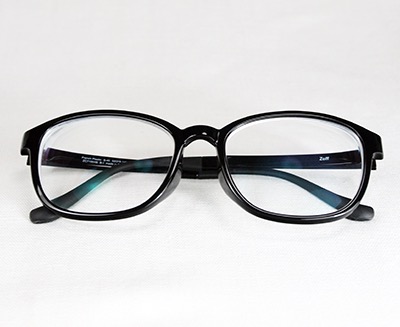 ---
4.

Epilogue: A Post-Taping Surprise
After we were done with the taping, I headed over to the makeup area, as usual, to get my makeup removed. Just as I was finishing up a member of the staff suddenly came up to me and said that the producers wanted to see me. For a split second I thought that perhaps they had finally had the last straw in terms of my monotone line readings on the show. Nevertheless I quickly headed back to the meeting room for the show.

I slowly opened the door to the meeting room, and a darkened room suddenly came to life, revealing the producers as well as members of the staff. On top of the table in the middle of the room was a mixed berry cake from Theobroma with a lit candle on top.

July 17th is actually my birthday, which just happened to coincide with one of our weekly tapings. This was the first time in more than 10 years that I had a party of sorts, celebrated by many people, and so I'm not usually one to get too emotional, I felt my cheeks blushing. Up until this experience I was not such a big fan of surprises, but this helped me see them in a more positive light.

Sekai e Hasshin! SNS Eigojutsu has two chief producers. I'd bonded with one over our mutual appreciation for jazz music, and she gifted me an Eric Dolphy live concert album. With the other producer, we're constantly making references to American comedy shows and films, and he gifted me a rakugo CD from Tatekawa Shinnosuke for me to become more familiar with Japanese comedy.

A huge thanks to my two producers and all the staff working on the show.
---
LANGUAGE & EDUCATION #009
Baseball is For Radio, Football is For TV, Soccer is For Social Media - SNS Eigojutsu 2018/7/19 ep
---
※2021/10/13: サイトのtitleタグが変更されました。