1.

Prologue
The second-ever interview I did for SNS Eigojutsu on NHK E-Tele was with actor Tom Holland, who plays Peter Parker/Spider-man in Avengers: Infinity War.

The Marvel Cinematic Universe kicked off with 2008's Iron Man, and has released a total of 18 films over the past decade. The Avengers films bring together the various superheroes in the Marvel Cinematic Universe to form a dream team of the world's greatest heroes.

In that sense, this new film features, arguably, the biggest ensemble cast in history.
---
2.

Looking Back on My Interview
My first impression of Tom Holland was that he is a classic "fine young man". In the midst of a whirlwind global press tour for the film, he mentioned at the start that his jetlag was killing him, but he was jovial throughout our interview, answering each of my questions thoughtfully.

Mr. Holland is from the U.K., so his natural accent is British. Peter Parker/Spider-man, on the other hand, is an American high school student, and Mr. Holland pulls off the American accent with aplomb. So much so that I was genuinely taken aback when I first learned that he was British.

Mr. Holland has a lovable, unaffected charm about him, which makes him prime fodder for internet memes. The one that most resonated with me was when American fans teased him for pronouncing croissant—the flaky French pastry—like "quackson." I'm no French major, but I assume that pronunciation is closer to the real French than the American "kruh-sahnt".

I can relate. When I was a kid, my mom brought home some croissants one day as an afternoon snack. She passed them over to me, calling them, in Japanese, "kurowassan". The buttery goodness changed my life, and so later at school I eagerly raved to my friends about this wonderful pastry known as a "kurowassan", to no avail. American kids, it seemed, weren't familiar with the pastry, much less the pronunciation "kurowassan".
---
3.

Navy Suit by GlobalStyle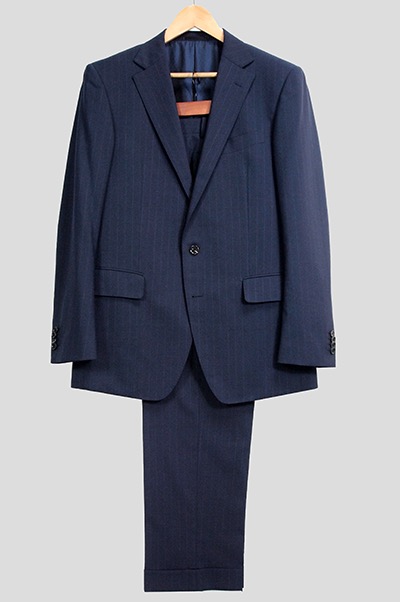 When it comes to suits, I make sure to go for designs that aren't trend-specific. Lately it seems to be on trend to wear tight-fitting suits comprised of short jackets and trousers that show off your ankles, but that style doesn't sit right with me.

The basic rule of wearing a suit is to faithfully adhere to classic, traditional style as closely as possible.

As for those men outfitted in the latest suit trends, I have no doubt that if they were to look at a picture of themselves ten years from now, they would be embarrassed.

The suit that I wore for this interview is one that I had made by GlobalStyle, paying special attention to jacket length and trouser hem.

For the jacket, I made sure that it was long enough to cover my butt, and for the trousers I asked for a bit of buffer room, making them just a tad on the long side.

Also, I tend to sweat quite a bit, so I ordered two pairs of trousers—one cuff-less, and one with cuffs.
---
4.

White and blue checked button-down shirt by Azabu Tailor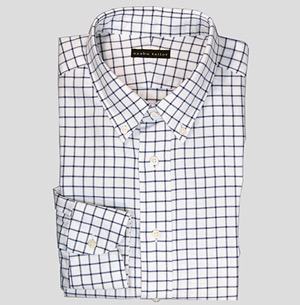 This was one of the four shirts I had made at Azabu Tailor back in February 2018 during one of their sales.

As I placed the order before being formally asked to be on SNS Eigojutsu on NHK Educational, I went for shirts that would work in both business and casual settings.

The cuffs are mitered, meaning the corners are cut off at a 45-degree angle. You often see this style of cuff on button-down shirts.

Azabu Tailor has a variety of button-down styles: standard button-down, traditional button-down, short button-down, Italian button-down, and more. I chose the short button-down style, thinking that I could potentially wear the shirt both with tie, and for casual occasions.

As for the shirtsleeves, I always make sure to find that just-right length that isn't too long, nor too short.
---
5.

Plain navy necktie by Polo Ralph Lauren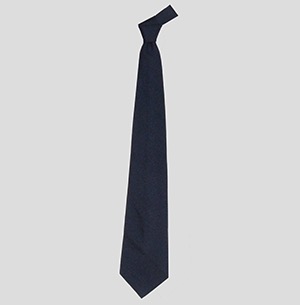 As we shoot in front of a bluescreen for SNS Eigojutsu on NHK E-Tele, we're not allowed to wear any blue on set. So for this interview, I decided to wear a blue suit, blue shirt, and blue necktie.

Also anticipating that I might have to take off my tie at the last second—like last time, for my Luc Besson interview—I decided to wear a button-down shirt.

This Polo necktie was given to me by BigBrother. The texture is fantastic and the material has a cooling effect—visually speaking.
---
6.

Original black belt by Isetan Men's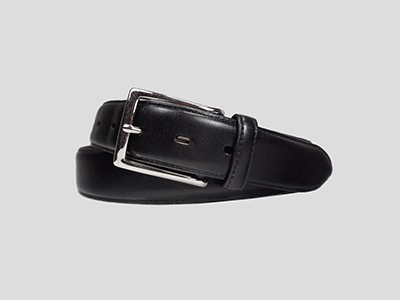 I purchased this black suit belt in the belt section on the first floor of Isetan Men's.

As I do a lot of translating work, I spend a lot of time seated in front of the computer. All that sitting down has the effect of warping the shape of the belt around my hip (and that is to say nothing of the effect on my hip). This belt, however, has a curved design, meaning it goes along with the curvature of the body. As a result it goes perfectly with the shape of my trousers around my hips. We're off to a great start, and I think this is the beginning of a beautiful friendship.

The belt holes are also ellipses instead of circles, which I would guess reduces the strain of the prong against the leather.

All the slight adjustments that go into making a belt like this—it's impressive.
---
7.

Black "Avignons" by Paraboot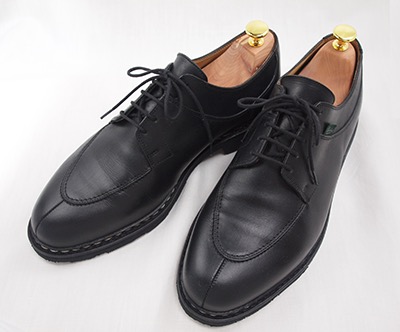 I purchased these "Avignons" in the shoe department on the basement floor of Isetan Men's. It's one of Paraboot's signature models; apparently in France it's their number one seller.

Compared to the U-tipped "Chambord"—another signature Paraboot model—the Avignon is U-tipped with a center seam, making it suited for both business and casual occasions. I chose it for that flexibility.

Proper leather business shoes have leather soles, but Paraboot shoes have rubber soles, owing to the brand's origins as a maker of mountain climbing shoes. Compared to leather soles, the rubber soles make these shoes more formidable in rainy weather.

The store didn't carry my size, so I had it imported from France—about a month wait
---
8.

Men's black socks by Isetan
I bought these black dress socks—Isetan Men's originals—in the basement floor of the department store. The socks they carry in the basement are mostly regular size, with a small corner of 27 cm-29 cm socks.
---
9.

"M-27" glasses by 999.9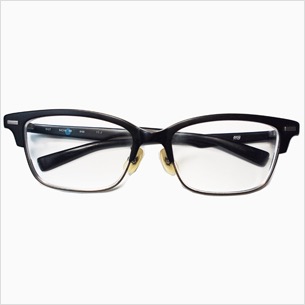 My current favorite frames are the "M-27" from 999.9 (pronounced Four Nines), although I can't wear them on SNS Eigojutsu on NHK E-Tele because the metallic parts reflect the light.

I made the decision to purchase these when I put them on and found that the shape of the top of the frame complimented the shape of my eyebrows. The bottom half of the frames are white gold. These types of glasses, where the upper half of the frame is thicker than the lower half, are called browline glasses.

At 41,040 yen (tax included), this high-end pair was quite an investment, but both the frame and the lenses are of the highest quality—the best of the best.

I purchased this pair at the brand's Aoyama shop along Kotto-dori, but you can also find them on the first floor of Isetan Men's in Shinjuku.
---
10.

Diver's watch by Seiko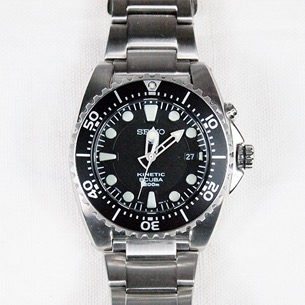 I had a friend back in the States whose father was never without a Rolex "Submariner" on his wrist. The hefty watch always looked so cool on his large wrist. I told myself that someday I would own a Rolex of my own.

As my income stands now, a Rolex is above and beyond my means, so I've been nurturing this Seiko "Prospex SBCZ025" diver's watch.

This watch is a little on the heavy size, but wrap it around your wrist and you'll find that the balance is fantastic, and the dial is very readable. It's great. Due to the fact that the distinct shape of the case resembles a sumo wrestler with a big belly, it goes by the nickname "sumo".

The fit is just right for my own large wrists, and it's my go-to when I'm not wearing a suit.

Japanese watches on the whole offer exceptional performance for the price, whether it's this Seiko or the Citizen watch I talked about in a past entry.