1.

Prologue
In this article I will go over my wardrobe for the pilot for Sekai e Hasshin! SNS Eigojutsu, which aired on NHK E-Tele on March 29th, 2018.

As this was my first time on TV, either in the U.S. or Japan, my mind was in a haze for the 24 hours leading up to filming.

My nervousness would stay with me throughout the day, but when we got into the studio at NHK, Gori-san (of the owarai—or comedy—duo Garage Sale), one of the cohosts, was kind enough to tease me about it, which broke the ice and the tension on set. Such is the power of a professional entertainer.

Furuta Daisuke-san, one of our resident social media commentators, hadn't seemed like the talkative type during rehearsals, but once the cameras started rolling, he was businesslike in getting through his lines, which surprised me. He seemed to me like the type of guy who is cool on the outside—but get him started, and he can get pretty intense!

As for me, I messed up my lines a number of times; thankfully our show is not live.

Despite it all, we managed to get through the filming, and afterwards we all went out for dinner.

Cohosts Hide-san (from the owarai duo Penalty) and Gori-san were doing all of the heavy lifting when it came to breaking the ice, just like during the taping.

I was also able to have a conversation with one of our resident English instructors, Torikai-sensei, about English language education. We were also joined by Tsukagoshi-san, who is another one of our social media commentators, and Naito-sensei, who is our other English instructor; although they do not appear on the pilot, they will appear on the show regularly moving forward.

Our MC, Kato-san, could not join us, as she had to go shoot a TV drama for TBS—her debut role as an actor.

I happen to be the youngest out of everybody on this show, so I suspect that means they will indulge me some growing pains for the immediate future. Nevertheless my plan is to get on my own two feet before I get the axe!
---
2.

Tweed Jacket by Polo Ralph Lauren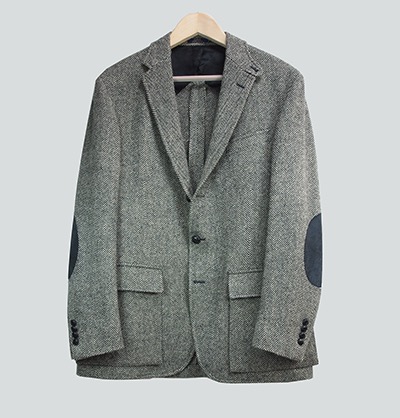 In my estimation, this tweed jacket is actually what won me the opportunity to appear on this NHK E-Tele show.

I first met one of the producers of SNS Eigojutsu at a couple of study meetings for a separate show at the end of 2017. I wore this tweed jacket to the meetings, and he offhandedly said to me that he liked my look—that I looked like a teacher. Not long after that, he contacted me about possibly appearing on this new program.

There's actually a story behind how I got my hands on this jacket.

Up until that point, I'd been doing more translating than interpreting, and hardly ever wearing a suit. But starting around last fall, I've been going out on more interpreting gigs, and I wanted a nice-looking jacket for fall/winter.

I'd visited more than 10 department stores and select shops (boutiques that curate a range of brands under their aesthetic), but didn't find "the one". One day my search took me to Cat Street in Harajuku, and I came across the Polo Ralph Lauren store—which had been Ralph Lauren Denim & Supply up through summer 2017. I walked into the renovated store, and that's where I encountered the tweed jacket on display.

I'd been considering tweed jackets, so I tried it on—but they didn't have my size at the store. Not to mention, when I looked at the price tag and saw that it cost 110,000 yen, I figured I would have to let this one go.

The attendant was kind enough to suggest: "They may have larger sizes over at our flagship on Omotesando, if you're interested."

Even on the off chance they did have my size, the 110,000 yen price tag was so beyond anything I'd imagined that I was having trouble wrapping my mind around it.

We visited a number of other shops before finally entering the Ralph Lauren flagship nestled behind the koban (police box) along Omotesando main street.

I asked the sales rep if they carried my size, and he brought the jacket out from the back, telling me that it was the last one in that size in Japan.

When I put the jacket on, I felt a sense of comfort that I'd never experienced before. Up until that point, suits and jackets were inherently uncomfortable—partly something to be endured. But this Ralph Lauren tweed jacket was warm, inviting, and soft to the touch. It was something that I could see myself never taking off, perfect fall-asleep-on-the-sofa attire.

According to the sales rep, this tweed jacket was based on a personal favorite owned by Ralph Lauren himself, released to commemorate the brand's 50th anniversary.

But still, the price was expensive. Sensing my hesitation, BigBrother came into the Purple Label fitting room, felt the collar of the jacket, and asked, "How much is this—about 300,000 yen?" The sales rep replied, "If you were to custom order it from Purple Label, yes, about that much."

Using pins, the sales rep carefully fitted the jacket to body shape, and it only became more comfortable. As I debated whether or not I should buy, BigBrother had one word for me: serendipity.

I'd always been the skeptical type when it came to fortune-telling and luck and the supernatural, but it was in that moment that I truly understood serendipity for the first time.

Five minutes later, I called up my credit card company to confirm my spending limit, and I decided to purchase the tweed jacket.
---
3.

"Red Fleece" White Button-Down Shirt by Brooks Brothers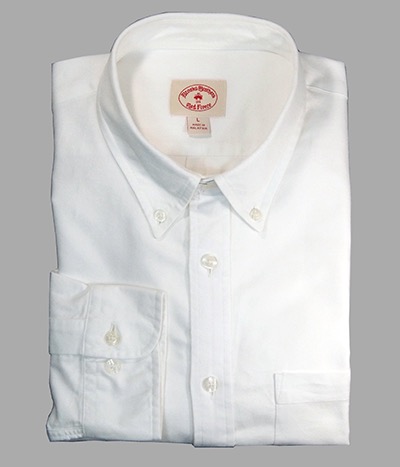 Americans tend to have a thing for classic style (what the Japanese call "trad fashion"), and for that reason Brooks Brothers has a special place in the American consciousness.

2018 marks the 200th anniversary of this prestigious brand, which was worn by icons such as JFK.

Brooks Brothers is also the brand that first introduced the now-classic button-down collar.

And who could forget the oft-told story about how Ralph Lauren himself started his career in apparel as a salesman for Brooks Brothers.

When I first stepped into the flagship store along Aoyama-dori as a college student, I remember my heart was aflutter.

As they carry plenty of clothes in my size, I have a number of their button-down shirts, polo shirts, and trousers.

I especially recommend their pajamas and their cotton t-shirt packs. The shirts are, of course, made out of top quality cotton, and feel completely different from ones made with synthetic fibers.

I also have a white button-down oxford shirt, but considering this was our first episode, and also taking into account the balance with my jacket, I went with a button-down in a kind of lustrous white.
---
4.

Charcoal Gray Trousers by Brooks Brothers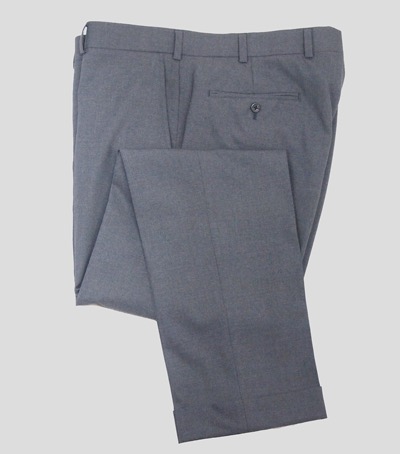 For trousers, I went with charcoal gray spring/summer stretch fabric trousers, specifically Regent Fit Plain-Front Brookscool Trousers.

I regularly play sports and my upper thighs and hips are on the larger side, so make sure to get my suit trousers with pleated fronts. These trousers are designed to be comfortable when you sit down, so this pair has been great.
---
5.

Gray Socks by Brooks Brothers
I often visit the Brooks Brothers Aoyama flagship, but I also like going to its stores in Seibu and Tokyu department stores in Shibuya, and Isetan in Shinjuku.

I regularly visit Isetan Men's not just for Brooks Brothers but also for their good selection of tall and plus size clothing.

These socks come from the basement socks department in Isetan Men's.

It's always a conundrum choosing which gray socks I should wear with black shoes and a gray suit or gray trousers. My basic rule has been to go with the same shade as my pants, but I also like choosing a shade that lies between my pants and my shoes.

These are the kind of things I mull over before choosing which socks to wear.
---
6.

Black Belt by Isetan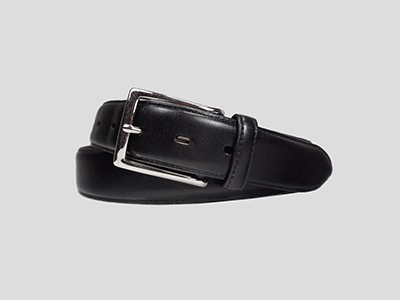 It's very difficult to find the perfect black belt. They run the gamut—you can find ones for 1,000 yen, and on the luxury end you can find ones that cost upwards of 100,000 yen. The texture of the leather and the buckle design also varies widely.

With wardrobe staples, it's precisely because everybody has one that they become such a clear indicator of sense of style. There was a cordovan belt I wanted at a select shop for about 40,000 yen, but I opted for a simple 10,000 yen Isetan original. The quality was such that it would have cost around 20,000 yen if I had bought it from a famous brand.
---
7.

"Avignon" by Paraboot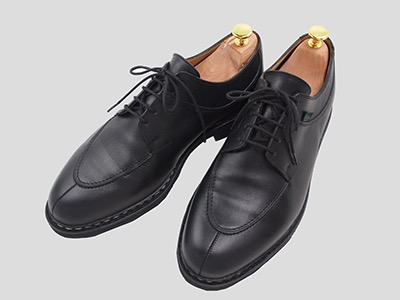 As I'm not a salaryman, my daily life doesn't entail suiting up, slipping on leather shoes, and getting onto a crowded train.

All the more reason why when I do wear leather shoes, I want to make it count. I make it a point to choose shoes that, properly maintained, will last me for a decade—even if the initial investment is a bit high.

Paraboot shoes may be a little on the hip side for someone with a square job, say, like a bank employee.

Each and every one of their models has a distinct style—so idiosyncratic that they speak for themselves, even without the telltale green Paraboot tag.

About three years ago I purchased a pair of Avignons, which go great with both a suit and casualwear. I've been careful to take good care of them, so they've become quite comfortable to wear.
---
8.

Black-Rimmed Glasses by Zoff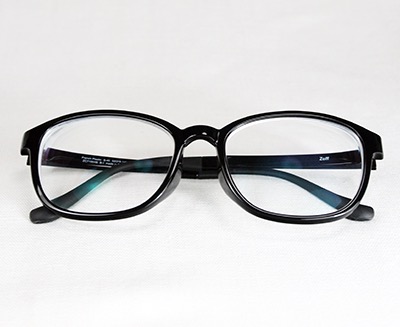 For this TV show, we shoot in front of a blue screen, which allows for a computer-generated background, so members of the cast are unable to wear anything blue. Consequently, putting a wardrobe together has been a challenge—because when it comes to suits and shirts for men, blue is the most common color. (Preparing my wardrobe for this show has been a reminder of that.)

The blue screen also means that any reflective surfaces that could potentially reflect that blue or the lighting are also no good. And it just so happens that glasses often have metal or metallic parts.

Up until now I've mostly worn glasses from places like 999.9, Hakusan Megane, and Kaneko Megane, but all of the pairs I had contained visible metal parts of one form or another, making them all unsuited for the show.

So with no time to waste I went to Zoff in Harajuku and Jins in Shibuya to find glasses with no noticeable metal parts.

I was surprised to find that both Zoff and Jins make same-day prescription glasses.

A self-proclaimed American model, who apparently had just done some sightseeing at Meiji Jingu, was likewise astonished at how fast she could have a pair made.
---
9.

Epilogue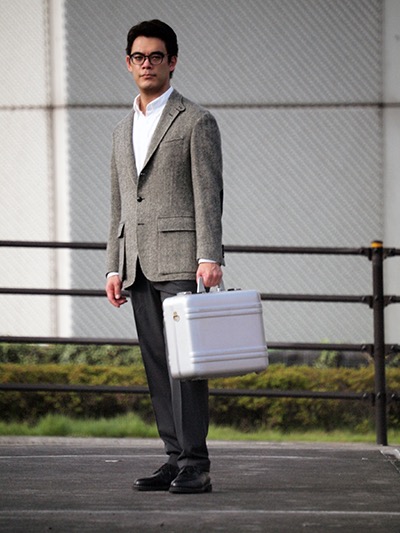 BigBrother often says that in Japan, those who try to go big when it comes to fashion just end up looking funny.

Whenever he sees self-proclaimed fops going sockless in leather shoes, he says "The only guys allowed to wear leather shoes without socks are Italian playboys lounging at luxury overseas resorts, rich Americans who make more than 100 million yen a year, and as for the Japanese, just Ishida Junichi." (He maintains that English and French gentlemen would never, ever do such a thing.)

Japanese men tend to blindly follow whatever they see foreign models wearing in magazines, giving nary a second thought to their own dirty ankles and wearing cheap shoes that have been criminally neglected.

Have some decency, BigBrother says, and at least keep the socks on until you have the toned legs of an athlete and a pair of 70,000-plus yen shoes that have been well maintained.

Incidentally, the worst offense in BigBrother's book would be to cuff and roll cheap jeans (or conversely, pointlessly expensive 50,000-plus yen denim), while wearing the kind of low-cut socks intended for women that make it appear as if you're sockless, barely hidden by dirty business shoes made of brown artificial leather with pointed toes and rubber soles. It's that type of guy, he says, that you'll see with an overstuffed knock-off long wallet in the back pocket of his jeans. And you can half-expect that guy to have a chain attaching said wallet to a belt loop on said jeans.