1.

Prologue
For our third taping, I was finally able to loosen up just a little. I'm being given more lines, but to my great relief, I was able to get through them without any major mistakes.

Today's "partner" was Hide-san from the comedy duo Penalty; the commentator was Sasaki Toshinao-san; the teacher was Naito Yosuke-san.

At our pre-taping meeting Hide-san greeted me by saying "Kazuo-san, you like your shaoxing wine, don't you?"

He was referring to the staff and crew dinner we had after we taped our pilot episode, where I drank quite a bit of shaoxing wine.

It's true—shaoxing wine is my favorite type of alcohol. Back in college an uncle took me to the all-you-can-eat at Dynasty, a Chinese restaurant in Hilton Tokyo in Shinjuku, where I had shaoxing wine for the first time. I've been hooked ever since.

Side note, my second favorite alcohol is imo-jochu (sweet potato shochu). So much so, in fact, I drink a glass of imo-jochu mixed with soda water on most days—all year round.

Sasaki Toshinao-san is active across many media channels, so he was very natural in front of the TV camera. Although it was his first time on this show, he had presence—it was quite impressive.

Former news director at The Japan Times Naito Yosuke-san seemed like a very on-the-level guy—just a tad nervous as this was his first taping for the show.

Kato Ayako-san was all smiles from beginning to end, breaking the ice and easing any tension on set.
---
2.

Light Gray Striped Suit by GlobalStyle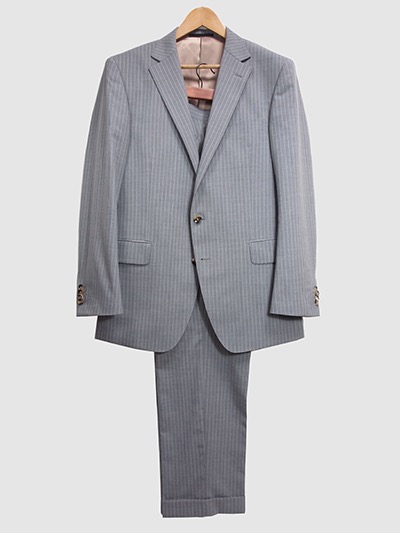 This suit, which I had made last year at GlobalStyle, is also what I wore for my interview with director Luc Besson.

The key to this suit is the lining and the buttons. The advisor at GlobalStyle suggested something more colorful to make the most of my order, but BigBrother recommended that I go with something a little subtler.

Instead of sticking with the free button options, I asked for buffalo horn buttons.

As for the trousers, I ordered two—one with a straight hem, and one with a turn-up. For this episode of the show, I went with the slightly more casual turn-up. And so the trousers are not too tight around the thighs, I opted for pleats.
---
3.

Pink Button-Down Shirt by Difference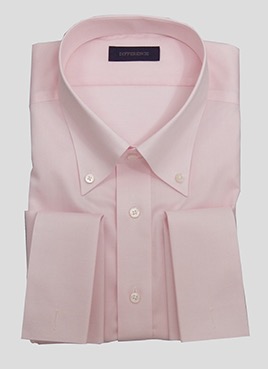 For this taping I went with this pink button-down that I had made at Difference along Aoyama-dori. I went with French cuffs (double cuffs), which you don't see all that often.

With button-down shirts, a box pleat is standard, but because of my shoulder width, I order mine with side pleats. It's much more comfortable when you can move your shoulders around.

Incidentally, Difference is the pattern order tailor brand operated by Konaka since 2016, under the supervision of creative director Sato Kashiwa.

Get your measurements taken for your initial order, and after that you can easily place orders via smartphone. Delivery is relatively quick as well (for this pink shirt the wait time was a little more than two weeks).
---
4.

Brown Belt by Brooks Brothers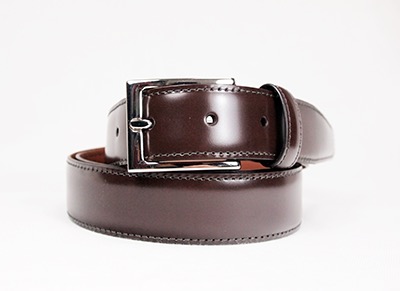 There's a belt section on the first floor of Isetan Men's, but with my waist size, selection becomes limited. This brown belt is something I bought at the tall-and-plus-size section on the seventh floor.

In the past, I was of the mindset that as long as the prong went through one of the holes on the belt, it fit. But according to BigBrother, the best fit for a belt is when the prong falls right around the fourth hole.
---
5.

Silk Knot Cufflinks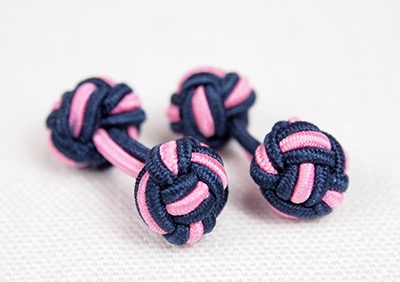 Because my shirt for this episode has double cuffs, I needed cuff links. Perhaps if I were going to wear a tie, metal cufflinks would have been in order, but since I was going with a button-down and no tie, I decided to go with silk knot cufflinks.

In the past, I'd purchase silk knot cufflinks for about 2000 yen at select shops, but you can find a variety of them online for less than 1,000 yen. I got this pair from a vendor called Cuffs Senmonten CUFF.

Back when I still hadn't gotten used to how to tie a tie, I'd have to redo it over and over until I got the knot the right shape, or the right overall length. It was frustrating. But it turns out trying to pass silk knot cufflinks through the buttonholes of a crisp shirt you're wearing for the first time is next to impossible. If you ever need dress up and put on some silk knot cufflinks, make sure you give yourself plenty of time. (Or, find yourself a girlfriend kind enough to lend a helping hand.)
---
6.

Gray Socks by Brooks Brothers
Brooks Brothers products give you good value for your money. They're high quality, but reasonably priced.

The suit I wore for this taping was light gray, so I went with a slightly different shade of gray for my socks to create contrast—I didn't want it to look like my pants were tucked into my shoes.
---
7.

"Poe" Brown Double Monk Shoes by Paraboot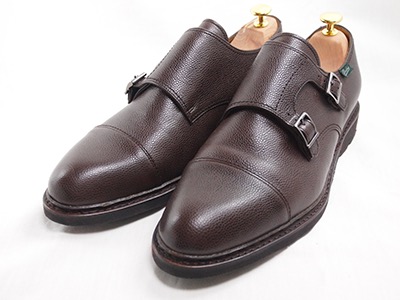 Shoes are a key part of my wardrobe. For this taping I wore a pair of brown double monk shoes from Paraboot—a model called "Poe".

I was drawn to the darker brown, as well as the pebble-grain pattern, which gives the shoe warmth and charm.

I ended up buying a pair that was a half-size larger (10.5) than my black Paraboot "Avignons" (10), because the fit of double monk shoes are a bit on the tight side.
---
8.

Brown Glasses by Hakusan Megane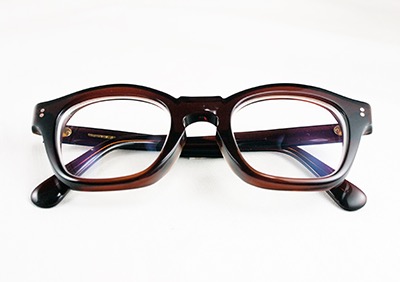 This frame from Hakusan Megane has visible metal parts, so I had assumed that it wouldn't work against our blue screen set, but after checking in with our technical crew and getting approval, I thought I'd give them a try.

This is a plastic model called "GLAM PROTO". Wanting to try something a little different from the glasses I usually wear, I went with a considerably thicker frame.

On screen they look a little closer to black than the beautiful light brown they actually are.
---
9.

Recommended Sasaki Toshinao Reading List
●

Hiroku Yowaku Tsunagatte Ikiru

(Lead Your Life Making Connections Wide and Soft)
I think it's safe to assume everybody who experienced the Great East Japan Earthquake found themselves thinking about what life meant. In my case, my parents in the U.S. told me they thought it would be best that I return to America.

This book is the conclusion Sasaki-san arrived at.
●

Google—Kizon no Bijinesu wo Hakai suru

(Google—Destroying Business as We Know It)
This book is over a decade old, but at the time I was trying to decide between going freelance and working as a salaryman. Reading this book helped harden my resolve to make it as a freelancer.

And at the time, I wouldn't have thought in a million years that I'd one day be working with Sasaki-san.
●

Watashi ni wa Mou Shuppansha wa Iranai

(I Don't Need a Publishing Company Anymore)
As he details in this book, Sasaki-san gets his opinions out through a variety of mediums.

Since I was a kid I always dreamed of publishing a book—just one book, any book. Reading this book made me rethink about the meaning of print publishing.
●

Reiyaa-ka suru Sekai—Tekunorojii to no Kyohan-Kankei ga Hajimaru

(The World is Becoming More Layered—How We Are Becoming Complicit With Technology)
What always amazes me about Sasaki-san is his foresight, his ability to envision the world five, ten years from now.

Reading this made it clear to me that the disparity that plagues our world is not a result of a failure of politics, but advances in information and communications technology.
●

Kyureishon no Jidai—Tsunagari no Jyohou Kakumei ga Hajimaru

(The Era of Curation—The Information Revolution of Connectivity)
This book, to me, represents a kind of theoretical outline for TABI LABO, a media website where Sasaki-san serves as editor in chief. It challenges our preconceptions of what expression should be in the social media age.
●

Kantan, Nanoni Oishii! Iemeshi koso, Saikou no Gochiso de aru.

(Easy, but Delicious! A Home-Cooked Meal is the Best Feast)
The great thing about Sasaki-san is that he writes not only challenging non-fiction, but also recipe books like this one.

I cook at home a lot, and in that regard this book has been a great companion.
---
10.

Epilogue
BigBrother has had a high opinion of Sasaki Toshinao for a long time now, and has read almost all of his books.

According to BigBrother, Sasaki-san's ability to envision the near future is very insightful and accurate. He has high praise for his approach—which is not just about analyzing as a scholar, but making a mark as a businessman as well.

Judging by Sasaki-san's work so far this year, it seems that he's interested not just in ICT and the virtual world, but also about enriching our real-world lives. BigBrother is curious to see where that goes.