1.

Prologue: Behind the Scenes
Today was our first back-to-back taping. Up until now we've taped the show on Tuesday and aired on Thursday, but this week circumstances conspired to allow us to tape next week's show as well.

Usually the commentators on the show—me included—are busy with script meetings and the like before taping, so we mostly hang out in a meeting room with people coming and going. But on this day we had some downtime between the first and second tapings, and I had a wardrobe change, so Tsukagoshi-san (fellow commentator) and I got our own dressing room for the first time. Having a spacious room all to ourselves was a little intoxicating—I felt like I'd become a star in some small way.

Our featured topic this week was Prince Harry and Meghan Markle's #RoyalWedding.

Meghan Markle rose to fame as one of the protagonists of the American television show Suits for many years. In honor of her and the occasion, the men all wore suits for today's show.
---
2.

Americans and the British Royal Family
The United States of America (technically, the originally 13 colonies) once declared its independence from Great Britain to escape the rule of the British crown. However, in recent years, Americans seem to have started once again to be drawn to the British Royal Family.

In 1985, the year I was born, Princess Diana visited the Ronald Regan White House and danced with John Travolta, and the occasion drew large crowds to Washington to catch a glimpse of the "People's Princess". For Americans, there had always been something cold about the royal family, but the warmth of Lady Diana had captured their hearts.

Then in 2011, the royal wedding between Prince William and Catherine Middleton also made headlines in the U.S. I remember turning on the TV that morning and morning shows on every channel covering the event. The broadcasters were all glued to the proceedings.

Through the wedding of Princess Diana's eldest son, many Americans became even more acquainted with the British royal family. Nevertheless, African Americans were one group that seemed to remain uninterested in all the pomp and circumstance. However, with Meghan Markle—who was born to an African American mother—becoming a member of the royal family, the demographic is taking notice.

The wedding sermon of presiding bishop Michael Curry of the Episcopal Church might have left the British royal family and their relatives in a--much needed--state of shock, for African Americans, it was unmistakably a moving scene.
---
3.

My Wardrobe This Week
White shirt by Azabu Tailor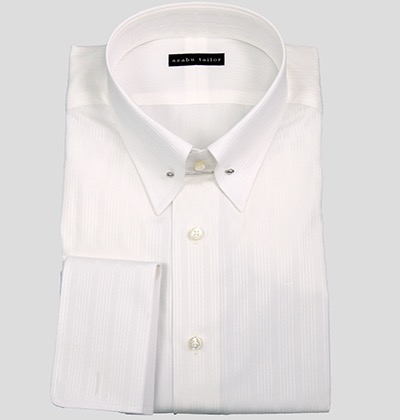 The key element of my wardrobe this week was the white pinned collar dress shirt that I had made at Azabu Tailor's &C Omotesando store. The pinned collar shirt is more "dressy" than a standard collar—perfect for a joyous occasion like the #RoyalWedding. (Not that I would ever be invented to such an occasion.

A collar pin is a simple accessory about the size of a toothpick, with two ends that can be screwed on or off. It lifts the knot of your necktie and creates a three-dimensional effect around your v-zone. Other than a collar pin, you can also get your hands on safety pins, collar clips, and buttons.

This week we were taping two episodes back to back, and as such I had a tight schedule in terms of changing wardrobe. This particular shirt has thick, 5 mm buttons (as opposed to the standard 2.5 mm) made of silver-lipped pearl oyster, which were easy to fasten. But collar pins are another level of stress—the entire time I was afraid I'd lose the collar pin, or that I'd have trouble pinning the shirt.

But I was incredibly careful when putting it on and removing it, and I managed to get through the taping in one piece. There aren't many accessories out there a man can pull off, but the collar pin makes you feel like a million bucks.
Necktie by Ralph Lauren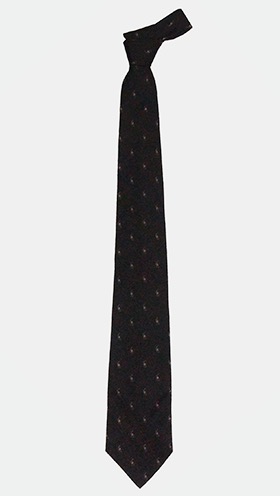 I got this vintage black necktie from BigBrother. It has oval-shaped dots all over it.

When using a collar pin, the trick is to use a plain knot and make the knot itself as small as possible.
Black silk knot cufflinks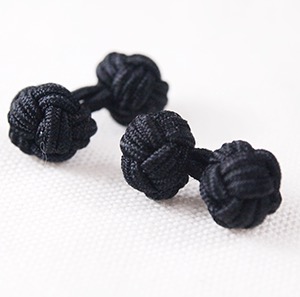 The shirts I had made at Azabu Tailor all have double cuffs (often called French cuffs), so I purchased another pair of cufflinks from the online shop Cuff.

Normally with cufflinks, it's best to go with metallic ones for a special occasion. However, because our show is shot in front of a blue screen, I have to refrain from wearing anything blue as well as metallic, reflective objects. So I went with the silk knot option.
Black suit by Global Style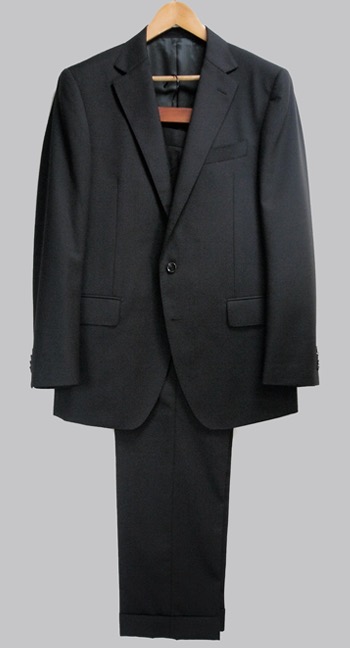 Up until I started appearing on this show, all the suits I've ordered have been made using entry-level fabrics. But for the spring 2018 season of SNS Eigojutsu on NHK E-Tele, I decided to order four new suits in a higher grade of fabric.

People say that your first suit should be in navy, and the second in gray. I agree that those two colors are the most versatile. Black suits, on the other hand, are often associated with weddings, funerals, and other formal occasions and parties. For me, the film Men in Black immediately comes to mind.

Technically speaking, a black suit is different from wedding and funeral attire. I had this suit made using a black fabric with a kind of luster from an Italian fabric maker called Angelico. Now, wearing clothes with a luster or sheen at a funeral would be a major faux pas.

Also, wedding and funeral attire does not have a vent—that slit you see on the backside of suit jackets. For this suit, I asked for side vents (one vent on each side of the back panel).
Black socks by Isetan Men's
I bought these black dress socks—Isetan Men's originals—in the basement floor of the department store. The socks they carry in the basement are mostly regular size, with a small corner of 27 cm-29 cm socks.
Wing tip shoes by Regal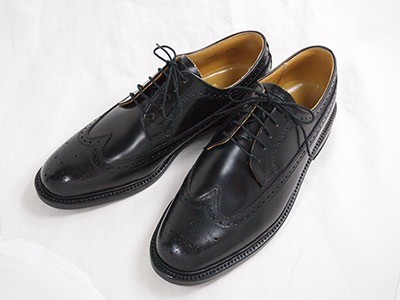 These Regal wingtip shoes are from Kutsu no Hikari.

Kutsu no Hikari is a shoe store that caters to big feet in the 28 cm-32 cm range. They have a couple of stores right along the elevated train tracks that run between Okachimachi Station and Akihabara Station. One specializes in business shoes, and right around the corner is the second store, which specializes in casual footwear.

I usually wear a 29 cm or 30 cm, so I initially asked for a 30 cm, but much to my surprise I found that I could fit multiple fingers into the gaping space left by the heel of my foot. I tried out progressively smaller sizes until it became clear that 27.5 cm was the perfect fit. In other words, I lucked out that the big-foot store carried my size.

This goes for all shoes but is especially true for leather shoes: you don't know for sure until you've physically tried it on. Online buyers take caution.

This was my first-ever leather-soled shoe (OK, the heel is rubber), and so on the day of the taping I took slow, deliberate steps from my dressing room to the studio, being careful not to slip. At this point the leather sole is still smooth to the touch, but hopefully a little wear will make them easier to walk in.
Black leather belt by Isetan Men's
I purchased this black suit belt in the belt section on the first floor of Isetan Men's.

As I do a lot of translating work, I spend a lot of time seated in front of the computer. All that sitting down has the effect of warping the shape of the belt around my hip (and that is to say nothing of the effect on my hip). This belt, however, has a curved design, meaning it goes along with the curvature of the body. As a result it goes perfectly with the shape of my trousers around my hips. We're off to a great start, and I think this is the beginning of a beautiful friendship.

The belt holes are also ellipses instead of circles, which I would guess reduces the strain of the prong against the leather.

All the slight adjustments that go into making a belt like this—it's impressive.
Black glasses by Zoff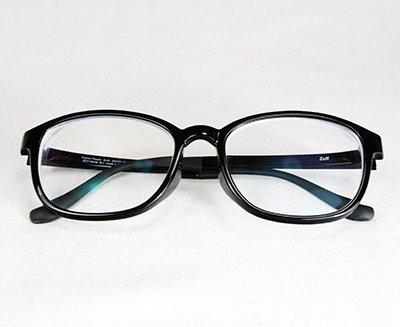 For this TV show, we shoot in front of a blue screen, which allows for a computer-generated background, so members of the cast are unable to wear anything blue. Consequently, putting a wardrobe together has been a challenge—because when it comes to suits and shirts for men, blue is the most common color. (Preparing my wardrobe for this show has been a reminder of that.)

The blue screen also means that any reflective surfaces that could potentially reflect that blue or the lighting are also no good. And it just so happens that glasses often have metal or metallic parts.

Up until now I've mostly worn glasses from places like 999.9, Hakusan Megane, and Kaneko Megane, but all of the pairs I had contained visible metal parts of one form or another, making them all unsuited for the show.

So with no time to waste I went to Zoff in Harajuku and Jins in Shibuya to find glasses with no noticeable metal parts.

I was pleasantly surprised to find that both Zoff and Jins make same-day prescription glasses.
---
4.

Epilogue: American Men Feel Intimidated by the British Gentleman
In contemporary times, the existence of the British royal family serves a very specific purpose: to elevate and spread the British brand. The fact that the U.S., which declared independence from Britain on July 4th, 1776, has come full circle and now once again has its eye toward the British, attests to the longevity and the universality of the royal family.

If you're a man, it's likely you've to one degree or another aspired to a certain symbol of the British gentleman: Agent 007 himself, James Bond. In that way the character of James Bond is an ambassador for British culture. Whether it's style, or suits, or the resolve to stake one's life to protect the royal family. Especially memorable was the opening ceremony of the 2012 London Olympics, where actor Daniel Craig—who currently plays the role—escorted Queen Elizabeth to the main Olympic Stadium via helicopter, and proceeded to parachute down into the center of the venue.

In recent years, Americans have been glued to their TVs watching British shows like Downton Abbey, The Crown, Doctor Who, and Sherlock.

It's no wonder why American men are often intimidated by British men and their accents.