1.

Prologue
In MUSIC & PARTIES #005 KAZOO wrote about the history of the Roppongi nightclub scene. This week I've put together a list of 10 of Roppongi's most popular nightclubs (popular is the operative word). The area has venues of all kinds—glittery discos, hyped-up meet markets, bars for music lovers, and lounges for discerning adults.
---
2.

V2 TOKYO
V2 opened in 2013 atop the Roi Building in Roppongi, on the former grounds of popular Roppongi nightclub Vanity. It quickly became known as Tokyo's premier meet market, visited by international DJs and guests, and with lines and wait times inevitable on weekends. With the impending demolition of the Roi Building, in October 2018 the club relocated to the Tower of Vabel, a hotel-cum-entertainment building near Tokyo Midtown. The venue has two dance floors, both featuring mostly EDM, as well as American Top 40 hits and hip hop. Entry for women is always free; for men entry is 2,000 yen Monday through Thursday (includes one drink ticket), and 3,500 yen Friday, Saturday, and Sunday (includes two drink tickets). Look for the diamond faceted facade.
<VENUE INFO>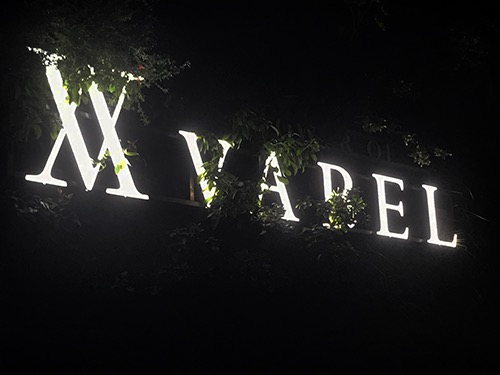 V2 TOKYO
Address:
Tower of Vabel 1F/B1F, 7-13-7 Roppongi, Minato-ku, Tokyo 106-0032
---
3.

Seven Tokyo
The club 7 Sense was a single-floor music lounge with capacity for 150, an oasis in the middle of Roppongi's bustling nightclub district. The "7" refered to its seven founding ideals: wine, champagne, music, fashion, beauty, encounter, and communication. The low-key vibe and the staff's reputation for friendly service make this venue approachable for first-time guests and beloved by regulars. 7 Sense shut it doors in May 2019, only to be reborn as an upscale nightclub/lounge called Seven Tokyo. Drinks are on the expensive side but the venue is open until morning on Fridays and Saturdays.
<VENUE INFO>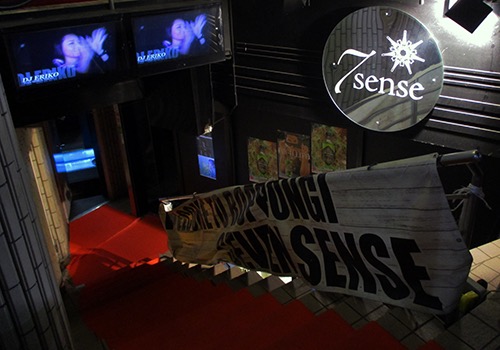 Seven Tokyo
Address:
Alo Building B1F, 3-14-7 Roppongi, Minato-ku 106-0032
Open:
Tue-Thu 20:00-5:00 / Fri & Sat 20:00-10:00
Closed:
Sundays and Mondays
---
4.

DiA Tokyo (closed June 2019)
※DiA Tokyo shut down on June 21st, 2019.

DiA Tokyo is a three-floor club complex that opened in December 2016 that essentially operates three different venues. On the first floor is Emiliano, a Latin-American style bar and grill that serves up tapas and meat dishes at affordable prices. On the second floor is Ruby, a laid-back lounge space perfect for an after-dinner drink and sit-down, or a respite from the excitement one floor up.

On the third floor is the DiA Tokyo nightclub. The dance floor, which features an 8-meter high ceiling, diamond-cut LED lights, and 50 lasers, caters to hyped-up EDM-heads, and regularly hosts the kind of top international DJs that have reigned over the DJ Mag Top 100 DJs poll in recent years. Entry to the third floor nightclub is free for women, and 1,000-2,000 yen for men, depending on the day and time. Side note, the name "DiA" is a play on "dear" and "diamond"—making this club a feel-good cut of glittery Roppongi nightlife.
---
5.

a-life
Located along Roppongi-dori near Nishi-Azabu crossing, A-life is one of the biggest nightclubs in the Roppongi/Azabu area. The first floor features a central island bar, and is a great space for taking some time away from the dance floor to take a breather or enjoy a conversation. On the second floor is a luxurious lounge space featuring hip hop and reggaeton music. The 800-capacity main dance floor in the basement usually only opens on the weekends, when it hosts Japanese DJs spinning the latest EDM and Top 40s tracks. On Friday, Saturday, and Sundays, entry for up to three people is just 1,000 yen between 21:00 and 23:00. From 23:00, entry is 2,500 yen for women, and 5,000 yen for men (both come with two drink tickets).
<VENUE INFO>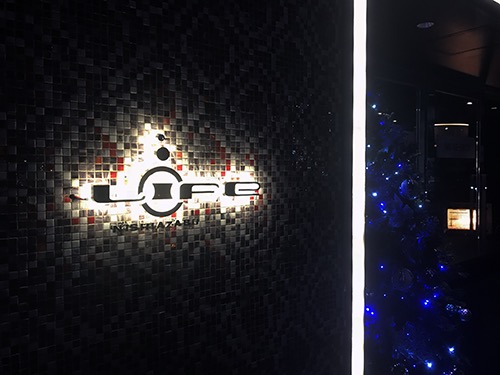 a-life
Address:
1-7-2 Nishi-Azabu, Minato-ku, Tokyo 106-0031
---
6.

LEX TOKYO MAGNET
Lex Tokyo Magnet is a mid-sized venue (150 capacity) that bills itself as a nightclub that makes guests feel as if they've stepped into a party in a foreign land. It first opened its doors in 1980 under the name Lexington Queen, and has long had a reputation for being the place to be, visited by international stars like Leonardo DiCaprio, Jude Law, and Gwen Stefani, as well as foreign models and Japanese "idols" and entertainers. The venue was reborn in the club-dense Roppongi 3-Chome neighborhood in October 2018. It continues its pedigree with "Star High Touch", periodic meet and greet events with international DJs and celebs.
<VENUE INFO>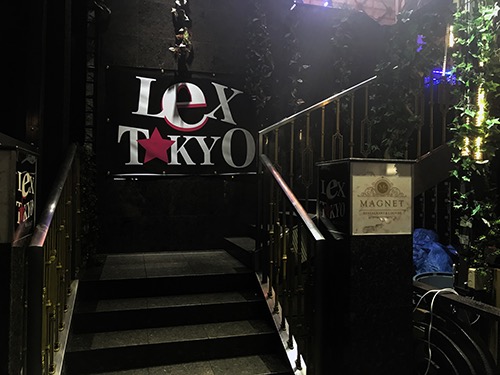 LEX TOKYO MAGNET
Address:
Elsa Bldg. 2F, 3-13-12 Roppongi, Minato-ku, Tokyo
---
7.

MAHARAJA ROPPONGI
This 300-capacity mid-sized venue carries on the legacy of the chain of luxury discotheques that were synonymous with the disco craze in the 1980s. It features iconic disco-era accoutrement, gorgeous interiors, and o-tachidai—raised platforms for dancing. The club is beloved by party people of all ages: disco-themed events are held on the weekdays, and on Fridays and Saturdays the place is transformed into a modern club, complete with the latest dance music.
<VENUE INFO>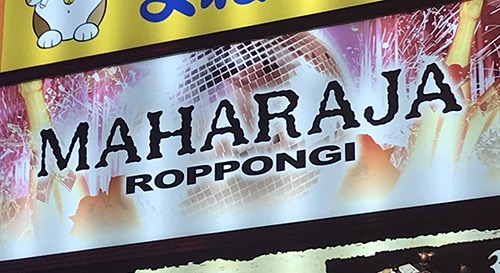 MAHARAJA ROPPONGI
Address:
Roppongi Plaza Bldg. 5F, 3-12-6 Roppongi, Minato-ku, Tokyo 106-0032
---
8.

LINE CLUB
This is a hip hop club and bar located behind Don Quixote's Roppongi store. The first floor is a space to grab drinks as well as pizza and other lighter fare. The dance floor is on the basement floor, where guests groove to classic hip hop, R&B, reggaeton, latin music, and depending on the date and time, EDM. The Line Club is known for dirt-cheap drinks; on Thursdays, not only is entry free, but happy hour lasts until all night. Fridays are ladies night, with entry 1,000 yen (women get two free drinks, men get one), while on Saturdays entry is 1,000 yen (comes with one drink).
<VENUE INFO>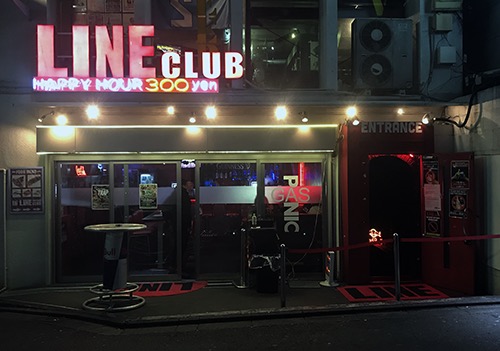 LINE CLUB
Address:
Aries Bldg. 1F/B1F, 3-15-24 Roppongi, Minato-ku, Tokyo 106-0032
---
9.

IBEX TOKYO
IBEX TOKYO is a long-standing destination for lovers of hip hop and R&B. Although compact, the venue is known for its sound system and luxurious atmosphere, which set the perfect scene for the new school and old school hip hop, R&B, soul, funk, and reggae that keeps the dance floor grooving. Entry is between 1,000 and 3,000 yen, depending on the day, and usually includes one drink. Occasionally entry is free—check their website for details.
<VENUE INFO>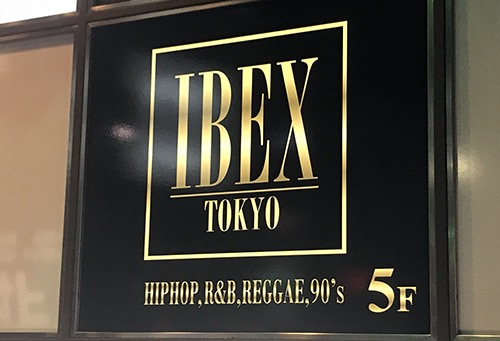 IBEX TOKYO
Address:
5F 21 TAIMEI building 3-11-6 Roppongi Minato-ku
---
10.

1 OAK TOKYO
1 OAK TOKYO is the first Asian venue by the 1 OAK group, which is known for its nightclubs in New York, Mexico, and the UK. The large venue, which opened in 2017, takes up an entire building opposite Tsutaya Tokyo Roppongi and includes multiple dance floors and a rooftop terrace. The atmosphere aims to recreate a night out at a posh overseas club, and the staff at the entrance seem eager to retain that exclusive feel. Inside the music is mostly the latest EDM and hip hop. Side note, the name "1 OAK" is short for "one of a kind".
<VENUE INFO>
1 OAK TOKYO
Address:
1-4-5 Azabu-juban, Minato, Tokyo 106-0045
---
11.

JUMANJI 55
Jumanji 55 is a dance club located just a minute away from exit 5 of Tokyo Metro Roppongi Station. As the name implies, the atmosphere inside is jungle-like—a place for young men and women to prowl and prance and go wild. During peak hours things on the dance floor can get quite...entangled. Also on the first floor of the same building is sister venue New Planet—guests are free to come and go from both establishments. Both are known as places to get loaded during happy hour (between about 19:00-23:30); on some days you can get all you can drink for just 1,000 yen. Music-wise the DJs get audiences hyped up with what the Japanese call "all mix" (a mix of genres, which in the right hands has the potential to mean great things), and EDM.
<VENUE INFO>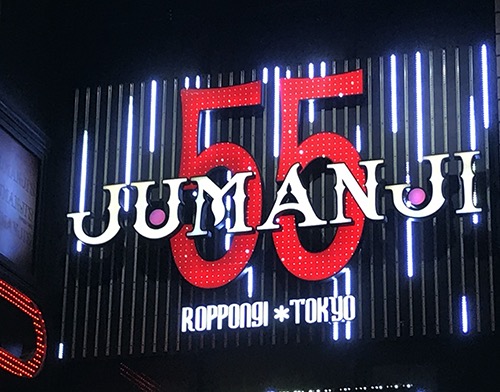 JUMANJI 55
Address:
1F・2F Marina Bldg., 3-10-5 Roppongi, Minato-ku, Tokyo 106-0032
---
12.

Epilogue
Lastly, here are some things to remember before setting out for a Roppongi nightlife adventure.

●About entrance fees
The Roppongi area is dense with nightclubs, and as a result entrance fees are generally low—meaning that once you're tired of a place, you can move on. Take advantage of weekday happy hour (usually from opening time until 23:00 or midnight) and find the venue(s) that best cater to your tastes. Also important to note is that at many venues, entry for women is often free; women should feel free to assume that any such establishment is a meet (meat) market. If you're having a girls' night out, pay the extra fee and opt for a VIP booth.

●About ID
Always bring a photo ID with you. For foreigners, passport, driver's license, or basic resident registration card is a safe bet.

●About dress code
Compared to nightclubs abroad, Tokyo spots are usually pretty lax when it comes to dress code. But Roppongi sells itself as a wonderland for discerning adults, and as such, the bar to entry is different than in places like Shibuya that cater to younger crowds. Instead of casualwear (t-shirt, shorts, sneakers) opt for a smart casual look (shirt with collar, trousers that go down to your shoes). Many venues require tattoos to be covered up.