---
1.

Prologue
After I graduated from college, I started living in Shimokitazawa, Tokyo—one of the city's theatre districts.

Shimokitazawa—both then and now—is a very popular neighborhood among young people. It's a dense area home to second-hand clothes stores, cheap izakaya, live music venues, and small theaters. It is a place where young people come to chase their dreams, not only from Tokyo, but around Japan, and on occasion from California as well.

I lived in a room much too small for an American in a 2-floor apartment building. It was anything but comfortable. So I would try to stay out working as late as possible, and return home only to catch some z's.

The walls that separated me from my neighbors were thin, and I was audience to the sounds of everyday life emanating from next door. Naturally, over time I got a better and better sense of what kind of people my neighbors were.

Living next door were a man and a woman, an aspiring playwright and an aspiring actor, respectively. The two of them would fight often, and one time they caused such a ruckus in the middle of the night that someone called the police.

The following day, the two of them came to my door to apologize, flier and tickets in hand. I exchanged a few words with the aspiring playwright, and sometime later went to see their play. I mostly remember sitting there more preoccupied with their lives than the content of the play.

In order to write this entry, I dug up that flier and looked up the couple's names on the internet, but as far as I can tell neither of them seem to doing theater any longer.
---
2.

Honda Gekijo (Honda Theater)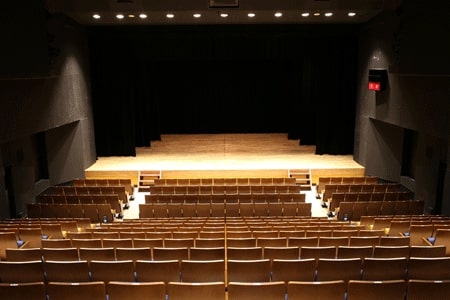 The heart of Shimokitazawa's theater scene—and the heart of Tokyo's theater scene, for that matter—lies with the Honda Gekijo Group. First I'd like to talk about Honda Gekijo itself, the group's central pillar.

The theater was founded by Honda Kazuo, an aspiring actor and graduate of Shintoho's (New Toho Company's) New Face system. After giving up on becoming a film actor, he founded a couple of small-scale theaters for stage productions: The Suzunari (in 1981) and Honda Gekijo (in 1982).

Honda Gekijo formally opened with Kara Juro's "Himitsu no Hanazono" (The Secret Flower Garden). The 80s were the heyday of the third-generation shogekijo (small-scale theater) movement, and Honda Gekijo provided a stage for troupes such as Noda Hideki's Yume no Yuminsha (Dreaming Bohemian), Kokami Shoji's Daisan Butai (The Third Stage), Emoto Akira's Tokyo Kandenchi (Tokyo Battery), Sato B-saku's Tokyo Vaudeville Show, Miyake Yuji's Super Eccentric Theater, and Matsuo Suzuki's Otona Keikaku (The Adult Project).

Keralino Sandrovich's troupe NYLON100℃, comedy duo Rahmens, and troupe Gekidan, Motoya Yukiko are some of the other names that have performed on the Honda Gekijo stage.

In the basement parking lot under the theater, there is a gallery space that displays concrete slabs featuring the handprints of Japanese entertainers, which were originally displayed at a now-defunct high-end Aoyama supermarket called Yours.
<THEATRE INFO>
Honda Gekijo (Honda Theater)
Address:
2-10-15 Kitazawa, Setagaya-ku, Tokyo 155-0031
Open:
Check official website for showtimes
---
3.

The Suzunari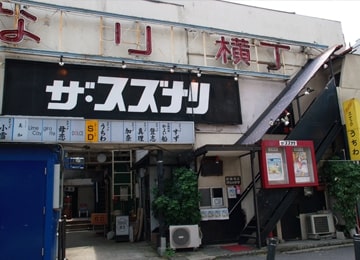 The Suzunari was founded in 1981 by Honda Gekijo Group head Honda Kazuo as a rehearsal room for his actor's school.

The first floor of the building is home to Suzunari Yokocho, an alleyway of eating and drinking establishments.

With the Shimokitazawa Station area undergoing redevelopment, word on the street is that the theater may be relocated.
<THEATRE INFO>
The Suzunari
Address:
1-45-15 Kitazawa, Setagaya-ku, Tokyo 155-0031
Open:
Check official website for showtimes
---
4.

Other Honda Gekijo Group Theaters
The Honda Gekijo Group runs a variety of small-scale theaters around the Shimokitazawa Station area, which host a range of performances put on by theater troupes of all kinds. Since 1990, the group has also been the driving organizational force behind the Shimokitazawa Theater Festival.
<THEATRE INFO>
---
5.

Toen Parata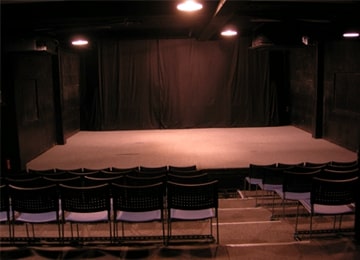 The Shimokitazawa neighborhood is also home to a number of small-scale theaters not affiliated with the Honda Gekijo Group. Toen Parata is Shimokitazawa's oldest small-scale theater, and its five-meter ceiling and reasonable prices make it a nexus for students and young troupes.
<THEATRE INFO>
Toen Parata
Address:
1-30-13 Daita, Setagaya-ku, Tokyo 155-0033
Open:
Check official website for showtimes
---
6.

Komaba Agora Theater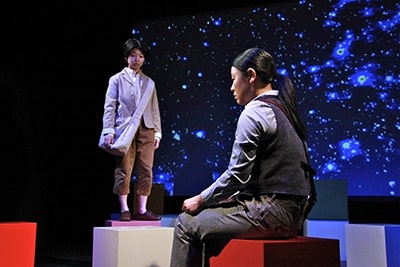 This place isn't located in Shimokitazawa, but it's a small-scale theater worth knowing. Hirata Oriza, who heads the Seinendan theater troupe, acts as manager and artistic director.

The theater has a unique management system and provides support for young theater troupes. Their philosophy is quite admirable; below is an excerpt from their website.
Komaba Agora Theater has an approach based on the concept of a theater supporting young theater troupes, as outlined in Hirata Oriza's book Geijutsu Rikkoku-ron (Arts as the Basis of a Nation).

That approach entails ceasing operations as a rental theater (the traditional theater system of Japan, where a theater rents out their space to a troupe for a fee), and instead making every production that is staged at our theater a "Komaba Agora Theater Production". After we first began taking this new approach in 2003, it has caused a stir as a game-changer for how Japanese small-scale theaters work.

Since 2013, in order to meet a multi-year performance target (number of stage productions) necessary for a theater troupe to receive government subsidies, we have started to rent out our space once again. However, we continue to offer a wide range of support, such as our Komaba Agora Theater Affiliate Program, which is geared towards touring productions and theater troupes based outside of the Greater Tokyo Area. While the state provides public subsidies mostly for full-scale theater companies, Komaba Agora Theater partners with individual troupes to bring productions together. Our intention is to offer support for up-and-coming thespians and theater companies.


How Komaba Agora Theater Can Help
・We raise funds for performances from many organizations, public and private.
・We maintain a group of theater patrons, who provide a stable flow of financial support. This also allows us to share our discerning membership as an audience.
・We partner with regional theater companies looking to put on productions as well as touring productions, and work to reduce venue rental costs.
・We are able to assist in a producing capacity in a variety of ways, including by making your production a "Komaba Agora Theater Production", or a Seinendan co-production.
・Young small-scale theaters are often limited by the age-range of their actors. In order to overcome this, Seinendan actors will make guest appearances where needed.
・Seinendan staff or Komaba Agora Theater staff will work together with troupes that are short on staff."

http://www.komaba-agora.com/theater
*Inquiries in English can be sent via the contact page on the official website.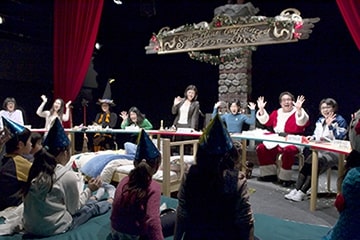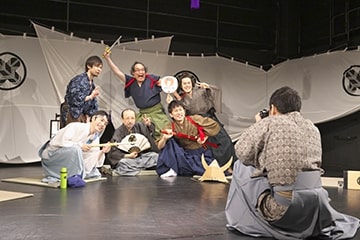 <THEATRE INFO>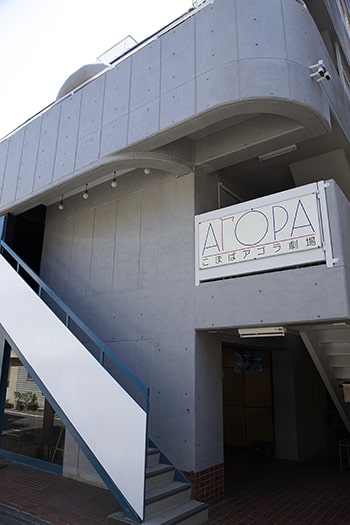 Komaba Agora Theater
Address:
1-11-13 Komaba, Meguro-ku, Tokyo 153-0041
Open:
Check official website for showtimes
---
7.

Epilogue
When BigBrother was a university student, the third-generation small-scale theater movement exploded. As his department had a theater major, he had many friends who aspired to become thespians.

Meanwhile, Japanese society at large was in the midst of an economic bubble, and job-hunting was a heavy seller's market. Especially promising students would start getting early unofficial job offers during sophomore year.

In those days, people with talent and a personal magnetism went on into the theater world, and people who were good students but not much else—the boring type—went on to TV stations, advertising agencies, and think tanks.

BigBrother says that he often sees the names of friends who became actors on TV or in magazines, but as for the first group that went into the theater world, he can hardly find a trace of them, even on Wikipedia.

He often bemoans that this is the reason Japanese content is not particularly well regarded internationally.

He says that whether it be theater, sports, or the business world, Japan doesn't have the kind of frameworks in place to find and incubate young talent. Japanese society is, after all, governed by concepts like "the nail that sticks out gets hammered down" and "if you must seek shelter, look for a big tree".

When he was in grade school, he liked to go bowling at Shiba Bowling Center—which used to be located on the grounds of what is now the Prince Park Tower Tokyo (also on the grounds was the Shiba Golf Driving Range, where depending on the time of day, you could practice your golf game for an outrageous 50 yen per ball). Afterwards, he would go grocery shopping at Aoyama Yours, near where the old Brooks Brothers building was before it relocated in 2020.

One day, when BigBrother was grocery shopping at Yours with his father, a famous actor—a household name who worked in TV and movies, and whose signature was one of the ones on display—came up to BigBrother's father and greeted him politely.

At the time, BigBrother's father was on the board of directors at a film studio. It was at that moment that he learned that in "the biz", the folks behind the scenes hold more power than the famous people in the spotlight.

Ever since, he has made it a point to pay attention to the credits of TV shows and movies.
---
CINEMA & THEATRE #003
A Brief Overview of the Shimokitazawa Theater Scene - Honda Gekijo/The Suzunari/Komaba Agora Theater
---
※2021/10/13: サイトのtitleタグが変更されました。