1.

Prologue
For part two of this three-part article I've put together an outfit for hard courts and an outfit for omni-courts. I also go over the rackets and strings that I use—and why I use them.
---
2.

Hard court outfit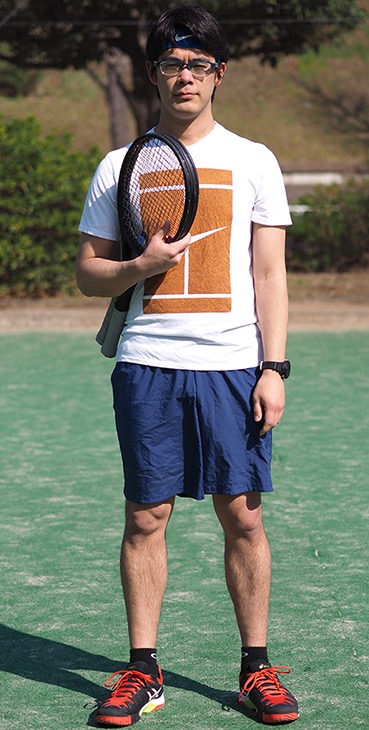 Tennis court shirt by Nike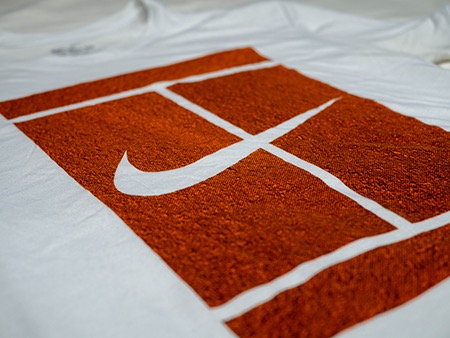 This shirt with tennis court graphic is from a line that I've often seen Nike players wearing on the practice courts. Here I've purposely chosen to wear a clay court shirt, but the shirts are also available with hard court and grass court graphics.
Shorts by Adidas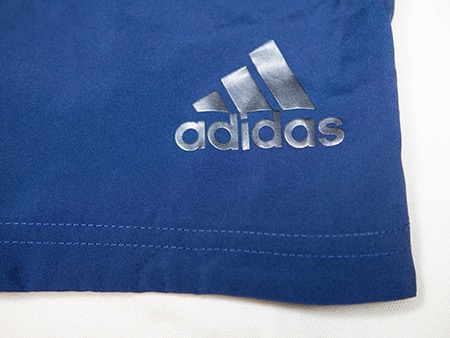 Tennis shorts come in all sizes—some that stay above the knee, some that come down to the knee, and some that go past the knee. As tennis is all about being able to turn on a time and move laterally as well as forwards and backwards, shorts are usually on the short side to facilitate movement. Side note, in his younger years, Rafael Nadal wore shorts so long they were basically capris, others likened the look to a pirate. From what I can tell, the older he gets the shorter his shorts get.
Base layer pants by Canterbury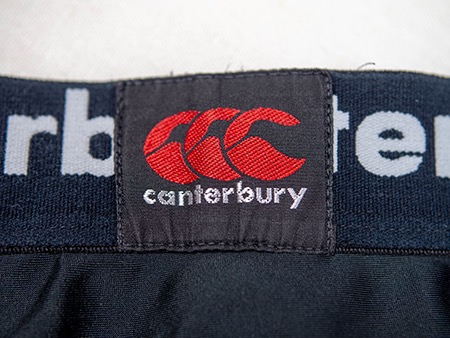 Canterbury is a brand that makes mostly sportswear for rugby, but in my mind the sport's focus on running makes it feel like a cousin of tennis, which is all about footwork. So I wear these rugby base layer pants. More important, I suppose, is the fact that the brand sells clothes for larger body types (depending on the item, they carry 3L~6L sized clothing).
Headband by Nike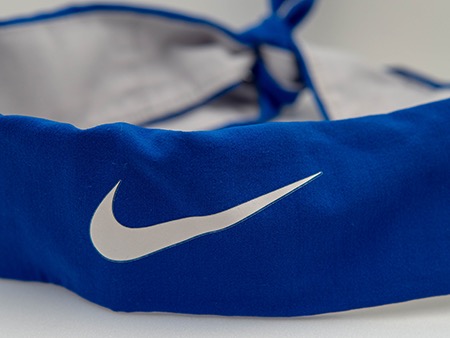 I sweat profusely out on the courts, so headbands are a must, especially in summer. I've tried the elastic kind but the one-size-fits-all didn't work for me—they felt tight around my head—and so I use these ones that you tie around your head. Thanks to Federer and Nadal, Nike sells headbands in a variety of colors. Unfortunately, you can only seem to find the most bland colors for sale here in Japan. I buy most of mine from online stores abroad.
Black socks by Oakley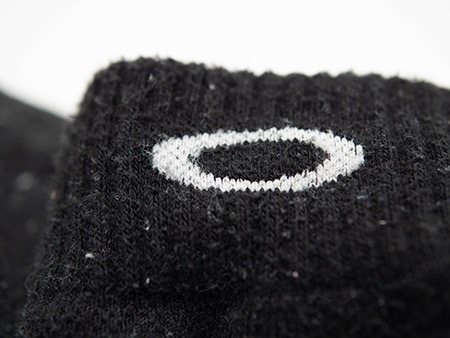 These Oakley socks were part of a 3-pack of black, white, and gray socks (for the great price of about 1,000 yen). Compared to other brands, Oakley socks feel very well cushioned—perfect for hard courts.
Gel Solution shoes by Asics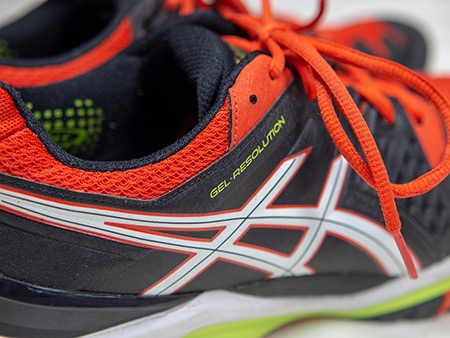 These are Gel Solution shoes for hard courts by Asics. I tried a number of different brands of tennis shoes before settling on Asics; the shoes are on the wider side and fit me best. I love them so much, in fact, that I bought three pairs of these red and black ones.

Tennis shoes have differently designed outsoles depending on the surface. Hard court shoes have a little bit more give that allows you to slide, while clay/omni-court shoes provide more grip. All-court shoes are good for beginners, but for intermediate players and above, I recommend getting a pair of tennis shoes that is right for the surface you play on. Side note, French player Gael Monfils is sponsored by Asics and wears the Gel Resolution.
Sports glasses by Jins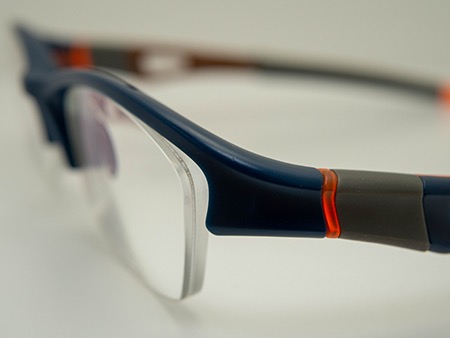 I bought these sports glasses from Jins a number of years ago. In doubles, there is a strategy that involves hitting volleys directly at your opponent('s face), and I've been on the receiving end of more than one of those volleys. Basically, these glasses are falling apart and this year I'll be looking to upgrade. I'm looking at Oakley glasses, which are certainly cool but a little on the expensive side.
Wristwatch by Seiko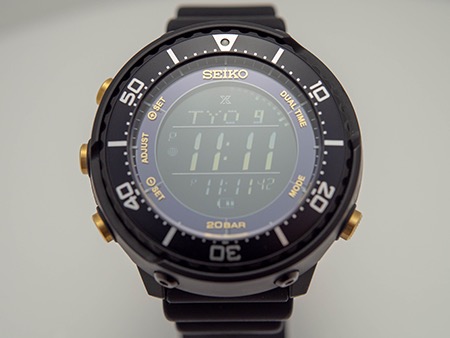 If you want to know how fashion conscious tennis players are, look no further than their wrists. (Yes, I'm aware sponsorship has a lot to do with it.) Many players come onto court wearing watches: most have a routine where they take off their watch and store it away until the end of the match (Roger Federer, who is sponsored by Rolex, is one of those players), while others play with their watch on. Rafael Nadal, for example, wears a lightweight RM 027-02 superwatch from Richard Mille, while Stan Wawrinka wears an Royal Oak Offshore by Audemars Piguet. Ironically, in Nadal's case, he is regularly given time violations—but for him, routine is everything. And let's be honest, he's earned the right to execute.
Pro Staff RF97 by Wilson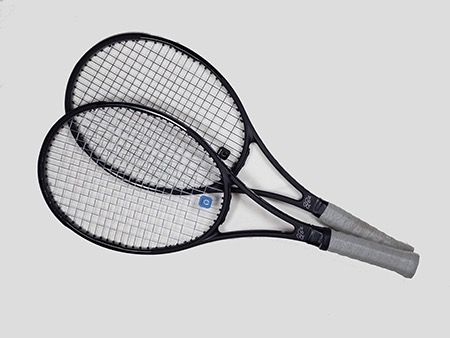 This racket is the ultimate incarnation of the Pro Staff series, which Roger Federer has used throughout his career. It performs remarkably in every category—power, control, touch, etc. The only downside is that at 340 g, it's suited for advanced players. If you've got the stamina and the physique to swing around this racket, you'll find it's the ultimate weapon. The "tuxedo black" paint job also reflects Federer's interest in fashion and looking good.
Alu Power (1.25 mm) by Luxilon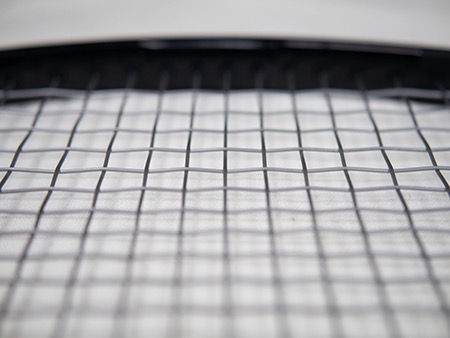 This is the polyester string that many pro tennis players swear by. It offers great control and touch, and the sound that's produced when you're able to meet the ball with the sweet spot is a singular, addictive experience. I use these strings mostly for practicing my strokes and for singles matches. Federer and Djokovic use these strings in a hybrid setup. In terms of string tension, I usually have my rackets strung at around 45 lbs, and a plus or minus 3 lbs variation depending on the season and what strings I'm using. (I'll usually go lighter in the autumn and winter, and stronger in the spring and fall.)
Black Code (1.24 mm) by Tecnifibre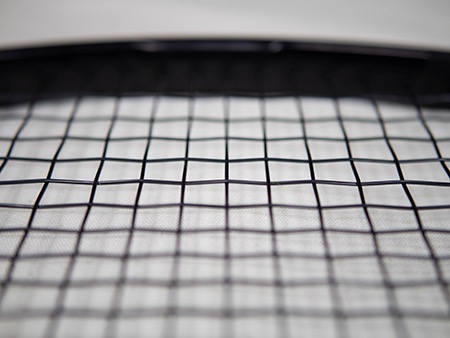 These polyester strings are from the French tennis gear maker Tecnifibre. The pentagonal cross-section of the strings allows you to impart more spin on the ball. Compared to Luxilon, Tecnifibre are generally more softer, making them great for doubles—which calls for touch.
Overgrip tape by Luxilon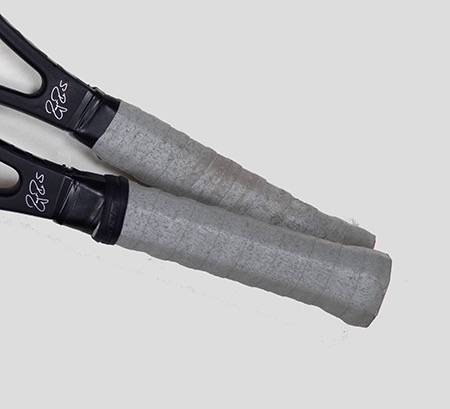 I used to use the iconic blue Tourna Grips—a favorite of many pros—but ever since these Luxilon Elite Grips hit the market I've become a total convert. In the summertime all the sweat from my arm makes its way down to my grip, and so it's important for me to have a grip that stays dry. Side note, I often see people on the courts with tattered, grimy grips, but if you hope to improve as a tennis player, it's important to change your overgrips fairly frequently. Grips are relatively inexpensive, after all.
Vibration dampener by Kimony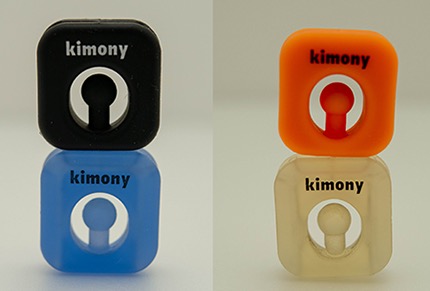 Vibration dampeners improve your feel and control. Some players prefer not to use dampeners, but beginners should take advantage—in the beginning your sweet spot percentage will be abysmal, and you don't want to injure your elbow. I first learned of these Kimony dampeners when I saw Nishikori Kei using them. Compared to the lowest-priced alternatives, their effectiveness is as clear as day. Plus, they come in a variety of colors, allowing you to choose what works best for your racket's paint job.
Tennis balls by Wilson (3 pack)
When I'm having balls fed to me or practicing my serve, I tend to use non-pressurized balls by Bridgestone, but for matches or practice rallies, I use these "Extra Duty" balls. Incidentally, Wilson also makes the official balls for the U.S. Open. In Japanese tennis schools and amateur tournaments you'll usually come across Dunlop "Fort" balls, but in the U.S. the Wilson "Extra Duty" is the standard. Buy in bulk and you should be able to get them for about 100 yen a ball.
---
3.

Omni-court outfit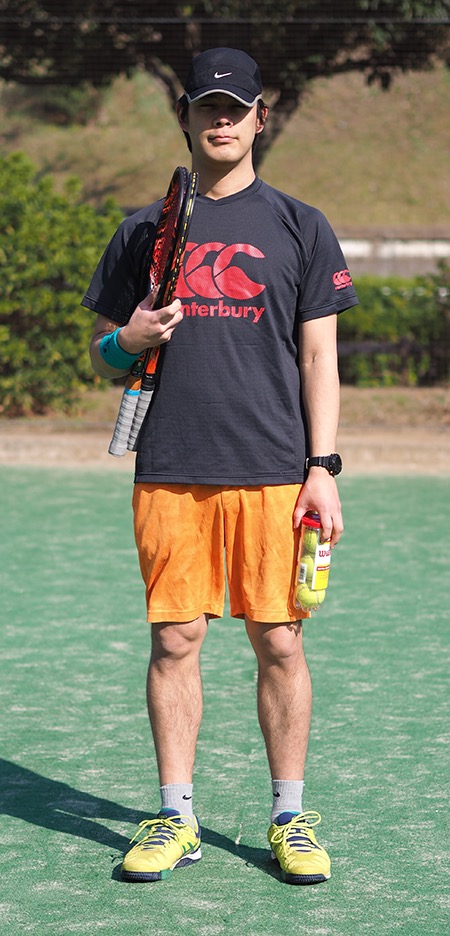 Shirt by Canterbury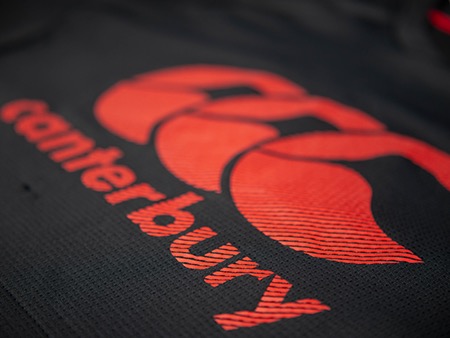 This is a training shirt by Rugby wear brand Canterbury. The raglan sleeves (where the sleeve extends all the way up to the collar) offer a lot of freedom of movement around the shoulders, meaning you don't have to adjust your shirt every time you hit a serve.
Shorts by Uniqlo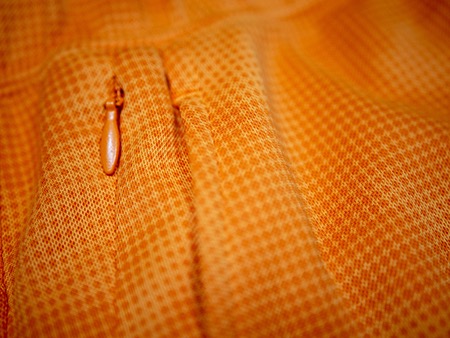 Uniqlo makes affordable clothing that provides a lot of bang for your buck in terms of performance. Plus, the clothes come in a variety of colors. As you can see, for this outfit I was inspired by Wawrinka's, well, "inspired" choices in on-court attire. Uniqlo currently sponsors Nishikori Kei and Roger Federer (and formerly Novak Djokovic (*8)), and you can get their full kits at your local Uniqlo (although I certainly won't be doing that, as per my "dress code").
Base layer pants by Under Armour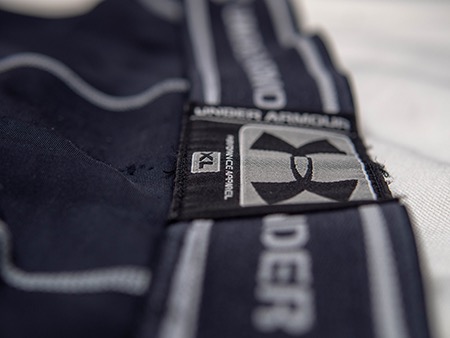 Under Armour is synonymous with base layer clothing. One thing it is not synonymous with is the sport of tennis, but for a number of years British player Andy Murray was sponsored by the brand.
Socks by Nike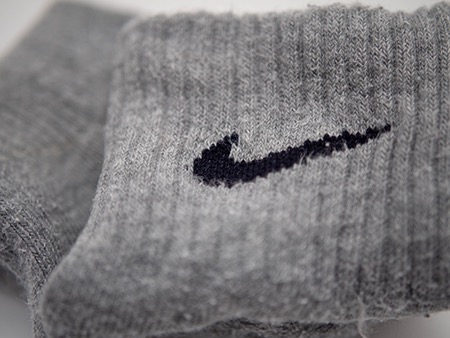 These Nike socks were part of a 3-pack of black, white, and gray socks (for the great price of about 1,000 yen). Compared to other brands, Nike socks feel very stable and form-fitting—perfect for when you're playing on decidedly unstable omni-courts.
Gel Resolution OC shoes by Asics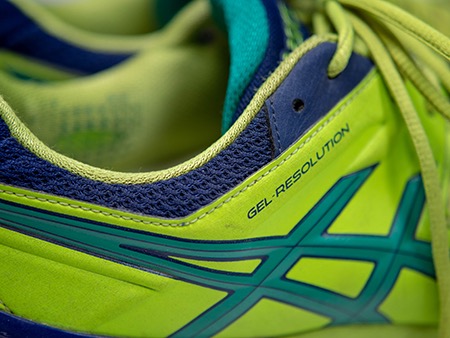 These are omni-court/clay court shoes by Asics.
Sweatband by Nike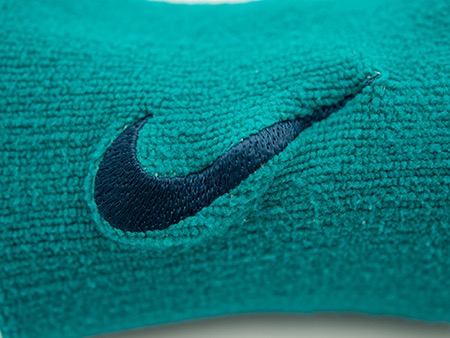 As I mentioned above, I'm a sweater, and sweatbands are a must for me—lest my racket completely fly out of my hands with every swing. Nike sweatbands come in a variety of styles and colors, which means you can mix and match to go with your outfit.
Cap by Nike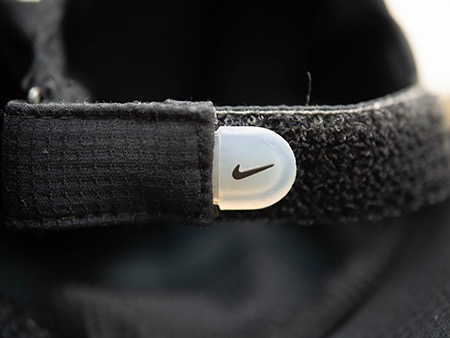 Playing outdoor tennis during the day often becomes a battle with the sun. This is an old, raggedy hat that BigBrother gave to me to wear on especially sunny days.
VCore Pro 97 by Yonex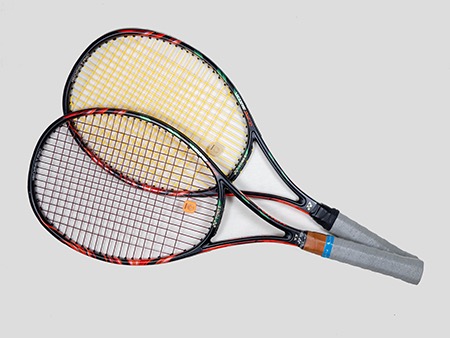 This is the Yonex racket endorsed by Stan Wawrinka. (As tennis players often have their rackets customized to their preferences, commercially available models are not exact replicas of what they use.) It is available in a 310 g version and a 330 g version; naturally, I chose the 330 g, and also added a leather grip to bring it to about 340 g. Heavier rackets help you swing through the ball with a proper body turn—instead of just relying on your wrist to do all of the work. Also, I find leather grips give you better feel, and the top-light balance puts more control into your hands when volleying.
PolyTour Spin G (1.25 mm) by Yonex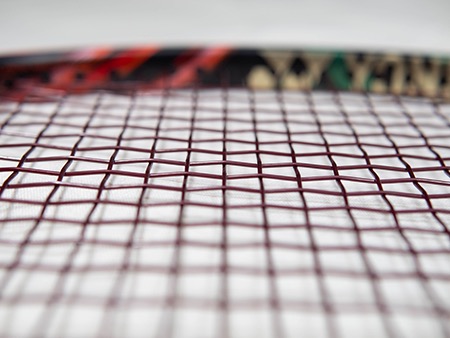 This polyester string has a pentagonal cross-section and provides great snapback (the force created when the mains "snap" back into place after coming into contact with the ball). I take full swings off of both wings, and this string helps me put topspin on the ball to bring it back down right around the baseline on my opponent's side of the court.
Eggpower (1.24 mm) by Gosen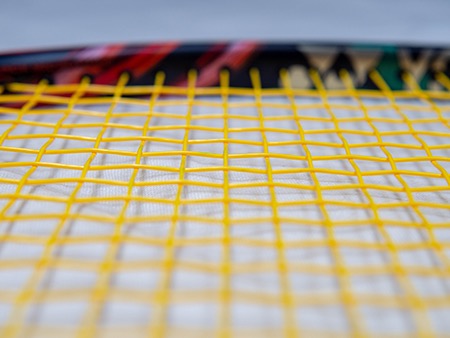 Known as the "Sidewinder" outside of Japan, this string has a textured shape that allows you greater control over the ball while also helping you put more spin on it. This is probably the softest polyester string I've ever used. I'm also fond of how the yellow color compliments the orange-green paint job of the racket.

By stringing identical rackets with different strings, or by stringing the same string at different tensions, you can get a feel not only for the difference between strings, but for the particular qualities of your racket. If you have the means, I recommend buying two of the same racket—your game will improve in no time.