1.

Behind the Scenes
On this show we talked about a bunch of tweets related to #FathersDay.

Of everybody on the show this week, Hide-san was the only father. He lovingly shared how his son presented him with a mystery object for Father's Day—and how he had yet to figure out what it was supposed to be.

We touched on this in the show, but in America, fathers receive gifts that seem to have a lot to do with work. Power tools, lawn mowers, neckties, barbecue grills—all of these items are essentially a way of saying, "Happy Father's Day. Here's something you can use to do something else for us."

As our commentator this week Sasaki Toshinao explained, this means that the Twittersphere is usually awash with #FathersDay sales and product-related promotional tweets. Our production staff had to go through a lot of those tweets to find messages that we could feature on the show. A post would be saying something heartfelt and beautiful, but upon closer inspection it would be from the official account of a store or brand or other business, with an inconspicuous link or call to action.
---
2.

Fathers in the English Language
In Japanese there are a number of words for father: otou-sama (お父様), otou-san (お父さん), papa (パパ), oyaji (オヤジ), chihi-ue (父上) etc. Likewise, there are many English words for father: dad, daddy, pop, pops, and old man.

There are also many expressions and idioms that have to do with fathers (a few of which we introduced on the show). Someone who is like a father to someone else but not related by blood is a father figure. A middle-aged man who gives money gifts to a young woman is a sugar daddy. A good-for-nothing dad that pays no child support is a deadbeat dad. Side note, the late George Michael had a fantastic song called Father Figure on his 1987 solo debut, Faith. Definitely worth a listen.
Another common phrase is like father, like son, used when a son takes after his father's mannerisms or interests. The English title for Japanese director Kore-eda Hirokazu's 2013 film Soshite Chichi ni Naru is Like Father, Like Son.

If you ask me, one of President Barack Obama's greatest achievements is how high he set the bar for fatherhood in the U.S. How he did as president may be up for debate, but his track record as a father is pretty clear. So many presidents before him were consumed by politics and government, often becoming de facto absentee dads to their children. Try to think of a fatherly presidential figure—only a few names come to mind. Perhaps it was a result of President Obama himself being raised by a single mother, but it was clear he wanted to be there for his children.

Ironically, compared to his tenure as an Illinois senator, which involved a lot of travel to and from Washington D.C., being elected president and moving his family into the White House is what finally allowed him to spend more time with his daughters Malia and Sasha. Reports say that he made it a point to eat dinner as a family on weekdays, and that he joined his daughters for breakfast as often as he could. The media loved it, and featured his fatherly exploits often. Perhaps for him, it was not being president but being a father that was his greatest responsibility.
---
3.

This Week's Wardrobe
●

Basic necktie types
On the show I usually only wear a tie when I'm off on my interviewing adventures; in the studio I stick with button-down shirts and no tie. However, as Father's Day is a day tie-giving, I'd like to talk about the basic kinds of silk neckties you can find.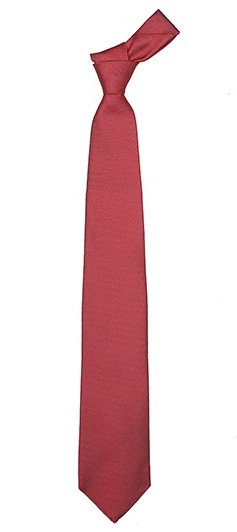 First up is the solid color necktie. First and foremost a man should have a navy-colored tie, as they go great with both a navy suit and a gray suit. I recommend something in a deeper, darker color. The lighter, brighter colors are great for parties and the like, but don't really work in most business environments. There are varying degrees of shine and luster, but sticking with something with average shine is a safe bet.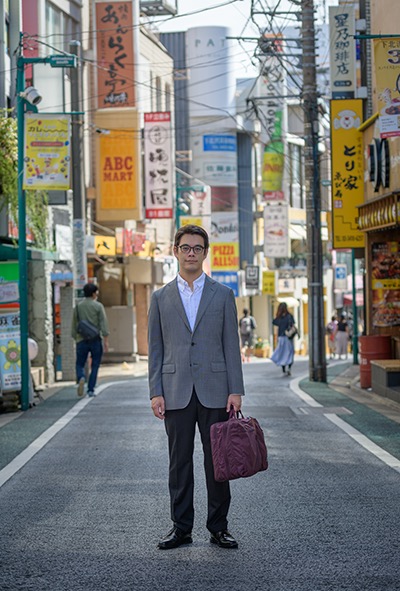 Next is the polka dot tie. Polka dots might seem a bit showy at first, but when you consider that in men's wear you'll rarely find polka dots anywhere else, the pattern is each to match with a variety of shirt and suit combinations without fear of overdoing it. The dots come in sizes both big and small, but for business it's best to go for the smaller, finer polka dots.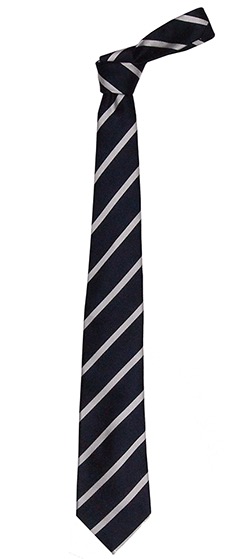 Third is the regimental striped tie. Regimental refers to belonging to a military regiment, and is a style that originated in Great Britain. Make note of the direction of the stripes: on British ties the stripes go from left to right (looking at the necktie head on), while on American ties the stripes go from right to left. Side note, it is said the U.S. take on the regimental tie was proposed by none other than Brooks Brothers. These are great for both business and formal occasions.

Other than these three basic patterns you can find foulard ties (which have geometric patterns), paisley ties (which have teardrop-shaped motifs), and much more. And not all ties are silk—there are knitted ties made from cotton, wool, and more. I'll cover these ties on another day.
White button-down shirt by Universal Language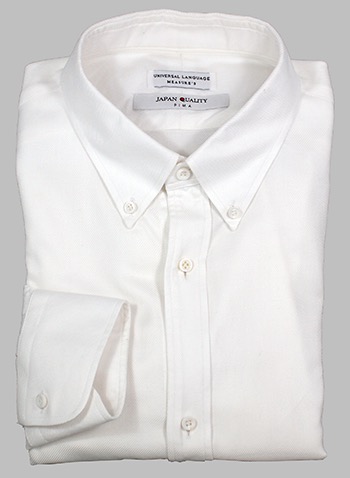 As we shoot our show on a blue screen, there are strict limitations on the clothes we can wear. And so early in the year I made a bunch of white button-down shirts at different stores. This one from Universal Language is probably my favorite.

It also doesn't have a wrinkle-free finish, which means it needs to be ironed after each wash, but the feel of the fabric is very soft and comfortable.
Birdseye suit jacket by Universal Language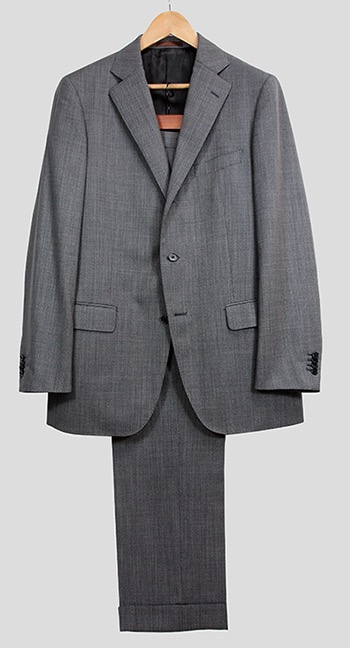 I ordered this suit from Universal Language in Shibuya. Up until this suit I'd chosen entry-level fabrics exclusively, but this time I decided to go with fabric from a long-established Italian fabric mill called Reda. Reda fabrics are high quality, yet reasonably priced.

The fabric I chose has a pattern of small, repetitive diamond shapes, often called a "birdseye" pattern. Most often you'll see suits in solid colors or with pinstripes, but I also recommend birdseye—the weave gives off a different impression depending on distance and light.

Universal Language makes suits based on one of eight model shapes. They specialize in Italian style, so I chose their Napoli model, which does away with shoulder pads and has a distinctive slope to the shoulders. The overall effect of the finished product is gentler than the other suits I had made in the past. I quite like it.

The key style choice here is the three-roll-two jacket. Whereas your standard suit has two buttons, a three-roll-two jacket has an additional button behind the lapel roll. The more compact V-zone means that even without a necktie, you present a slimmer chest and overall a more balanced silhouette.

When I received my order it was clear that the texture and the feel of this suit was different from the other that came before it. It's only natural that a higher price means higher quality, but I really believe I was able to appreciate the difference only because I started with entry-level fabrics and am working my way up from there.
Black suit trousers by GlobalStyle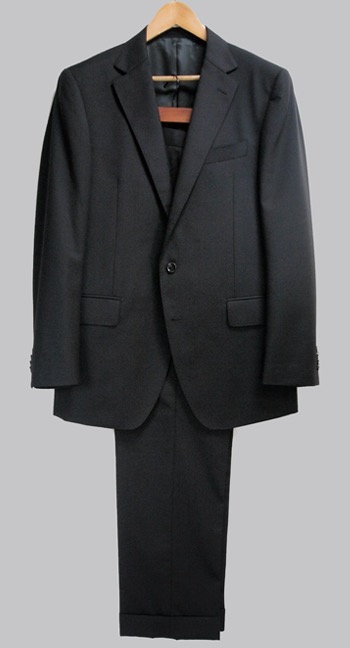 Black socks by Isetan Men's
I bought these black dress socks—Isetan Men's originals—in the basement floor of the department store. The socks they carry in the basement are mostly regular size, with a small corner of 27 cm-29 cm socks.
Wing tip shoes by Regal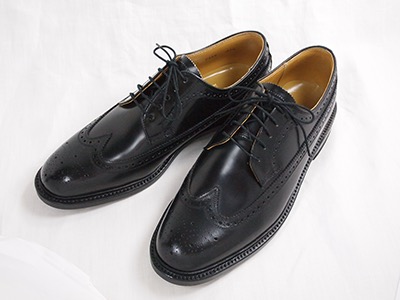 Black glasses by Zoff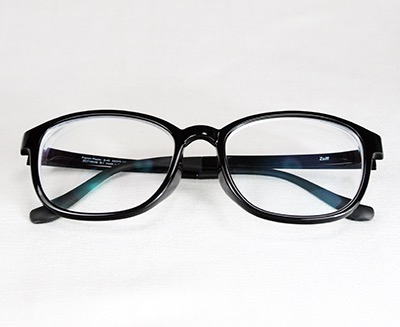 ---
4.

Epilogue: Fatherhood in the #MeToo Era
As the #MeToo movement continues to gain steam, American men—and American society as a whole—is reflecting on the sins of their gender, and the notion of what it means to be a man. Father's Day 2018 comes at a sensitive time. And so while it was, as always, an occasion to express our gratitude to our fathers, it was also a somber day for fathers (and men in general) to look back and take stock of their own actions, and think about what kind of fathers they want to be for their children.

In America, there's this notion that if a parent can provide their children with the tools to live a better lifestyle or a better life than their own, they've done their job. It is to that end that parents sacrifice and dedicate their lives to their children. What that means for fathers is that they are under pressure to provide that foundation for their children, which leads to stress and ultimately—in some cases—lashing out against their loved ones and even violence. In the past those kinds of indiscretions were overlooked as just the price families had to pay; the fathers were doing their best, after all. No longer is that an acceptable excuse.

What's more, it's important to remember that in America, a better life was measured in terms of material things and/or financial standing. But it is clear that going forward, a better life will be measured in terms of heart and mental wellbeing, character and humanity.

Since moving to Japan, I haven't gotten to spend a single Father's Day in the presence of my father. (Side note, I call my father "otou-san".)

In the second half of our #FathersDay show we aired my interview with director Ron Howard, which was conducted at the Ritz Carlton in Roppongi. It's a cozy, relaxing hotel that always puts me at ease before an interview. So someday I hope to fly my otou-san and okaa-san to Japan first class, and put them up at the Ritz Carlton.