1.

Prologue: Behind the Scenes
On our show Sekai e Hasshin! SNS Eigojutsu, we feature tweets and social media posts that we've culled from around the world. But the themes we discuss are very much America-centric. One reason is that when you look at the number of social media users by country, Americans are number one by far. Also, I'm an American; one of our producers also has spent time living in the States. What's more, Americans post on social media frequently and actively contribute to a wide range of online discussions, perhaps as a result of all the strife that has come to define the current social and political climate.

As someone born and raised in the U.S., I grew up either witnessing or experiencing both the good and bad that America has to offer (although I acknowledge that the social environment in California is quite different from middle America). Since I moved to Japan 12 years ago, I've been able to maintain a "healthy" distance with the U.S., which has allowed me to look at my country of birth with fresh, less tainted eyes. Sekai e Hasshin! SNS Eigojutsu is a language program, but what makes it special is the cultural context we provide, both in terms of the internet and American society. And in that regard, I am the only one on the show who can talk about the American reality as someone who has lived it—and I take that big responsibility very seriously.

On this day we featured #IndependenceDay. As a rule Americans are quite patriotically-minded, but under the Trump administration the situation has become more complicated—there are those who believe America is on the verge of becoming great again, and there are those who are disheartened by a government that is pushing the nation in an increasingly insular direction. In other words, my feeling is that everything that has come to pass since Donald Trump took office had cast a pall over Independence Day celebrations this year, and for some it was difficult to celebrate what America is becoming. Of course, as a TV show our position is not to overtly support one side over the other. Instead, we simply tried to shine a light on how different individuals were feeling about America on this occasion.

Our MC's partner this week was Gori-san. As we touched on in the show, Gori-san is from Okinawa, and as such has a strong admiration for all things American, while also harboring some form of subconscious hostility—his relationship with America and American culture is complicated. The director of this episode also told me about how she was having trouble shaking her understanding of the U.S. as the country that dropped the A-bomb on Japan. We ended up having many discussions at our weekly script meeting and over email. For many Japanese, America continues to loom large in their consciousness—maybe more than ever.
---
2.

What is America?
What is America? Many politicians, scholars, and popular figures have said something to the effect of "America is an idea" or "America is an experiment". According to the Declaration of Independence, the central notion at the heart of that idea/experiment is that "...all Men are created equal, that they are endowed by their Creator with certain unalienable Rights, that among these are Life, Liberty, and the Pursuit of Happiness..." In other words, as I touched on in LANGUAGE & EDUCATION #007, the central notion is diversity. The United States of America is an experimental nation based on the ideal of diversity.

Those who find themselves unable to celebrate Independence Day this year from a pure place of heart are perhaps struggling to come to terms with that identity being completely turned on its head by the actions of the Trump administration. What should America strive to be? What was America, really, to begin with? There is currently an intense, often acrimonious debate going on about this issue.

At the same time, there are quite a number of celebratory posts on social media coming from new U.S. citizens. Regardless of the current state of America society, for many, the American Dream is still alive and well.

My father is also an immigrant who came to America believing in its promise of a better life. In that sense I believe I can relate to the pull immigrants feel towards America. At the same time I understand that in my father's mind, there is a difference between those who came to the country legally and those who come in illegally, and I can also see how there would be strife between these two groups. In other words, the American notion of diversity or the American Dream always comes with caveats—for some Americans, they are only afforded when certain stipulations are met. Not at all surprising; after all, the United States of America only came into being after taking the land from the native population.
●

Movies about the immigrant experience in America
---
3.

My Wardrobe This Week
Azabu Tailor off-white double-breasted jacket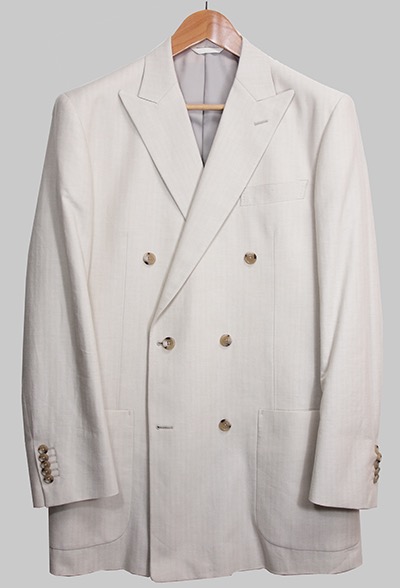 When I think of white double-breasted jackets, I picture Humphrey Bogart in
Casablanca
, Jack Nicholson in
Chinatown
, and Al Pacino in
Scarface
. In other words, someone not on the straight and narrow, who has a particular sense of style as well as an air of danger about them.
Our set on
Sekai e Hasshin! SNS Eigojutsu
is a colorfully surreal environment with an exotic palace lounge-like feel, so I figured off-white would be a perfect fit. I ordered this double-breasted jacket at Azabu Tailor.
Being a summer jacket, I also went with patch pockets instead of the standard, more conservative flap pockets. As the name suggests, patch pockets are "attached" on the outside of the jacket instead of woven into it. They have a casual look, and are not ideal for suits that are strictly business.
Pink linen shirt by Azabu Tailor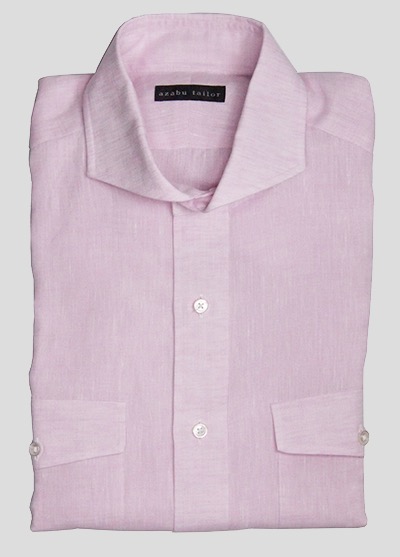 For the second week in a row, I decided to wear a breezy linen shirt, also from Azabu Tailor.

I wanted something that I could also wear to a summer shindig, so I had this shirt made in a more casual style. For example, I tucked the shirt in on the show, but it is short enough to be worn untucked without drawing attention to itself. Also, there are two chest pockets with flaps, and instead of my usual French cuffs, I asked for standard barrel cuffs with buttons, so I could roll up the sleeves.
Silver socks by Tabio
These are Tabio's Men's Supima 3×1 Ribbed Socks in silver (¥972 tax incl.) I wore these socks in pink on our #ShoTime show, which I talked about in FASHION & SHOPPING #010. As this week my shirt was the statement piece in terms of color, I went with something less expressive on my feet.
Gray trousers by Brooks Brothers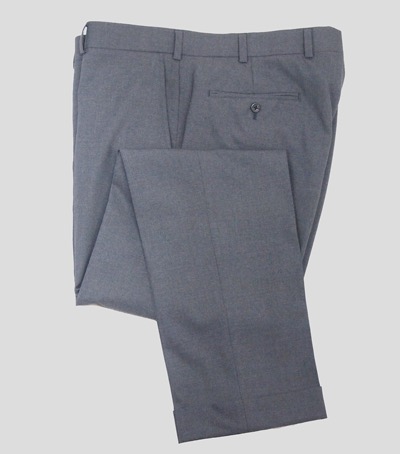 Double monk shoes by Paraboot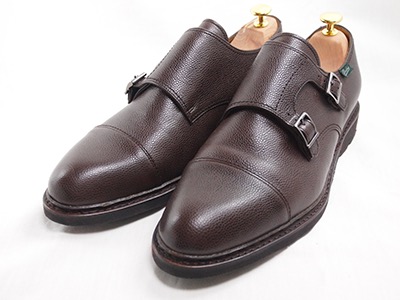 Glasses by Hakusan Megane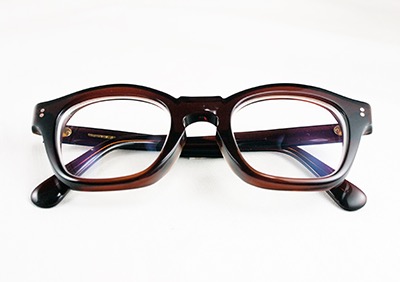 ---
4.

Epilogue: Hold My Beer
Stereotypical American traits include "loud and obnoxious", "audacious", and "likes to party". For the most part, I would say these stereotypes hold up. As I've written in a previous entry, Americans—particularly guys—like playing pranks and messing around. And they often possess an unusual amount of confidence. (Incidentally, lately these kinds of traits have started to be considered toxic masculinity.)

Case in point, every summer, there are many people who are reckless with fireworks and end up injured and hospital-bound. Perhaps watching so many action/superhero films has lulled them into a false sense of invincibility. When a group of guys is out and messing around, things escalate, and a certain turn of phrase inevitably rears its head: "I dare you to..." Such "great ideas" tend to come to mind when everybody has been drinking quite a bit, so naturally, the reply is "Hold my beer". For anybody interested in seeing grown adults act like jackasses, check out the Jackass films.
For Americans, being free is the most important thing, and they will fight to the death to protect their freedom. This notion of freedom also includes the freedom to be as stupid as one pleases. They take their messing around seriously.

In that sense, America is perhaps the ultimate experiment. It is a country that is forever a work in process, feeling around in the dark, repeating the process of trial and error.