1.

Prologue: Behind the Scenes
For this show our MC was Kato-san as always, accompanied by Gori-san (our MC's partner alternates between Gori-san and Hide-san, two popular Japanese comedians). Our topic was #WorldAIDSDay, which takes place on December 1st. By some stroke of fate, every time Gori-san is on the show our theme for the week is a serious or somber one, often tackling some social issue, whether it's #NeverAgain, #ImplicitBias, #IndependenceDay, #WhereWereYou, or #VeteransDay.

For a comedian like Gori-san, I imagine he would like to either be the straight man pointing out things that are silly, or the funny man trying to figure out the English language (in Gori-san's case, probably the latter). But when we're talking about a serious disease, it becomes difficult to joke around or make light of things, and I could tell it was challenging for Gori-san to figure out how to react or what to say. Similarly, Sasaki Toshinao-san (our commentator) and I (the resident native English speaker) were having trouble deciding what to say to close out the show.

Going back a bit in time to September, I had a chance to check out Okinawa Shinkigeki, a stage show produced by Gori-san, at Lumine the Yoshimoto in Shinjuku. Apparently it was the fifth edition of the show, and Gori-san was touring it around Japan—Tokyo, Osaka, Naha, Ishigaki—as well as, for the first time, Hawaii. The main theme of the show was local Okinawa culture, but it also tackled the topic of Hawaiian immigrants and the current state of society and the world. There were half-Japanese and quarter-Japanese cast members, and transgender characters in the show, and it felt very much like Gori-san had taken a page from SNS Eigojutsu, where most of our shows seem to have an underlying theme of diversity and inclusion. When I got to speak to Gori-san later, he confirmed this to be true.

Gori-san is also active as a movie director. His new film, Senkotsu, is slated to be released across Japan in February. Senkotsu is a tradition seen in parts of East Asia and certain remote Okinawan islands, and is where a dead body that has been buried is unearthed a few years later, and the bones of the deceased are washed, cleaned, and purified before being buried again.
So it is always very interesting to hear Gori-san's thoughts on socially-relevant hashtags like #WhereWereYou and #VeteransDay. Perhaps when we get better acquainted, I could ask him more in-depth questions. In any case, it's a wonder to me that he's able to take these serious themes we feature in our show and incorporate them skillfully into his own work.
---
2.

Wearing a ribbon or retweeting is just the first step
For this episode everybody on the show put on a red ribbon to show our support for those afflicted with HIV. Ribbons such as these are known as awareness ribbons, intended to raise awareness among the general public and spread a factually accurate understanding of a certain disease or social issue. Speaking only about HIV, when you look at how the number of patients diagnosed has declined over the years, it seems reasonable to interpret that as the ribbons having had some effect in addressing the HIV pandemic.

On our show, we've featured similar social awareness campaigns in the social media era, namely the Ice Bucket Challenge, which aimed to raise money for ALS research. That campaign went viral, reportedly raising a total of 115 million dollars in donations.

However, because these campaigns are specifically about spreading awareness, they have been criticized for the fact that they often capture the public's attention momentarily, only to quickly fade away soon thereafter; while they purportedly "succeed", that does not necessarily mean they have led to concrete results. For patients and their families, it may seem like the participants of campaigns like these are merely doing it to feel better about themselves.

In recent years, campaigns and movements like these have been referred to as slacktivism (a portmanteau of activism and slack) or clicktivism (activism and click). A person who participates in these activities is known as a slacktivist, or alternatively, an armchair activist—because they often talk big from behind the safety of their computer screens, but have no real intention of stepping up and putting something on the line. These terms criticize actions such as wearing ribbons, clicking "like", retweeting, and signing online petitions as easy ways to feel good about oneself—attractive options, of course, as long as they don't take too much time and effort.

With the spread of social media, awareness of social issues and movements can spread across the world in a heartbeat. There is no doubt that social media has made it easier than ever for people to join these movements (or feel like they've joined them). At the same time it's important to remember that changing the world is no easy task, and it requires an often inconvenient amount of time, effort, and sacrifice. What's ironic is that in the warzone of the internet, spreading bad rumors and publicly flogging someone is accomplished on a daily basis with minimal effort. In that sense, the spread of the internet has made it more difficult for people to heed constructive criticism and be a force for positive change in the world.
●

Movies that deal with AIDS
---
3.

My Wardrobe This Week
Black vest by Kashiyama the Smart Tailor
This vest is something I ordered at Kashiyama the Smart Tailor, the made-to-measure brand from major Japanese apparel maker Onward Kashiyama.

For my wardrobe this fall/winter, I wanted to mix and match a variety of jackets and vests, so I ordered this vest in addition to a double-breasted suit in the same fabric. (Vests are usually not worn under double-breasted suits, which normally stay buttoned up.)

Because of my height, I had the vest made with six buttons rather than four of rive, to compliment my longer upper body. (The bottom button is purely for show.) The slim fit is reflective of the times and the styles that are currently in.
Orange contrast collar shirt by Takashimaya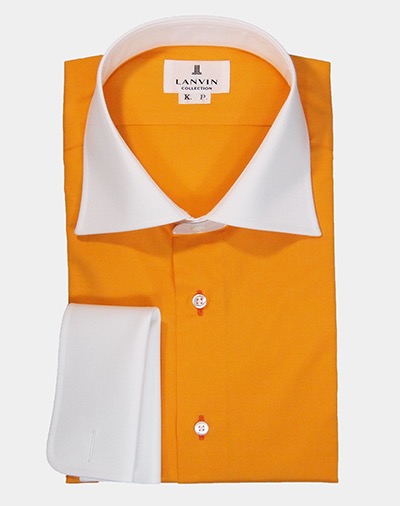 This contrast collar shirt is something I ordered at Takashimaya Department Store in Shinjuku bay in August.
It was made using fabric from the long-standing French fabric maker Lanvin. The brand is beloved by the glitterati around the world, and for good reason—its fabric has a certain
je ne sais quoi
, a rich feel and color.
The orange is very bright, to say the least, and is perhaps not ideal for day-to-day life or business. However, I've found that against the backdrop of our colorful CGI set on the TV show, these colorful fabrics actually work quite well.
What's more, a number of the staff on the show complimented me on this shirt, to which my face turned a comparable hue of orange. I remember it feeling hotter than usual on the set. I like to think the bright lights on set had something to do with it.
Brown suit jacket by GlobalStyle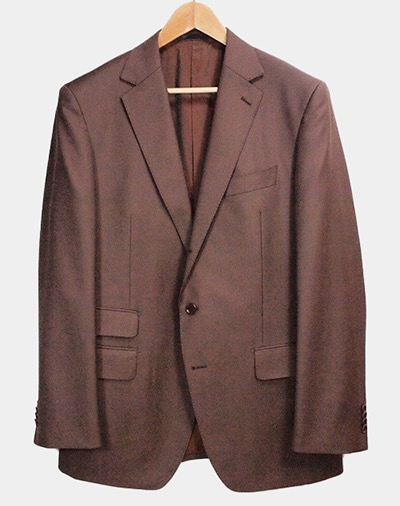 This is one of the three-piece suits I ordered at GlobalStyle Shinjuku South Exit Store for my fall wardrobe. Last time I wore a khaki suit and trousers with the brown vest from this ensemble; this time I opted to go with the brown 3-piece look.

The fabric is from leading Italian manufacturer Canonico, which makes fabrics for brands like Armani and Ralph Lauren. You get superb quality for your money, and the fabric is soft to the touch, with crisp color.

The jacket is three-roll-two with an extra change pocket, and the single-breasted vest has six buttons, one of them being purely ornamental.

The lining is also brown, with a bit of iridescence that gives it a sheen that I love.
Khaki suit trousers by GlobalStyle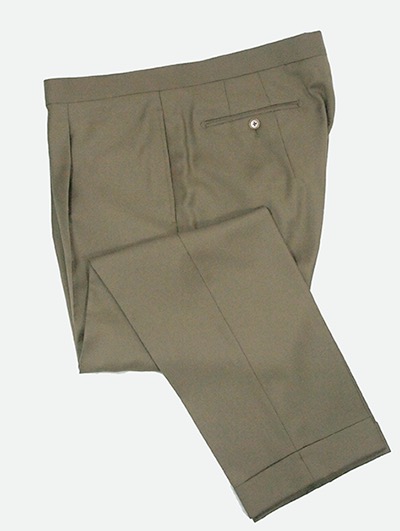 After my colorful summer wardrobe for the show, my stylist Scarlet suggested that go with a warmer, calmer color palette for fall. So in August I ordered two three-piece suits at GlobalStyle Shinjuku South Exit Store. (A three-piece suit refers to a combination of jacket, trousers, and vest.) This khaki-colored is one of those outfits.

As it was my third time ordering suits at GlobalStyle, so I decided it was time to dish out a little more for something other than their most basic fabrics. I chose wool from an Italian brand called Drago, one of the best-known producers from the wool-producing region of Biella. Superior fabrics have a distinct texture—a smooth drape and a luster.

I had the jacket made in what has become my favorite style so far: three-roll-two (three buttons with the top one rolled behind the lapel), with extra change pocket.
Orange socks by Tabio
These are Tabio "Men's Wide Ribbed Socks" (972 yen, tax incl.), this week in an autumnal orange.
"Poe" double monk-strap shoes by Paraboot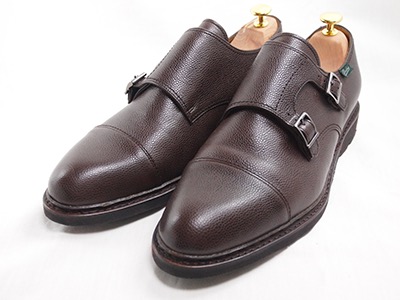 Black glasses by Zoff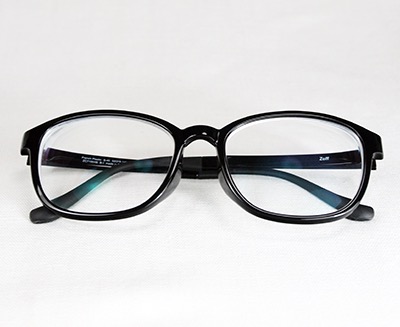 ---
4.

Epilogue: What an Armchair Symbolizes
The word armchair used as an adjective has many uses. For example, someone who dishes out advice about mental disorders and emotional problems despite having no professional training in psychology is practicing "armchair psychology". Similarly, someone who waxes philosophical and puts on an intellectual front is called an "armchair philosopher". Armchair not only connotes a certain laziness, it also implies that someone has little intention of putting their money where their mouth is, that someone is a wannabe, or that someone is an amateur. Although the term is not used in a purely negative way, it is safe to assume that it is rarely, if ever, used as a compliment.

The armchair has special meaning for American men—it is a symbol of a certain take on the American dream. Often on American TV shows family living rooms have both a sofa and an armchair. The armchair is the designated seat of the "man of the house", and only he has permission to sit in it. If an outsider were to waltz into the home and sit down in said armchair, it would be tantamount to a declaration of war. If the "man of the house" allows someone to sit in their armchair, it is because they are either in an incredibly good mood, or respect the person greatly, or looking to curry their favor. This armchair is often referred to as a "throne" with reason.

For an American man, the ideal way to spend a weekend is to sink into their throne while watching sports all day. In order to minimize the number of trips to the kitchen, some chairs are equipped with a built-in cooler or mini-fridge inside or beneath the armrest. When I was growing up, it was common in American households for a "man of the house" to have his local friends from high school over on the weekend to watch the game. He would seat his friends on the sofa, tossing them cans of beer as needed, and have his wife serve up nachos and buffalo wings. All the while the men would alternate cheering on and yelling at the TV, and the "man of the house" would survey his living room kingdom from his throne. (Many of those tyrants have since suffered downfalls.)

Today the armchair has migrated from in front of the TV to in front of the PC. And with the advent of the internet, many new despots are under the delusion that their living room kingdoms have expanded into every corner, technical field, and personal orifice of the virtual world. What a frightening world we now live in.