1.

Prologue: Behind the Scenes
For this interview, instead of our usual spot—the Ritz-Carlton Tokyo atop Tokyo Midtown in Roppongi—I headed over to the Peninsula Tokyo, which sits across from Hibiya Park and has a view of the Imperial Palace. The hotel is operated by the Hongkong and Shanghai Hotels, and is the only Peninsula hotel in Japan.

It was a very hot day, and I tend to sweat a lot, so I decided it would be a good idea to carry my wardrobe in a garment bag and change at the hotel.

Thankfully, the Peninsula Tokyo is connected to Hibiya Station via underground passageway, allowing me to reach my destination while staying out of reach of the punishing rays of the summer sun. (That being said, Tokyo's underground passageways can be so labyrinthine, with exits galore, that if it wasn't the middle of summer, I would have been more geographically oriented walking above ground.) There are two exits for the Peninsula Tokyo: A6 and A7. As A6 will bring you to the hotel parking lot, I recommend A7. (Not to mention that a hotel's unique charm is embodied in its entrance, the preferred way of entry.)

The restroom near the lobby at the Peninsula Tokyo was spacious, with high ceilings and large mirrors—a significantly more luxurious setting for a wardrobe change than my cramped apartment. It was fitting, as I was there to do an interview for a superhero film; changing in a hotel bathroom put me in the mindset of Clark Kent/Superman.
---
2.

About Incredibles 2
There are some interesting defining characteristics that come to light when you compare animated films from the West to Japanese anime.

In American animation, characters are either drawn like their comic book counterparts—as realistically as possible—or in a truly "comical" fashion that accentuates their physical features. (The ridiculous physical proportions of the protagonists of Incredibles 2 being a perfect example of the latter.)

On the other hand, in Japanese animation, characters have oversized, baby-like faces with huge eyes and a small nose and mouth—they are presented in a "super-deformed" art style, their faces especially. And that's just the tip of the iceberg in terms of stylistic differences.

But the biggest difference is perhaps the intended audience. It seems to me that American animation is chiefly a medium for children, while Japanese anime is made with both children and adult audiences in mind. (Japanese audiences continue to love anime even as adults, and I would argue that for them, it's because they have a desire to remain as children for as long as possible. I'll cover this topic in more detail another day.)

In this regard, as a work of American animation, Incredibles 2 feels to me like a bit of a special case. Its main themes include child-rearing and women with careers, both adult-oriented topics. And it was refreshingly American that the film didn't try to break those themes down into something one-dimensional and easy-to-consume. On the whole, adults will enjoy this film more than children. And there is one action scene in particular, near the middle of the film, which feels like it came straight out of a horror film. It was so genuinely scary that even in my superhero-fatigued cynicism I thought—even if just for a split second—that the protagonist's life was truly in danger. The charm of this film is that it doesn't set out to cater to kids.

It's also interesting to note that the original film, The Incredibles, was released in Japan under the name "Mr. Incredible", while this new film, Incredibles 2 was given the name "Incredible Family". As I watched an English-language screener and paid only minimal attention to the subtitles, I cannot say how the film is being presented for Japanese audiences; however, I do think it is telling that they didn't go with the obvious title "Mrs. Incredible" for this film.

Incidentally, the director Brad Bird also gave us the magnificent Mission: Impossible – Ghost Protocol (2011). His knack for constructing wondrous set pieces, cultivated across a series of animated classics, is translated into the live-action format with aplomb. The scene where Ethan Hunt, played by Tom Cruise, scales the Burj Khalifa in Dubai—the world's tallest building—has become arguably the most iconic sequence of the Mission: Impossible series. I suppose it helps that Tom Cruise himself feels like a character that comes straight out of the world of animation. Perhaps that is part of why Cruise and Bird established such a strong working relationship on the film.

Brad Bird is a master of getting audiences to forget that they are watching either animation or live-action. He doesn't constrict his vision with notions of what animation should be like, or what is too unrealistic for live-action. Incredibles 2 has action scenes brimming with creativity that depict ideas I've never see before, but at the same time there are scenes that come alive with more humanity and a real sense of family ties than you often see in live-action films. It's a superhero film about people with superhuman abilities, but it portrays a day-to-day existence that anybody can relate to.
●

Recommended Brad Bird Films
---
3.

Blue dress shirt by GlobalStyle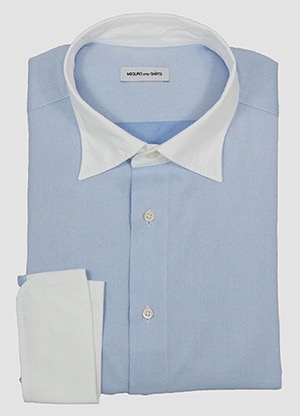 This dress shirt is something I ordered at GlobalStyle along with the navy and gray suits that would become my initiation into the world of tailoring. Because we cannot wear blue clothes on our blue screen set in the studio, this shirt had hung dormant in my closet. This interview felt like the right time for this shirt to shine.

Dress shirts, of course, come in a variety of weaves. This shirt has a herringbone weave, where parallelograms are arranged in a geometric pattern that creates a series of peaks and valleys. The name comes from the fact that the pattern resembles the skeleton of a herring fish. It exudes a calm, composed air, and you'll often see tweed jackets or other casual outwear in this refined weave. Side note, the tweed jacket I wore on the pilot of this show also featured a herringbone weave.
---
4.

Regimental tie by B&T Club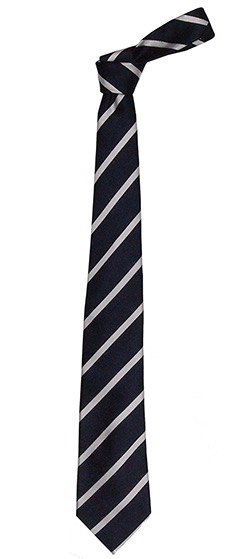 This navy and silver regimental tie is from retailer Sakazen's product line for "big & tall" customers, B&T Club. For that reason, it is a big longer than the standard-length ties you usually find at stores in Japan.

A few years ago, at a time when I hardly ever had occasion to wear a suit, I was invited to a friend's wedding. In need of an affordable necktie on the double, I hustled over to Sakazen's Shibuya store and settled on this one.

In Japan, plain white neckties have long been the tie for weddings, but lately people have taken to adopting a slightly more playful and stylish wardrobe. These days silver neckties have become a common sight.

For this interview, it also made sense because the Peninsula Tokyo has a gorgeous interior. This tie helped me feel like I belong there, amid all the luxury on display.
---
5.

Metal cufflinks by MFYS Jewelry
I purchased these stainless steel cufflinks with black enamel on Amazon.

Due to the problematic nature of reflective surfaces on our blue screen set in the studio, I try to stay away from metal or metallic accessories. For business or interviews, where I want to make a good impression on someone I'm meeting, I figured it was better to opt for metal cufflinks rather than my usual silk ones.

You can find metal cufflinks being sold for 5,000 yen and up at department stores and select shops, but as I was still new to cufflinks and afraid of breaking or losing them, I decided to buy this incredibly affordable pair from a vendor on Amazon. Believe it or not, these were 1,200 yen, tax included.

The look of metal cufflinks is definitely a plus, but even more meaningful for me is that these are infinitely easier to pass through the buttonholes on my shirt cuffs. When I have to change into my wardrobe on the show, time is of the essence, and the most stressful thing is when I have a crisp new shirt that is resisting my efforts to secure the cuffs.

Metal cufflinks can be inserted into the buttonholes with ease—a godsend for someone like me, who fumbles with accessories.
---
6.

Black suit by GlobalStyle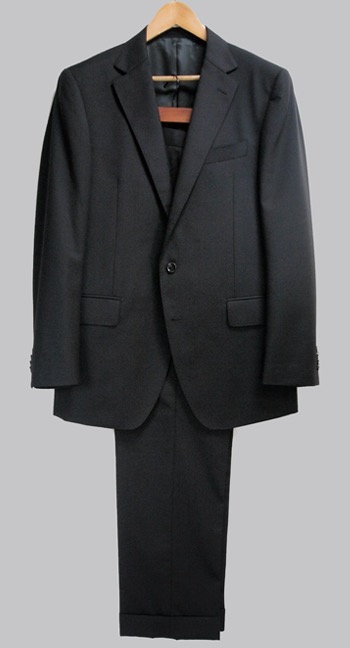 For more about this item, see LANGUAGE & EDUCATION #003.
---
7.

Black socks by Isetan Men's
For more about this item, see CINEMA & THEATRE #005.
---
8.

Wing tip shoes by Regal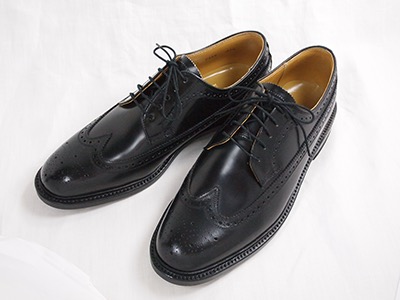 For more about this item, see FASHION & SHOPPING #009.
---
9.

"M-27" glasses by 999.9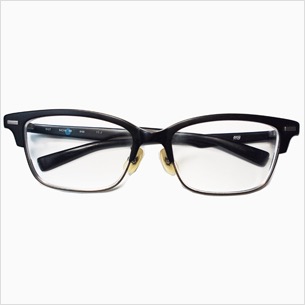 For more about this item, see CINEMA & THEATRE #006.
---
10.

Epilogue: The Calm After the Interview
After wrapping up an interview, my producers and I always return to the waiting room, gather our things, and take the elevator back to the lobby. The elevator is the safe haven where I'm finally able to let out a sigh of relief and let the tension in my shoulders dissipate. And in the next moment I realize, without fail, that I am starving. Our allotted time for the interviews is always between 10 and 15 minutes—not a long time by any stretch—but I always find myself tense for quite a while leading up to the interview.

On this day, one of the producers suggested that we check out a kamameshi and yakitori place near the Peninsula Tokyo (kamameshi is rice, meat, and sometimes vegetables cooked in a small pot; yakitori is skewered chicken). He took us on a short two-minute walk and then down the stairs of a small multi-tenant building into the Hibiya branch of Torigin, a long-established kamameshi and yakitori joint with its main branch in nearby Ginza. It was just before 1:30 p.m., last call for lunch, and the Showa-era interior was relatively uncrowded.

I recommend the kamameshi set for lunch, which features your kamameshi of choice, two chicken skewers, pickled vegetables, and chicken broth for an affordable price. Their signature dish is the tori kamameshi (chicken), but they have a variety of types, including takenoko (bamboo shoot), salmon, and shellfish. If you're with a group of people, order different types and share. One thing to keep in mind is that they start cooking the rice after you place your order, so there is a 15-20 minute wait. If you're in a rush, save it for another occasion.

For these interviews I'm constantly aware of time and time limits, so being able to enjoy a leisurely lunch without worrying about the time is something I always look forward to on these interview days. When we finished eating and returned outside, the sun had hidden behind some clouds, and there was a gentle breeze blowing from the Imperial Palace. I headed towards Hibiya Station, this time choosing to stay above ground. I was full and content, and my interview with a big-name foreign director, which had just taken place an hour and a half ago, seemed like a distant memory.