1.

Striped contrast color shirt by Azabu Tailor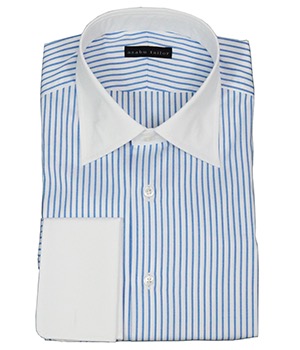 Wanting a few more shirt options for when I go on interviews, I ordered this shirt at Azabu Tailor in Shinjuku back in August. Because this was specifically for interviews, I was able to choose blue with confidence (we're not allowed to wear blue on the TV show, because we shoot in front of a blue screen).

This is a white shirt with stripes about 2 mm wide, with semi-wide collar, French cuffs, and no front placket (no fold back down the center, along the buttons).

I ordered it expecting to pair it with a necktie—my standard interview attire—but I'd forgotten one important detail. Because most of the shirts I'd had made to measure were ordered with a no-tie look in mind (in other words, with the top button undone), I'd always requested them to be a little tight around the neck. As this shirt was made using those no-tie measurements, when the shirt was delivered I found that it was a struggle to button it all the way up—and when I succeeded it was noticeably tight. Ooph.

I'd gotten so used to the made-to-measure shirt ordering process that I started overlooking the details. I suppose the lesson is that whether it is for ordering a shirt or for work, it's important to face a task with a certain amount of healthy tension.
---
2.

Necktie by Ralph Lauren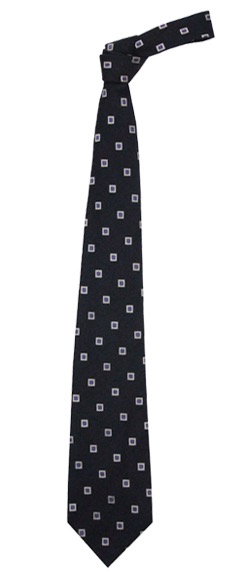 BigBrother let me borrow this Ralph Lauren tie, which is black silk with a windowpane pattern in gold and purple. He says he paid around 20,000 yen for it; after wearing it for this interview, I can say with confidence that there is a clear difference between ties in the 5,000-8,000 yen range and the 12,000-20,000 yen range in terms of crispness of color, texture of the fabric, and ease of tightening.
---
3.

Gray suit by GlobalStyle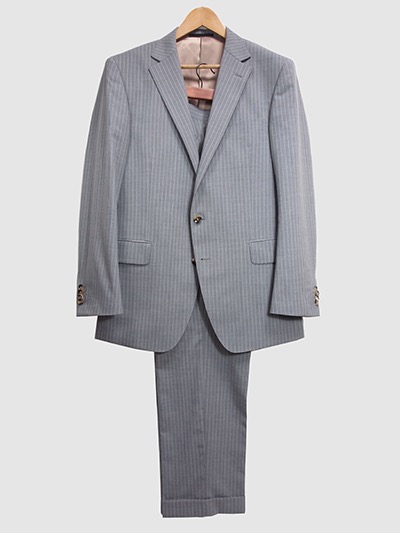 For more about this item, see FASHION & SHOPPING #008.
---
4.

Gray socks by Brooks Brothers
For more about this item, see FASHION & SHOPPING #008.
---
5.

"Avignon" by Paraboot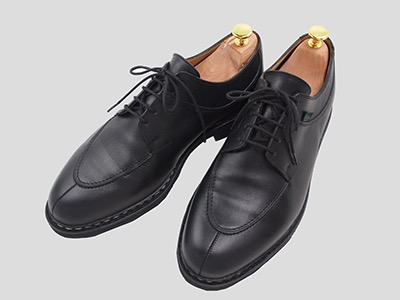 For more about this item, see FASHION & SHOPPING #006.
---
6.

"M-27" glasses by 999.9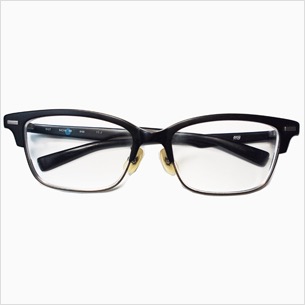 For more about this item, see CINEMA & THEATRE #005.