1.

Prologue
The other day I was lucky enough to have the chance to interview director Jon Favreau. Favreau also helmed Disney's remake of 1967's The Jungle Book just a few years ago. That film was almost completely CGI, except for its young protagonist Mowgli. The Lion King takes it to the next level, and is completely CGI (although apparently Favreau snuck in one non-CGI shot "just to see if anybody would be able to pick it up").
---
2.

Disney Live-Action Films and the Photorealistic

The Lion King
In recent years, Disney has been hard at work producing live-action versions of its classic films, and judging by the box office returns, the strategy has been a success. In 2017, they released a live-action version of 1991's Beauty and the Beast, which is based on a French folktale, while in 2018 they released a live-action version of Winnie the Pooh, entitled Christopher Robin. In 2019 alone, they have so far released live-action versions of 1941's Dumbo, 1992's Aladdin, with more to come later in the year. This trend allows Disney to work its magic on a new generation of filmgoers, as well as offer up nostalgia to the generations that grew up watching the original animated films.

The strategy also allows Disney to update its films in a way that better reflects the times. 1994's The Lion King, for example, has been criticized for having a largely white voice cast—including the protagonist Simba—despite the story being set in the African savanna. At a time when multiculturalism and ethnic diversity is being increasingly championed in Hollywood, the casting feels like whitewashing. Then there are the villainous hyenas, which are presented in a way that evokes poor African-Americans and Latinos living in the slums of the city. This new remake addresses both misgivings by having a largely black voice cast and giving the hyenas personalities that go beyond gangsta stereotypes.



The most eye-catching thing about new Lion King, however, is the fact that it is technically not a live-action adaptation, but rather a photorealistic one. Cutting-edge computer graphics have been used to present a world that recreates—and in some ways even surpasses—actual nature. While traditional animation deforms and simplifies, often using caricatures to bring a story to life, The Lion King opts to make things as visually realistic as possible. Through its photorealistic visuals, it attempts to breathe new life into this tale and convey the "circle of life" in a way that has never been done before.

Creating an animated film is an intensive process, and we've all heard horror stories of artists and animators being pushed to their limits and overworked under tight time constraints as they wring their blood, sweat, and tears onto the page and/or screen. While it's clear that the artists and animators behind The Lion King poured their hearts and souls into to the film, I was surprised to learn that the production was not a tale of looming deadlines and compromised artistry. Favreau's experience making The Jungle Book helped him grasp the limits of what computer animation could and could not do, which in turn allowed him to hit the ground running on the production of The Lion King. That also meant that artists and animators were given the time to produce their best work without being swept up into a mad dash for the finish line. The Lion King is visually stunning, and aside from the speaking and singing animals, you could have convinced me that I was watching a nature documentary.
---
3.

About Jon Favreau
Jon Favreau (1966-) is an actor, movie director, and movie producer from Queens, New York. After dropping out of college, he worked for a short while on Wall Street before deciding to move to Chicago to pursue a career in comedy. He appeared in TV and films in bit parts while building his career behind the scenes as a screenwriter. His 2008 film Iron Man became a worldwide hit.
The Lion King (2019)
This photorealistic adaptation of the 1994 feature-length animated classic is practically all CGI. Set in an animal kingdom called the Pride Lands, the film is the coming-of-age tale of a lion cub named Simba, who must come to terms with his place as future king.
Iron Man (2008)
This is the first in a string of Marvel Comics film adaptations that would become the all-powerful Marvel Cinematic Universe. Favreau fought to cast Robert Downey Jr. in the role of the titular superhero, who was up until that point a second-tier character. The film was a worldwide hit.
Chef (2014)
First-rate chef and social media novice Carl gets into a verbal altercation with a food critic, and leaves his restaurant job. After traveling to Miami to spend some time with his son, he is reinvigorated by Cuban sandwiches and resolves to start up a food truck and take it across the U.S. The film is a comedy written, directed by, and starring Favreau. A spin-off food and travelogue show called The Chef Show is currently streaming on Netflix.
The Jungle Book (2016)
This adventure fantasy film is a live-action/CGI adaptation of the 1967 Disney animated classic and the collection of short stories by English author Rudyard Kipling. A young boy named Mowgli, who has been raised by wolves, tries to find his place in the world, accompanied his animal friends and chased by the villainous Chere Khan. All of the animals in the movie are depicted using CGI.
---
4.

Humanity and

Wabi-sabi
In my interview, Favreau explained to me that they used VR gaming technology—the kind that consumers can buy—to build a digital filmmaking game. They used that to create the animated world of Pride Rock and essentially shoot the film in virtual reality. Favreau smiled and said, "If you came to our set, you would've seen everybody wearing VR goggles, looking at monitors, operating cameras." Industry insiders say that the technology has the potential to change the way movies are made.

At the same time, he stressed that "The trick here is to always not to let the technology outpace our humanity." Favreau is adept at balancing tech with humanity; Iron Man is ostensibly a story about a superhero who battles evil in a suit of armor made using cutting-edge tech. But at its heart, it is a story about a self-centered playboy who grows into someone who is worthy of the superhero title.

I asked Favreau how he feels about all the attention going to the CGI, as if the tech deserves all the credit. He admitted, "The irony here is that we had focused on the technology but in fact it's a handmade film." While they used technological tools, he likened the process itself to an artist painting the individual tiles of a mosaic.

When the discussion turned to the artistry of the film, I was surprised when he said the aesthetic of the film is very wabi-sabi, a Japanese word that refers to a world view that values the impermanence and incompleteness of beauty. While traditional animation flows smoothly and does not attempt to capture the imperfection of nature and reality, Favreau sought to go out of his way to depict that through computer graphics. At the same time, he talked about how much work went into making the visuals seem untouched by human hands, as if nature was being presented as is. "Much like in a traditional Japanese Zen rock garden, the real beauty of it is it looks like nature just put it there." Apparently, Favreau has a true appreciation for Japanese culture.

When my time was up, I shook Favreau's hand and told him that I was a fan of Chef and The Chef Show. Favreau is known as a foodie, and The Chef Show is a travelogue where he goes around the U.S. learning recipes from professional chefs. He smiled and said that he'd heard the show was being well received in Japan, and I nodded and reflected that good food is a universal language. Apparently, Favreau was looking forward to returning to Japan for the first time in about three years and going on some food adventures during his downtime. It's comforting to know that even a big-name director who wields cutting-edge computer graphics feels that when it comes to food, nothing beats the real thing.
---
5.

My Wardrobe for the Interview
Navy polka dot necktie by Ermenegildo Zegna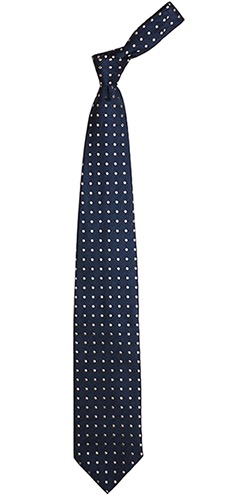 BigBrother lent me this vintage Ermenegildo Zegna necktie.
Gray suit by GlobalStyle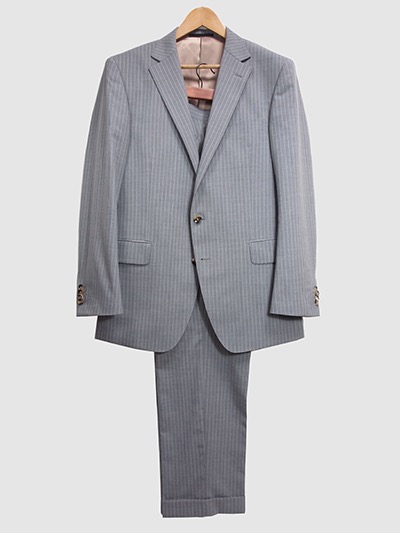 Striped contrast collar shirt by Azabu Tailor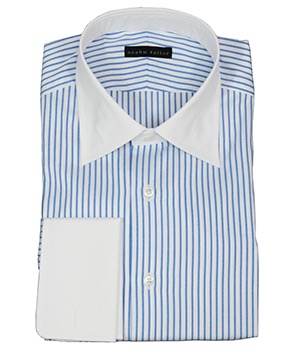 Gray socks by Brooks Brothers
Black cufflinks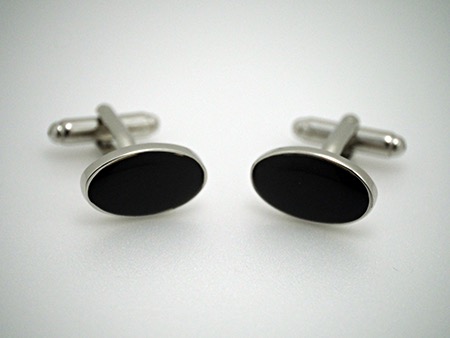 "Poe" brown double monk strap shoes by Paraboot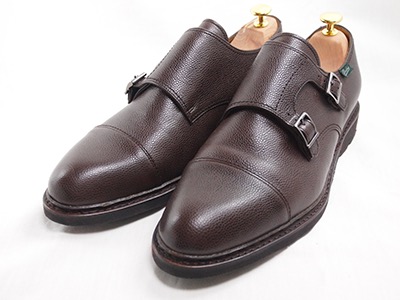 M-27 glasses by 999.9